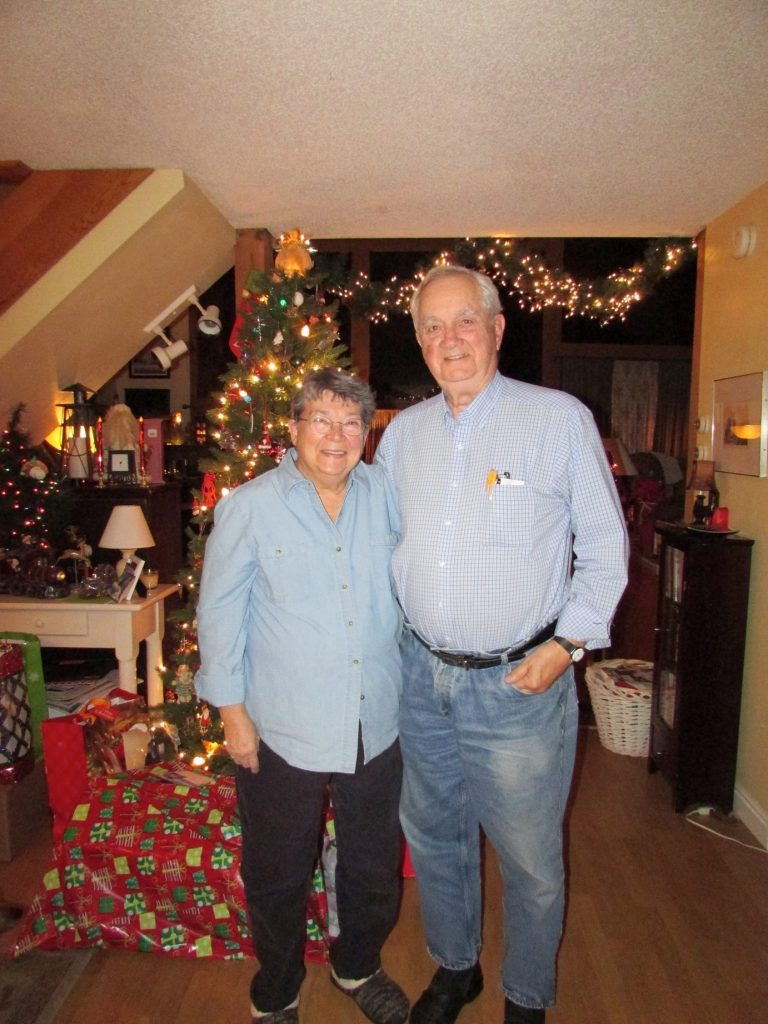 I started my 2015 book The Bible Cause: A History of the American Bible Society with these words:
John Erickson sits at a table in his home in Crawford, Nebraska, on a chilly March 2015 morning. He is sipping bottled water and talking about the thirty-six years he spent working for the American Bible Society (ABS). Erickson is a living legend in ABS circles. He arrived in 1965 and has served the Society as a Secretary of Asia, as an innovative fundraiser, and as a general officer responsible for the international work of the ABS. He finished his career as a general secretary of the United Bible Societies, a fellowship of some 135 national Bible societies from across the globe. Erickson has been retired from Bible work for about two decades now, but there is little that he does not remember. His photographic memory seems to be both a blessing and a curse. Erickson talks as if it all happened yesterday–the trips around the world, the programs he was responsible for creating and implementing, and the relationships he cultivated with coworkers and mentors. "The Bible Cause is about people," he likes to say. He says it over and over again. And then he says it one more time–leaning forward in his chair for added effect. He has strong opinions, but they are always seasoned with a healthy dose of Lutheran humility. When John Erickson says that the Bible Cause is about people he speaks with the authority of a man who practices what he preaches. Whether it is the president of the Bible Society of India or an entry-level staffer, Erickson served them all with uncommon grace.
John Erickson passed away on August 3, 2022 at the age of eighty-nine.
I wrote the above paragraph a few days after I left John and Nancy Erickson's home in Crawford, Nebraska. I will never forget the experience. I flew from Harrisburg, Pennsylvania to Salt Lake City, Utah and then boarded a tiny eight passenger plane to Chadron, Nebraska. John was waiting for me at the airport (if you could call the small building an airport!) and took me on a tour of the northwestern part of the Nebraska panhandle. I had never seen such a landscape before and John seemed to relish in my wide-eyed observations about its beauty and history.
John and Nancy put me up in a guest room in their beautiful home. They also set up an extra room for me to use as an onsite office (filled with a computer, books about the history of Bible distribution, and primary documents from his work with the ABS). John cooked wonderful meals (he made a decent spaghetti sauce–for a Swede!) 🙂 As he and Nancy displayed warm midwestern Lutheran hospitality, I quickly realized that this was not going to be your average research trip! One morning John made sure that I got up early to watch the sunset on the panhandle. He was waiting on his front porch with a cup of coffee.
Of course we spent most of my visit talking about his work with the ABS. I did hours of interviews with John. He also read The Bible Cause in manuscript and saved me from several factual errors and even a few spelling mistakes that were missed by the Oxford University Press copy editors.
John and I stayed in touch over the last seven years. He was a great man–one of the best I have ever met– who made immense contributions, mostly behind the scenes, to God's work in the world. I am especially thankful for how he always encouraged me to keep speaking and writing. He was an early patron of Current.
Here is the family's Facebook post:
It is with great sorrow that our family shares the news of the passing of our father John D Erickson Sr.
His passing was sudden and took from this earth an incredible husband, father, friend and man.
A leader in the Bible cause, he led the negotiation team who brought Bible printing to China. To date there have been over 200,000,000 Bibles printed and shared in China.
Sharing was at the center of our father's approach to life. Sharing time, sharing counsel, sharing expertise, sharing humor and sharing himself with others was his mission.
He began his career as an ordained Lutheran Church of America minister. After marrying our mother, Nancy, he worked in several churches before getting the call to be a missionary in Japan, where Ron was born, as was our family's lifelong love of Japanese food and culture. After living with us in the Minneapolis/St. Paul area, Dad became Asia Secretary for the American Bible Society and we all moved to Leonia, NJ.
As a member of the Leonia School Board, he partnered with other committed people in the community to build a new high school.
A committed fundraiser for the American Bible Society, he shared his knowledge with other nonprofit organizations by founding the International FundRaising Symposium (now the Resource Alliance) with other industry leaders. Their goal was to help these organizations effectively develop and reach financial goals.
Our father rose to become a General Secretary of the American Bible Societies and Overseas Officer, a position which took him and our mom to 6 continents.
For 7 years, John was General Secretary of the United Bible Societies, a worldwide network of Bible Societies operating in 240 countries and territories.
During that time, he and our mother, Nancy, lived in and explored England.
Dad and Mom loved to travel with their friends and family, and we were fortunate to go to Wellfleet, Cape Cod with our parents for many years.
As a husband and father he was a consistent and patient sounding board who was always happy to listen and support his children and grandchildren.
He will be missed in many ways but perhaps the most poignant way will not being able to laugh, enjoy his wit, humor and insight.
RIP, John. I will miss your e-mails.