One of our most talented historical writers passed away yesterday. American historians have criticized David McCullough as a popularizer. Many have suggested, perhaps rightly so, that his work was not sensitive to issues of race, class, and gender. (I would add religion to that mix as well). But I have long appreciated McCullough's gift for storytelling and his advocacy for the study of history. I read his books to learn something about style.
And let's not forget his writing hut!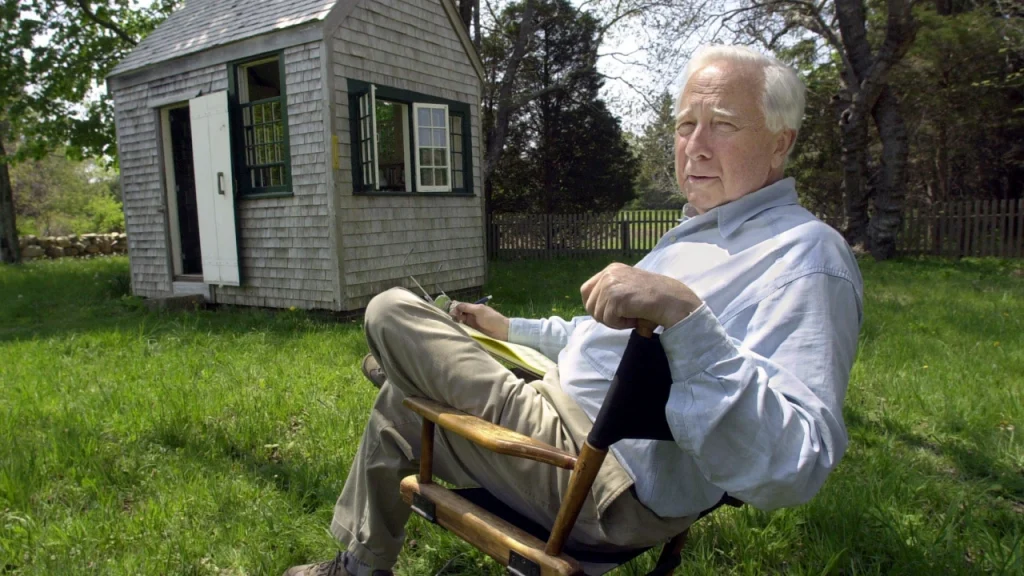 Here is Associated Press:
David McCullough, the Pulitzer Prize-winning author whose lovingly crafted narratives on subjects ranging from the Brooklyn Bridge to Presidents John Adams and Harry Truman made him among the most popular and influential historians of his time, has died. He was 89.
McCullough died Sunday in Hingham, Massachusetts, according to his publisher, Simon & Schuster. He had been in failing health and died less than two months after his beloved wife, Rosalee.
"I think because of David a lot of us feel a twin obligation," fellow historian Jon Meacham said Monday. "One is to the historical record and to the analysis. And the other is to the reader who would like to be transported, both intellectually and viscerally."
A joyous and tireless student of the past, McCullough dedicated himself to sharing his own passion for history with the general public. He saw himself as an everyman blessed with lifelong curiosity and the chance to take on the subjects he cared most about. His fascination with architecture and construction inspired his early works on the Panama Canal and the Brooklyn Bridge, while his admiration for leaders whom he believed were good men drew him to Adams and Truman. In his 70s and 80s, he indulged his affection for Paris with the 2011 release "The Greater Journey" and for aviation with a best-seller on the Wright Brothers that came out in 2015.
Beyond his books, the handsome, white-haired McCullough may have had the most recognizable presence of any historian, his fatherly baritone known to fans of PBS's "The American Experience" and Ken Burns' epic "Civil War" documentary. "Hamilton" author Ron Chernow once called McCullough "both the name and the voice of American history," while on Monday Burns tweeted that McCullough was a friend and "gifted teacher" to him.
Read the rest here.
I spent an hour with David McCullough in the early 2000s. He was speaking at Messiah College (where I teach) and I was tasked with getting him to the airport after the lecture. A massive snowstorm hit the central Pennsylvania area on the afternoon before the evening lecture. We were going to cancel the event, but McCullough was already on his way on a charter plane. Hundreds of people braved the weather to hear him speak on his book1776.
The lecture ended around 9:00pm and it was still snowing hard. McCullough's called his pilot. The pilot told him that he was willing to fly him home to Massachusetts, if McCullough could get to the airport.
We had a hard time finding anyone who wanted to drive twenty miles in a snowstorm, but we eventually convinced a colleague with a 4-wheel-drive Subaru hatch-back to make the trip. (He grew up in Canada and seemed generally un-phased by the storm). My colleague drove. McCullough sat shot-gun. I sat in the backseat. I don't think we saw a single car on the Pennsylvania Turnpike that night.
Since my Canadian colleague did not know anything about American history, I leaned forward from the backseat and talked shop with McCullough. Most of our conversion centered around the diary of Philip Vickers Fithian. I was writing a biography of the 18th-century diarist and McCullough had used Fithian's writings extensively in 1776. When we arrived at the airport, the runway was clear of snow and the plane was fueled-up and ready to go. As McCullough started gathering his things in the car he turned around, shook my hand, and said, "it's good to meet a Fithian man."
When preparing my book The Way of Improvement Leads Home for publication I wrote to McCullough to remind him of our conversation and ask him for back-cover endorsement. I never heard back from him.
RIP