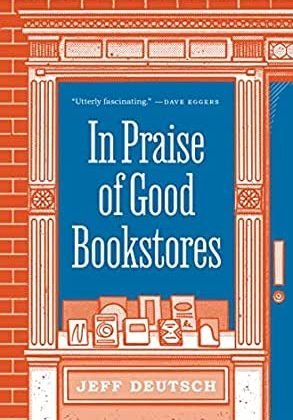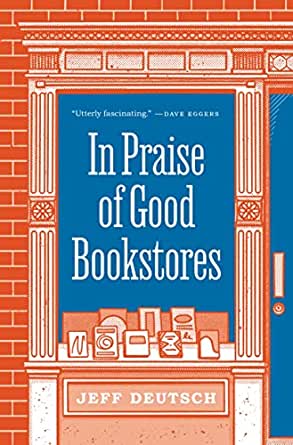 If you read this blog, you know Byron Borger. He and his wife Beth run the Hearts & Minds bookstore in Dallastown, Pennsylvania, the best Christian bookstore in the country.
Over at Christianity Today, Borger reviews Jeff Deutsch's book In Praise of Good Bookstores.
Here is a taste:
What makes Deutsch's book stand out (despite an oddly tacky cover) is his status as a bookseller. Like the best of our trade, he is mostly self-taught and exceedingly eclectic in his reading habits, a practitioner of what John Milton called "promiscuous reading." As the title indicates, Deutsch is offering not only a paean to the reading life, but also to the book-browsing life. In a real bookstore.
So, what's not to love?
Well, for starters, I think I was jealous. As would be the majority of bookstore owners, booksellers, and frankly, bookstore fans. When Deutsch describes his well-stocked and eccentric store, the legendary Seminary Co-op, set in a tony neighborhood near Hyde Park in Chicago, it is at once charming, vast, busy with book-buying customers, and just a bit intimidating. Who are these apparently important authors of literature, philosophy, poetry, religion, economics, and history that roll off his tongue, whose signature volumes are readily available in his jam-packed store? And what kind of customers—besides the famous ones—buy these substantive books? How does the store afford all that space, all that inventory?
Most of us who run indie bookstores, frankly, are not surviving so well these days. And those of us offering uniquely Christian literature are doing even worse. Deutsch properly resists overcommercializing the bookseller's vocation, and he gives the obligatory nod to our famously low margins. He knows how hard it is to make a living selling the blocks of paper and ink that we so cherish. Since most booksellers are constrained by what is ingloriously called "the market," they will be a bit demoralized by The Seminary Co-op's remarkable inventory, scale, and status.
After all, Deutsch can manage a store that is so "impeccably curated" (as one admirer described it) in large part because of his prime location and exceptionally well-educated customer base. I love our ordinary folk in our ordinary small town and never cease to be amazed at what people do read, but the "good bookstore" that Deutsch celebrates is, well, not like most.
Truth be told, I'm also a little jealous that, in the store he manages, Deutsch carries very few items apart from the books themselves. A few decades ago, the major Family Book Stores chain rebranded itself as Family Christian Stores to better reflect the range of products it was selling. Against that backdrop, the high-minded, bookish purity of the Seminary Co-op strikes me as nearly a prophetic witness against the shallowness and superficiality of our culture. Closer to home, the vision of a well-stocked bookstore evokes the tragedy of what Mark Noll famously named "the scandal of the evangelical mind."
It's no wonder there are very few evangelical-minded bookstores that offer anything even close to the sort of well-curated, stimulating, and artful selection praised by Deutsch; too many of our people seem not to have been taught or nurtured in their discipleship to be people of the book. Leave aside the odd ways in which evangelical Christian authors (and their publishers and publicists) routinely promote Amazon, quickening the decline of the Christian bookstore industry; the bigger issue is that many evangelicals would rather lay down their hard-earned cash for celebrity worship albums or self-help DVDs than browse the shelves of a serious bookstore.
In our store, for instance, we have large sections of books offering Christian perspectives on nursing, engineering, art, business, education, law, media studies, and the like. Christ is, after all, Lord of these areas, and we are called to serve him in all that we do. The virtue of intellectual curiosity, particularly as it relates to the relationship between faith and public life, simply isn't cultivated in most churches. I suspect many otherwise fine Christian people would be bored in a reader's paradise like the ones Deutsch describes.
At times, the grandness of In Praise of Good Bookstores inspired me to renew my vocational vows. Yet even as a bookseller of 40 years, there were moments that felt like reading an exotic ethnography of a rare tribe with exquisitely interesting customs and values in their exceptional habitat. Who are these strange people?
Read the entire review here.