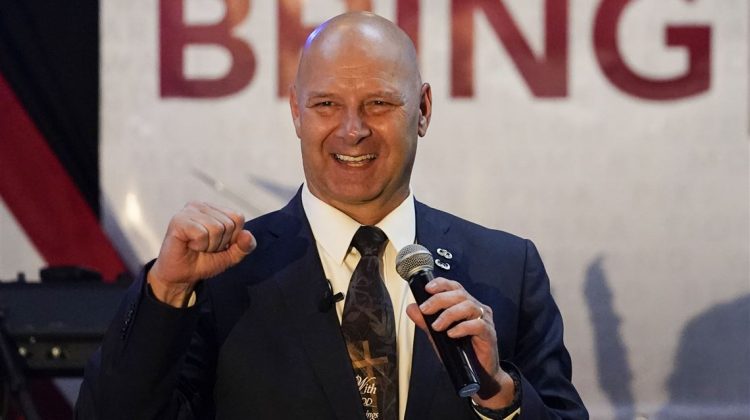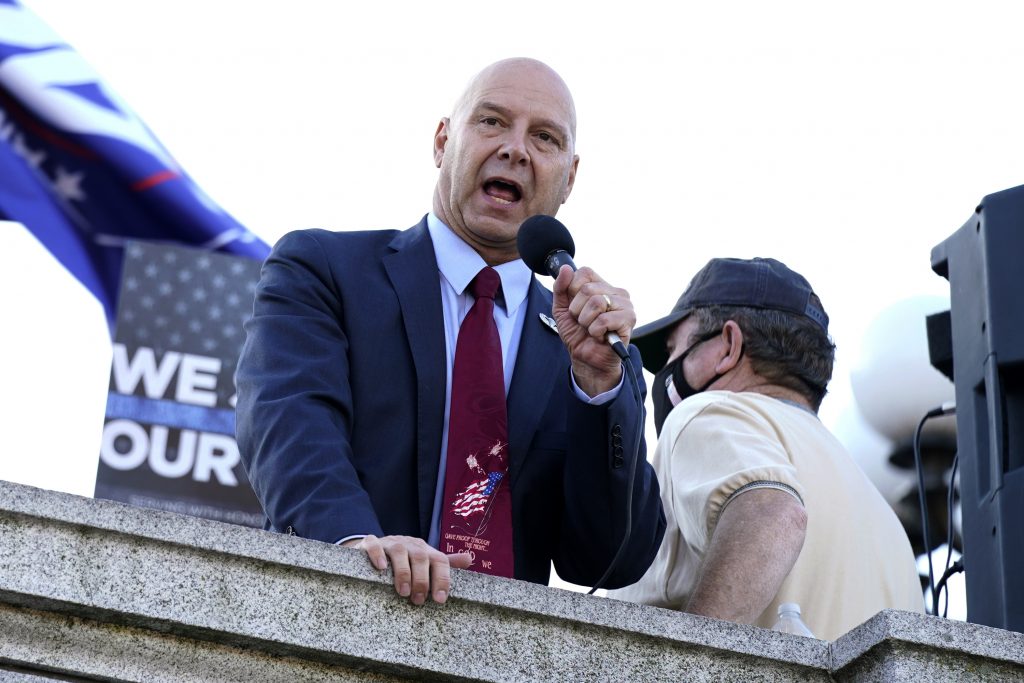 What is Gab? It is a right-wing platform used by right-wing extremists. Consider:
Watch:
Here is Allan Smith of NBC News:
Doug Mastriano, the Republican nominee for governor of Pennsylvania, has come under fire from critics for ties to a right-wing social media platform whose founder has said there is no room for Jews, atheists and others in the conservative movement.
Mastriano, a state senator backed by former President Donald Trump, paid Gab $5,000 in April for "advertising consulting," state campaign finance records showed.
Democrats and Republicans alike have criticized Mastriano for his association with Gab, the social media platform on which a gunman who killed 11 people at a Pittsburgh synagogue in 2018 posted his antisemitic rants.
Some users of Gab, which was founded by Andrew Torba in 2016, contemplated plans on the platform to disrupt the ascertainment of President Joe Biden's victory on Jan. 6, 2021. Torba has said his aim is to foster a "Christian nationalist" society, he has called for the conservative movement to be "exclusively Christian," and he frequently espouses antisemitic views.
"Andrew Torba is one of the most toxic people in public life right now," Jonathan Greenblatt, the CEO of the Anti-Defamation League, which describes Gab as a "haven for extremists" and "conspiracy theorists," said Tuesday on MSNBC. "Elected officials who engage in this kind of rhetoric aren't just flirting with fascism — they are bringing it to the forefront of their political argument."
Mastriano's campaign did not immediately answer a request for comment Thursday afternoon. Mastriano responded to the criticism Thursday evening on Twitter, saying Torba "doesn't speak for me or my campaign."
"I reject anti-Semitism in any form," he wrote. "Recent smears by the Democrats and the media are blatant attempts to distract Pennsylvanians from suffering inflicted by Democrat policies.
"While extremist speech is an unfortunate but inevitable cost of living in a free society, extremist policies are not," he added, criticizing his Democratic opponent, state Attorney General Josh Shapiro.
Shapiro hit back on Twitter by pointing to an interview Torba conducted in May with Mastriano, who said, "Thank God for what you've done." Gab endorsed Mastriano ahead of the May 17 primary.
Torba has hit back at critics this week while seeking to define the modern right as a solely Christian venture.
"We have seen the fruits — or lack thereof — of our nation being led by Godless pagans, nonbelievers, Jews, and fake Christians-in-name-only," he said in a statement Wednesday. "If we are going to build a Christian movement it must be exclusively Christian and we can't be afraid to say that out loud. We are all sinners saved by Grace, but if you do not repent and believe in Jesus Christ then you do not share our Biblical worldview and cannot participate in any meaningful position of authority in the movement. It's just that simple."
Read the rest here.
Here is Gab CEO Andrew Torba's full comment today:
I want to make very clear that I do not work for the Mastriano campaign. I am not their consultant. The campaign paid Gab as a business for advertising during the primary. The campaign posts on Gab, as do 50+ other campaigns from around the country. That's the extent of the relationship.
My words are my own. My ideas are my own. They are not representative of Doug or Doug's campaign. I stand by everything I have said about Christian Nationalism as a movement being explicitly Christian. This should be obvious by the name. Others are certainly welcome to support the movement and enjoy the fruits of Christian leadership and culture, but we need candidates, leaders, thinkers, influencers, culture warriors, and builders who believe in and follow Jesus Christ. Otherwise it wouldn't be Christian Nationalism.
I stand with my brothers and sisters in Christ from all racial and ethnic backgrounds. If you are ethnically Jewish and call Jesus your Savior then you are my brother or sister. This isn't a racial issue. It's about defining the baseline for the social, political, and cultural movement of Christian Nationalism. We must be grounded in Biblical Truth and led by people who call Christ their King. When others see the fruit that yields, we pray that they too will come to know Jesus as their Savior. Either way, the path forward against secular liberal "democracy" and culture needs to be rooted in Christ and His followers.
Here are some of the comments on Torba's post Gab post above:
Good for you Andrew, but I'd still suggest you to call out the war against White people. Whites are being targeted in their own countries by the same 2% that's targeting your religion. Whites have the right to maintain racial majority in their own homelands, the same way the Chinese have the right to maintain a majority in China. Or the Arabs maintaining a majority in the Arab world. Whites are losing their right to exist. We should all speak out against it.
Demographics is destiny. Anyone who doesn't acknowledge this can't expect to save America and western civilization.
Did Mastriano ask you to make this clarification?
Mastriano deleted his account today.
On Mastriano deleting his account: O you mean another cowardly gop member using whatever he can to boost votes? Another schill…..
Blood and Soil Nationalism only.
…this is how the enemy got into and corrupted the church. This won't save the country, won't kick out corrupt Jews in the church and most certainly stop the white genocide which is more important than anything. Do you not care about the ethnic cleansing of Whites taking place because Jewish media brainwashed our kids to race mix??
Christianity is White, full stop. I know converted jews and they are jews head to toe. None from a few I met denounce what their people are doing.
You said it best Andrew. Love of Christ…Love of country. Brand it. Own it. Propel it forward. We get to define what it means. Not the reprobates.
YOU CANNOT have a Christian Nationalism, unless you have a Christian NATION. You cannot have a Christian NATION, unless you have a UNIFIED PEOPLE. You cannot have a unified people, unless you have a unified RACE. THIS IS ALL ABOUT RACE. If you doubt that, then explain the RACIAL SUPREMACIST attitudes of the JEWS against EVERYONE. Explain the fact that the ONLY people our Founding Fathers wanted or considered as HUMAN BEINGS, were WHITE, Christian ENGLISHMAN! The Jews' greatest evil is their seeming immunity to calls for their HYPOCRISY, when it comes to their own advocacy of multiracialism (that destroys from within) while they advocate for the most RACIST FORM OF GENETIC ENGINEERING, possible! The Jews' greatest evil is their seeming immunity to calls for their HYPOCRISY, when it comes to their own advocacy of multiracialism (that destroys from within) while they advocate for the most RACIST FORM OF GENETIC ENGINEERING, possible!
You cannot have a Christian Nation, unless it is also a White Nation.
You missing an important element here, Torba. The United States was meant to be an #Ethnostate founded on #Christian beliefs. Both elements being essential to our freedoms!
Sounds like Mastriano is still a politician. I suppose as long as the window keeps moving right, it's better than nothing. It is a decades long battle plan to undo what took decades implement, if there's still that much time left. But this should be a reminder that we don't need more politicians in this country, we need crazy mother f'ers willing to match the insanity of the founding fathers (considered complete traitors at the time, who gave up EVERYTHING, to create this country). No more bending the knee on anything. Not one damn thing.
If you stand with Christians of all background then move to Africa or Mexico where over 90% of the population is christian
When are you going to address the blatant genocide against White people? Loving Jesus isn't going to stop our neighborhoods from turning into Baltimore.
I wonder if Twitter or Fb explain all of this when politicians advertise on their platform? I bet Mastriano is getting a hard time about this and Torba feels bad, I get it. However it's still wrong. We all have to stand firm here! FB and Twitter have terrible terrible things on their platforms and I'm sure Shapiro uses them to advertise but no one questions him.
I would strongly suggest that you send this statement to the news agencies rather than simply saying you won't talk to them because they are not Christian news agencies. You're going to have to witness to non-christians at some point or else what's the point of being a Christian witness in the first place?
Doug, The weak man just got rid of his account, he is useless to use now since he caved to his enemies. Weakness disqualifies one from leadership.
Apparently Mastriano has deleted his Gab account. But let's not forget that he had an account in the first place and his campaign spent its advertising money at the site.