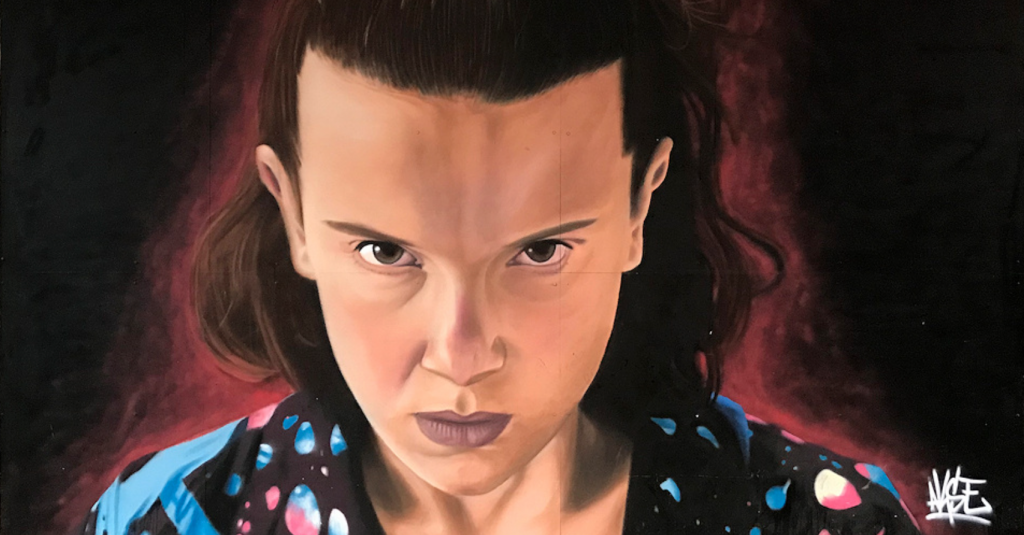 What should we do when monsters loom? Tell stories about them, of course.
Since 2016 I have been so riveted by the show Stranger Things that I couldn't even remember what "stranger things" means colloquially. The dictionary reminded me that the phrase "stranger things have happened" is "used to say that although a suggested event or idea seems very strange or surprising, it is possible." The power of the show, having just released the fourth of five projected seasons, comes from its having drilled down into one of our enduring anxieties: "Can a tortured teenager grow up to be a flourishing adult?" The answer? "Stranger things have happened."
The undisputed master of strange things, Flannery O'Connor, wrote that "anybody who has survived his childhood has enough information about life to last him the rest of his days." Enter the Duffer brothers. They have mined my generation's coming-of-age experiences and served them back to us in a completely irresistible way. I graduated high school in 1986—Nancy Wheeler's class—and I remember wearing a very similar pastel sweater vest. (For the record, I am much more of a Robin, chafing in dress clothes.) I know I'm the target audience here, and that they are manipulating me with Kate Bush, synthesized music, Wes Craven references, Winona Ryder, and my nostalgia for pre-cell phone adventures. But I don't care. Why? Because no one gets tired of watching ordinary heroes overcome the monsters that threaten us. The Duffer brothers have tapped into this most central and ancient plot in the history of storytelling, and they riff on it brilliantly.
But don't just take my word for it. Christopher Booker is one of a long line of literary scholars who draws on Jungian archetypes to argue that almost all plots can be reduced to a recurring series of patterns. In The Seven Basic Plots, he names "overcoming the monster" as the most primal of all. "In any story which is completely resolved," he writes, "the basic pattern remains the same. In the end, darkness is overcome and light wins the day." It's as biblical a plot as they come. In the words of St. Paul to the Romans, Christians are commanded, "Do not be overcome by evil, but overcome evil with good."
As Booker argues, the human urge to tell stories comes from our need to learn how light can overcome the darkness. This question thus animates every single plot. Plenty of critics may disagree with Booker's universals, but not the Duffer Brothers. Can there be a more Jungian reference to one's "shadow side" than the Upside Down? Furthermore, Booker identified five phases that underlie the "overcoming evil" plot—and they just happen to map perfectly onto the five seasons of Stranger Things. I don't have space to go through them all, so I'll just share phases three and four. The third is "a more severe phase of constriction, where the strength of the dark power and the hero or heroine's limitations in face of it both become more obvious." Aptly, in season three, El loses her powers and needs everyone else to defeat the enormous Mind Flayer. Many more people die in this season than the previous ones.
Booker's fourth phase? "Although the dark power is still dominant, the light elements in the story are preparing for the final confrontation. This eventually works up to the nightmare climax, when opposition between light and dark is at its most extreme and the pressure on everyone involved is at its greatest." Season 4 provides a literal "nightmare climax." It heavily references A Nightmare on Elm Street, in which the archvillain (with blade-like fingers) invisibly kills through dreams and the local pothead gets blamed. The challenge to growing up is at its greatest when we see El struggling to fit into her new home, worrying about her relationship with Mike, and needing to regain her superhero powers. At the end of a very violent climactic battle Max is in a coma and the Upside Down begins bleeding into the real world. The teenagers have no choice but to prepare for the final confrontation, face it together, and either grow or perish.
An expansive story such as The Lord of the Rings contains multiple plots with multiple protagonists. Similarly, the enormous scope of Stranger Things enables us to follow all the characters' efforts to overcome their monsters. Season four's main protagonist is clearly Max (played by Sadie Sink). Max is living in a trailer because her stepdad abandoned them. Vecna (the archvillain) targets her through her failed relationship with her brother Billy, the tragic figure of the previous season. Max is in danger of what Kierkegaard called the "sickness unto death": despair. We know this because when Lucas tells her that things are going to work out, she replies, "No. No, I don't need you to reassure me and tell me it's all gonna work out, because people have been telling me that my entire life and it's almost never true. It's never true."
This isolating despair is her monster. The only thing that keeps her from succumbing to Vecna is listening to her favorite song on her Walkman: "Running Up That Hill" by Kate Bush. The choice is ridiculously brilliant. It is a haunting song that moved many of us teens in the 80s:
You don't wanna hurt me
But see how deep the bullet lies
Unaware, I'm tearing you asunder
Oh, there is thunder in our hearts
Is there so much hate for the ones we love?
Oh, tell me, we both matter, don't we?
And if I only could
I'd make a deal with God
And I'd get him to swap our places
Be running up that road
Be running up that hill
Be running up that building
Like almost everything in Kate Bush's work, the song is filled with longing. The longing to be seen, understood, and loved. The longing not to be trapped in poverty or systems of racial injustice. And, especially, the longing of a woman to be taken seriously in a man's world, to be allowed to "run up that hill" of her own life. These are all things that Max needs in order to grow up into the person she was meant to be. These themes also played out poignantly in season three when Nancy and Jonathan are on the verge of breaking up precisely because he doesn't understand how difficult it is to be a woman mocked by male employers, and she doesn't understand how difficult it is to be raised in a lower middle-class home without a father. "If I only could, I'd make a deal with God, and I'd get him to swap our places."
We know that deal can't be done. But Stranger Things reminds us that a great story is the next best thing. Through story, we see the cost of bullying. We gain empathy for the Eddie Munsons of the world. We also learn to identify our own struggles and face them with hope, a hope that can be found in loving community. So what will happen in season five? Will Max wake up? Will the other teens face their monsters and grow up? Will light ultimately overcome the darkness?
Stranger things have happened.
Christina Bieber Lake is the Clyde S. Kilby Professor of English at Wheaton College, and the author of Beyond the Story: American Literary Fiction and the Limits of Materialism.