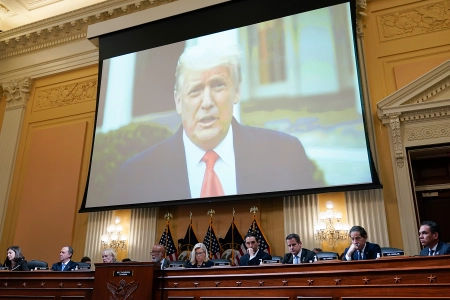 Last night the January 6th Committee provided more evidence to prove that Donald Trump is by far the most corrupt, depraved, and immoral president in the United States history.
Here is what we learned last night:
Donald Trump ignored all pleas to stop the insurrection on January 6th. Let's remember that these pleas came from people in Trump's inner circle. More specifically, these pleas came from people who were still working for Trump four years after his election. They were the true believers. These people continued to work for Trump after two impeachments. According to White House counsel Pat Cipollone, Trump was the only one in the Oval Office who did not want the insurrection to stop.
Trump was silent for 187 minutes. He spent most of the time watching the violence unfold on Fox News. Meanwhile, capitol police were fighting for their lives. Trump could have been on national television in 60 seconds. Why didn't he respond? Because the insurrectionists were doing what Trump wanted them to do.
A staffer of GOP congresswoman Elise Stefanik tweeted to undermine witness Sarah Matthews as she testified. The tweet was eventually deleted.
Trump did nothing to protect Mike Pence. He believed Pence deserved to have his life placed in jeopardy. Secret service agents protecting Pence feared for their lives. They were calling family to say potential goodbyes.
Missouri Senator Josh Hawley raised a fist to encourage the rioters and then fled–literally ran for his life– when the people he encouraged stormed the capitol.
At 4:17pm, Trump released a video telling the rioters to go home. He called them "special" people. He said that the election was stolen. He spoke off the cuff despite the existence of a script. When he was finished, his staff said that everyone was "drained" from such a stressful day and they all went home. Meanwhile, the violence raged at the U.S. Capitol. Trump's followers watched the video on their phones in real time and some of them backed-off. Trump was calling all the shots and the insurrectionists were hanging on every word.
At 6:01pm, Trump tweeted to justify the insurrection and called the insurrectionists "great patriots."
Around 7:00pm, Trump lawyer Rudy Giuliani called several U.S. senators, including Ted Cruz and Josh Hawley, to try to delay the certification of the election.
Outtakes from Trump's January 7th speech shows that he refused to say the election was over despite the fact that these words were in the script he was supposed to read. He could not admit that he lost. Watch:
Members of the campaign staff were appalled that Trump would not acknowledge the death of capitol police officer Brian Sitnick or express condolences to any of the officers hurt or injured. They thought this undermined Trump's defense of the police during the Black Lives Matter summer of 2020.
There will be more hearings in September. By that point both Republicans on the committee, Liz Cheney and Adam Kinzinger, will be on their way out. Kinzinger is not running again and Cheney is likely to lose her primary in mid-August.