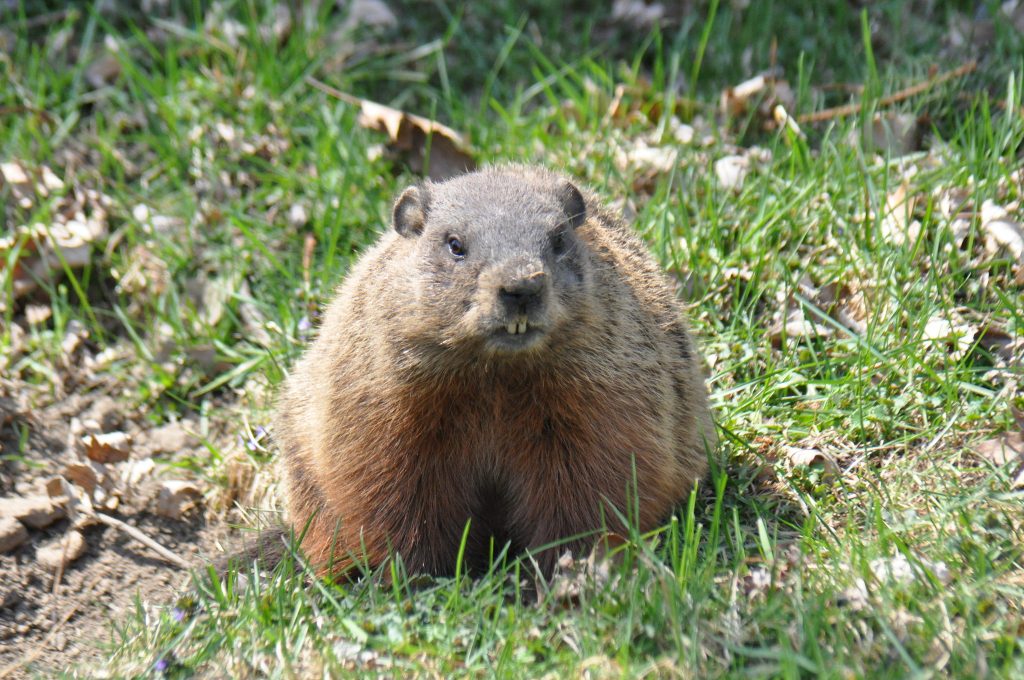 Choosing life for the wild creatures we encounter—when possible 
Pulling into my drive-space, I saw him. He was in the trap, as I knew he would be. A piece of melon in a Havahart cage does it; it's literally entrapment. He's a groundhog and a groundhog's going to do what groundhogs do: go for the melon.
He's my fifth in less than a week.
This wasn't my first choice. I tolerated them for too long, even when they ate my tomato plants. When they started breaking into my basement, however, that "changed my calculus." (PSA: groundhogs are bad for houses; take action sooner rather than later.) Their Algonquian name is apt: Móonack, "the digger."
He makes a halfhearted attempt to escape, but I suspect he has already tried every angle and knows it's futile. I move him into the shade. I give what I'm about to do little thought—the thought's been done and we're here now; we're not going to rethink it—because I want to ensure I'm not taking any satisfaction in this. That's always a danger when one is exercising power. I move him to the shade and give him more melon, but I don't congratulate myself for doing so.
Indiana has different rules for different animals. Groundhogs are, legally, at the lowest level of mammals along with mice, rats, and moles: species that can be captured and killed year-round without a permit or license, no limit.
This doesn't seem exactly right to me. No offense to the mice, rats, and moles—all of which I know have their own dignity, lives, and place in God's bounteous creation—but groundhogs seem a little more substantive. Each, I have no doubt, sings its praises to the Creator though it knows not His name; each prays for food and drink and gives thanks when it gets them; each cries out for deliverance from its enemies. Right now, with this one, that's me.
What's more, God sees. "It may enlarge our hearts towards those poor creatures to reflect that, as vile as they appear in our eyes, not one of them is forgotten in the sight of our Father which is in heaven," John Wesley preached. He considered it no small claim against God's justice that animals—incapable of sinning as they are—experience so much misery and cruelty in their lives. His only answer was "that something better remains after death for these poor creatures also; that these, likewise, shall one day be delivered from this bondage of corruption, and shall then receive an ample amends for all their present sufferings."
This isn't abstract. The fellow in the cage in my backyard right now is suffering and will soon suffer more. That suffering has a cause, and that cause has a name. I am the man.
(NB: Moving the animal, however popular a solution, is problematic in two ways: It's questionable how humane it is to just drop an animal in unfamiliar territory where it doesn't know how to survive, and it's illegal to simply release an animal on government-owned or private property.)
Like I said, I don't want to establish a relationship with him. I don't look him in the eye. It's not guilt but fear of the opposite. This kind of power holds a temptation, too often indulged by our kind, of dressing necessity up as virtue. It is not. It's just a necessity, and some necessities are evil. I feel bad (though not guilty) it has come to this. I should feel bad.
When I was young I briefly took up hunting, but soon gave it up. It's not wrong; it's just not for me. I don't enjoy wandering onto some woodland creature's home turf, seeking it out, and killing it. I don't want to be the occasion for something's death merely because I need an activity to fill up my weekend.
An old friend reminded me of a conversation we had years ago that changed his life in a small way. He was about to crush some harmless bug in his house, and I stopped him. "Could you make one?" I asked him half in jest. "If you had an unlimited budget, the best laboratory in the world, and all the time you needed, could you make one of those?" He looked at the bug. Now like me he catches them and puts them outside.
My argument wasn't against ever killing anything, just against thoughtless, unnecessary killing. When possible, choose life. Especially when it's not hard, when it won't hurt. When I lived in the Southwest a black widow spider in my house got the gallows. Black widows each produce two or three egg sacks at a time, and each of those has 500 or more eggs. I didn't want 1500 black widows in the house, or even the yard. If it's a fly, the same. It eats what I eat and what's more, it walks on my food. I don't know where those feet have been; I suspect no place very hygienic. But a beetle? Out it goes, rejoicing in its beetle-way at its deliverance, I imagine, its answered beetle-prayer.
"The Puritan hated bear-baiting," the historian Thomas Mcaulay surmised in 1849, "not because it gave pain to the bear, but because it gave pleasure to the spectators." A response is not hard to devise. Whatever we think about bears and pain, we should have little difficulty knowing what to think about taking pleasure at inflicting pain. It seems obvious that creatures made in God's image should not casually subject other creatures to sufferings each finds awful. Wesley notes the difference between what animals suffer from other animals and how "the tyrant man" treats them: "The lion, the tiger, or the shark, gives them pain from mere necessity . . . But the human shark, without any such necessity, torments them of his free choice."
Indiana allows me to euthanize as many groundhogs as I catch, and by any method, apparently. But it also says that within twenty-four hours of capture "the person who takes the animal must release it or euthanize it." It doesn't say why the state takes no concern for the life or death of the animal, but does about needlessly prolonging its sorrow. I would not be surprised if it's because of concerns much like Wesley's. It's not good for a society to tolerate, much less encourage, callousness, no matter how mean the creature in question may be.
"Varmints" isn't a word we use much anymore and rightly so. It projects our own species' convenience onto the other as if "troublesome and mischievous" aren't relative judgments. But I understand how practical minded farmers might not have had time for such nuance. If you were cash poor, living on the edge, you too might have zero-tolerance for something with as large an appetite for vegetables—and for digging—as the groundhog.
As for me and him, our conflict is hard-wired into the nature of things now. I can't reason with him, and his cuteness no longer persuades me. We're at an impasse. It is a narrow logic that grips us both. Any wideness will be found in God's mercy. I hope he will know it too, in his groundhog way.
John H. Haas teaches U.S. history at Bethel University in Indiana.