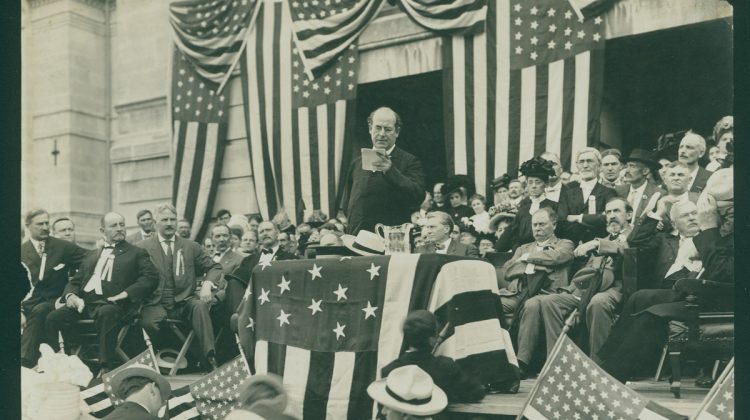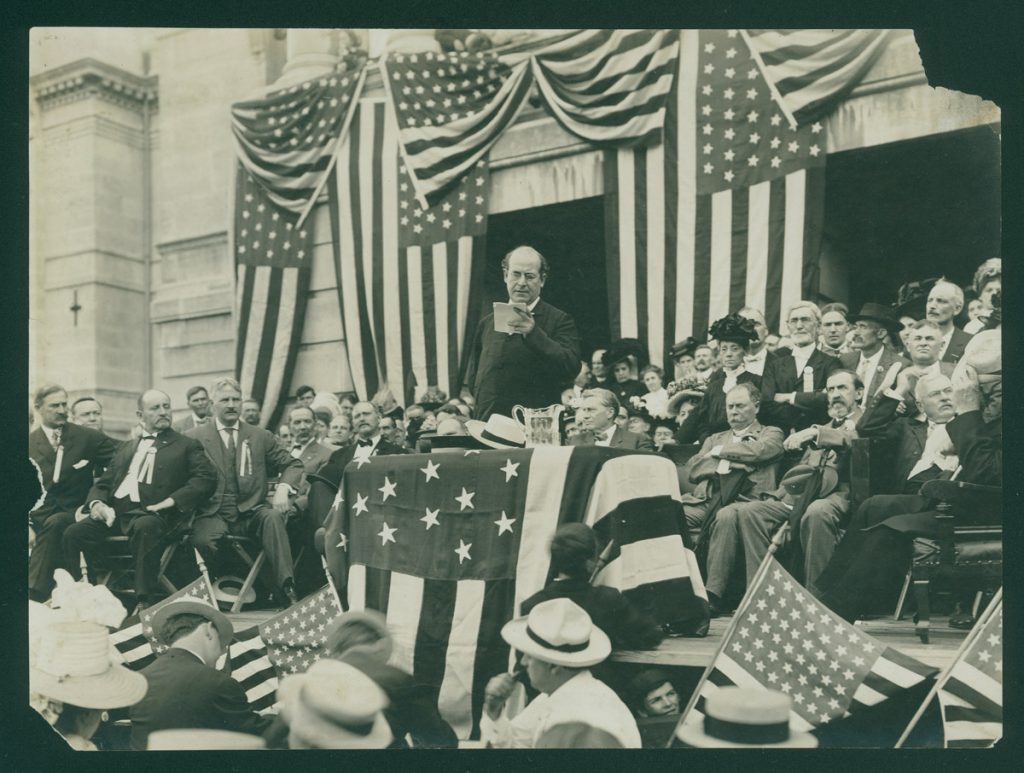 William Jennings Bryan was the first American presidential candidate to turn political campaigning into an art form. Economist Johannes Buggle explains at the Broadstreet blog. Here's a taste of his post, "Do Local Campaign Visits By a Populist Politician Matter in Elections?":
Campaign appearances are one of the most common strategies in electoral races. Personal visits and mass rallies appear to be particularly important for populist politicians, allowing them to display closeness to the ordinary people. However, before the turn of the 19th century, candidates rarely reached out to voters personally. The US presidential election of 1896 was a major turning point. In the run-up to the election, the Democratic candidate, William J. Bryan, undertook a major nationwide speaking tour. Bryan was an unknown congressman from Nebraska before his surprising nomination by the Democratic party. He embraced populism, fought for the interests of the common men who were hit by the economic depression of the early 1890s, and revolutionized campaigning by using state-of-the-art technology, the railroad, to address millions of voters. Not surprisingly, Bryan and his campaign regained attention recently when populism had a comeback in Western democracies, going so far as to portray Bryan as "The Trump before Trump".
And this:
Eventually, Bryan obtained only 176 electoral votes, compared to 271 won by McKinley, losing the 1896 Presidential election. What was the overall impact of his speaking tour? Our results imply that the campaign led to an addition of 60,000 votes at the national level (roughly an increase by 0.5 percentage points in the popular vote). Thanks to his tour Bryan probably drove home a close win in South Dakota, but no other state was won because of his visits. Thus, while Bryan gained votes in counties where he spoke, his efforts were not large enough to close the gap with McKinley at the national level.
Although Bryan lost the election and went into history as "one of America's most important losers", we document that his speeches were quite successful in persuading voters. This finding implies that campaign effects do not need to be minimal if campaigning efforts and skills of the candidates are unbalanced. It can also help understand why in equilibrium, even nowadays, both candidates usually campaign. The 1896 campaign by Bryan also shows that lopsided campaigns matter, but that it is nevertheless improbable that campaign appearances can completely overturn an electoral result.
Read the entire post here.