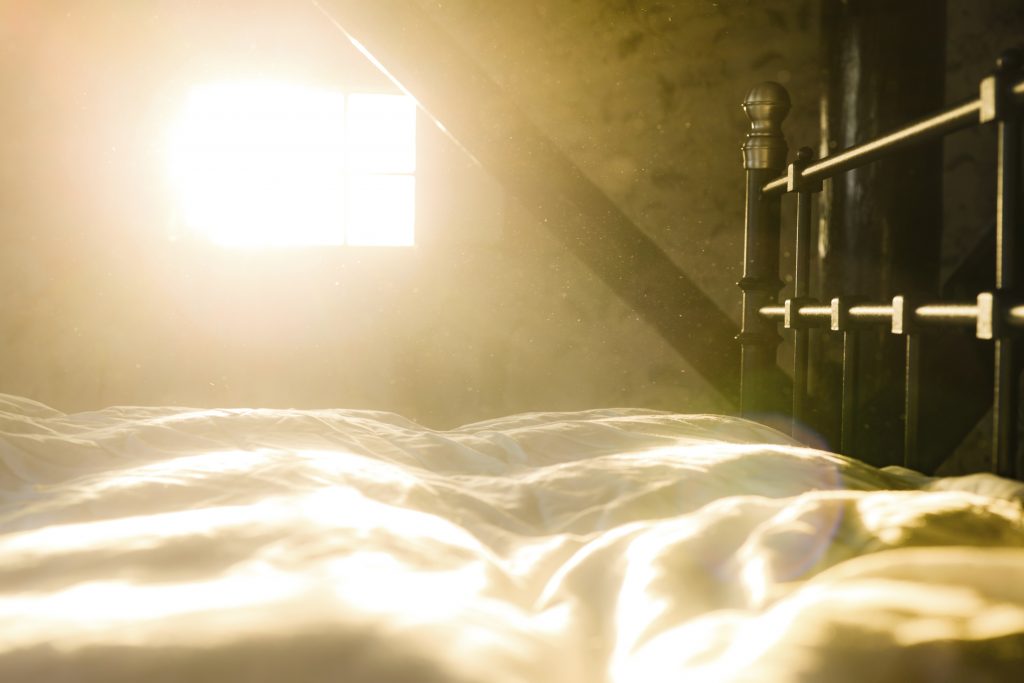 Are our capacities for perception up for what reality demands?
There was something about the morning sun coming through the window and what it was doing to the bedroom rug: magnifying each fiber and bit of fuzz, changing them into little reflected blazes of daytime starlight. It was a magical act, similar to how the swash of waves on the beach turns smashed shells and ancient shark teeth into treasure where the entire ocean begins and ends. Each curlicue of shed hair that the rug had snared since the last time I vacuumed shimmered in loose, golden sheaths. Every synthetic strand glowed with that life force with which the sunshine gilds the inanimate. What would ordinarily be food for my Hoover had become strands of silver pinhead diamonds, flakes of gold.
It is an old rug, usually the color of river clay under the light of our bedroom's ceiling fixture. The rug's weave is worn and flattened into the paths we walk over: from the bed to the bedroom door, from the door to the closet, from the closet to the dresser, all the time, never even thinking about it. I cannot remember where we got the rug. Ikea, Target, Walmart? Perhaps somebody gave it to us secondhand. Made in a factory in a different country, far away from any place I've ever been, there are hundreds of rugs just like it, thousands probably, in houses all over the city. To which the sun, at the right angles and times of day, would do the same as it does to my rug.
And one day we will get a new rug and throw this one away. When that day comes I will roll it up, hoist it onto my shoulder, and leave it at the curb for the garbage truck.
The most practical conclusion that I can come to, observing the sun and my plain old bedroom rug, is that beauty is common, or at least much more common than we recognize or care to admit. We have collectively organized our perceptions of beauty into categories like majestic and rare. This is not to say that what Michelangelo did to the Sistine Chapel or the way snow-capped Mt. Baker slams into our rods and cones aren't self-evident examples of beauty. But the faulty assumption is this: That which is beautiful must also be obvious, otherwise it cannot be beautiful.
To fully recognize beauty, wherever we encounter it, we must understand that our generally untrained powers of observation cannot provide us with an entire definition. In the mundanity of regular living, where even the obviously beautiful is either mostly absent or, worse, mostly ignored, beauty still abides. That we can't perceive it, or even choose not to perceive it, has less to do with its actual presence and much more to do with our own lazily conditioned capacities for perception.
It is also true that all objects of beauty will, one day, quit being beautiful. The Sistine Chapel will collapse into ruin. Mt. Baker will succumb to the never-ending power of erosion. Therefore, to hang our notions of beauty on the finite is to misunderstand a particular fundamental at the heart of beauty. That to which we would typically affix the designation "beautiful," like a particular piece of art or a gob-smacking mountain, is a conduit for beauty, not beauty itself.
Thank God the beauty evinced by the interplay of the sun and my raggedy bedroom rug is one of these conduits. It is a fleeting beauty, one that exists on its own brief terms, whether I was there to observe it or not. However, the beauty of the Sistine Chapel or of Mt. Baker is similarly fleeting. It is just that, first, their fleeting qualities are stickier than the fleeting quality of sunshine through a window, and, second, the human lifespan falls somewhere between "sunbeam" and "enormous rock." But were there no Sistine Chapel, no Mt. Baker, and even no bedroom rug and no sunshine, beauty would—with a nod to Dr. Malcolm—find a way. 
Paul Luikart is the author of the short story collections Animal Heart (Hyperborea Publishing, 2016), Brief Instructions (Ghostbird Press, 2017), Metropolia (Ghostbird Press, 2021) and The Museum of Heartache (Pski's Porch Publishing, 2021.) He serves as an adjunct professor of fiction writing at Covenant College in Lookout Mountain, Georgia and lives in Chattanooga, Tennessee.