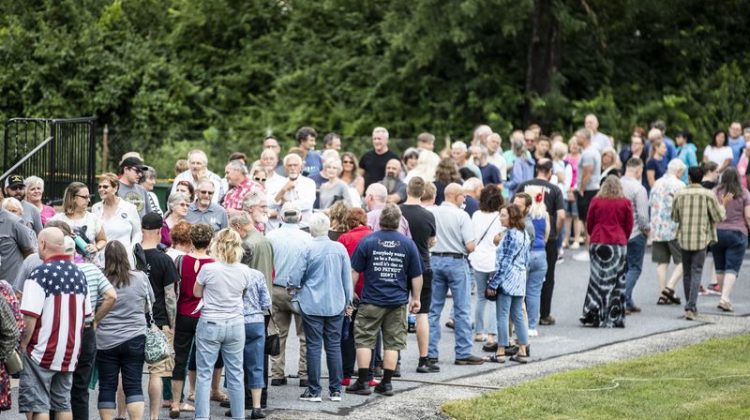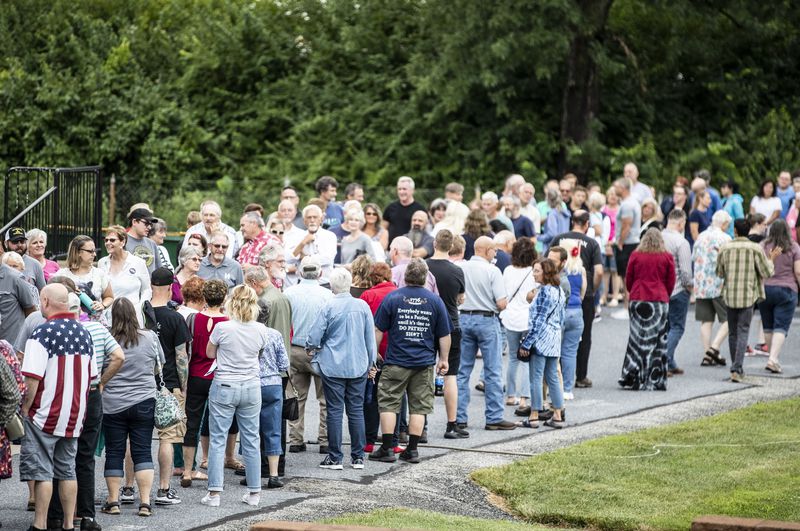 After two sites in Lancaster County refused to premiere Pennsylvania GOP gubernatorial candidate Doug Mastriano's movie "The Return of the American Patriot: The Rise of Pennsylvania," a church in Lower Allen Township (Cumberland County), Christ Community Church, agreed to air it. Christ Community Church is a charismatic church that regularly hosts conferences featuring pro-Trump "prophets" and 7 Mountain Dominionists such as Andrew Wommack, Samuel Rodriguez, Steven Strang, and Cindy Jacobs. I discuss all of these members of the Independent Network Charismatic movement in Believe Me: The Evangelical Road to Donald Trump.
Sean Simmers of Penn Live took some photos at the event: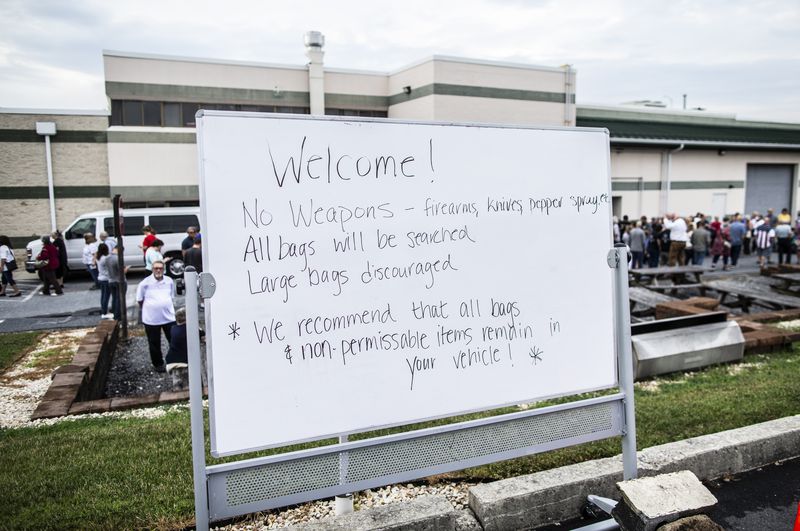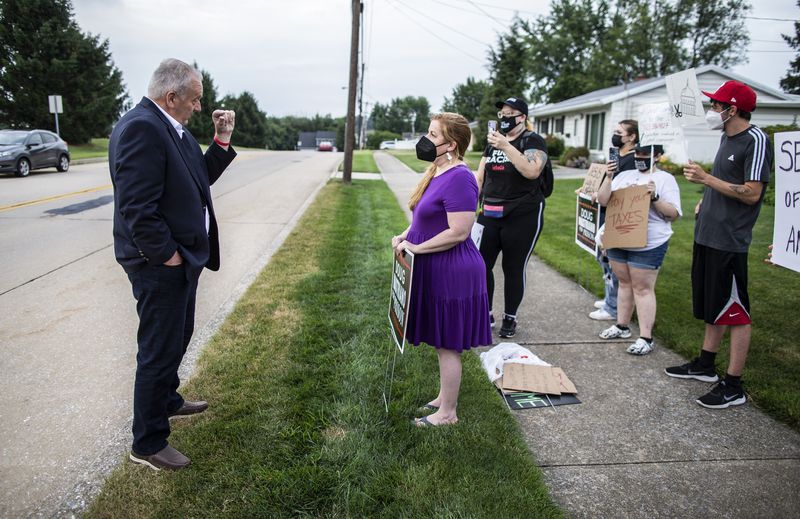 The man debating the protesters in the above picture is Joel Saint, pastor of the Independence Reformed Bible Church in Morgantown, Pennsylvania and the Executive Director of the Mid Atlantic Reformation Society.
Here is a taste of Charles Thompson's piece at Penn Live:
Sen. Doug Mastriano largely set aside his standard stump speech Saturday night to pay an homage to the latest grassroots conservative movement in Pennsylvania of which— for the moment — he's field general as he fights with Democratic Attorney General Josh Shapiro to become the state's next governor.
Gone, for this night anyway, were the Republican nominee's regular mentions of cutting regulations on business, plunging Pennsylvania head-first into school choice, putting energy development over climate concerns, keeping men out of womens' sports and rolling back abortion rights.
"The call to action tonight wasn't, vote for Doug Mastriano," explained Judah Hoover, a Landisville, Lancaster County real estate broker. "The call to action was don't get discouraged if the venue gets canceled. Don't get discouraged if they say bad things about you. Still go. Still organize. Still attend. Still participate in standing up for your beliefs."
The occasion was the premiere of a film from the production shop of Stephen Turley, a conservative author and commentator whose Web site heralds the rise of a "new conservative age" marked by people — in many countries — reasserting religion, cultures and nation against what Turley calls "the dehumanizing tendencies of secularism and globalism."
Turley, a Delaware resident, has called "The Return of the American Patriot: The Rise of Pennsylvania" a celebration of grassroots conservatism in Pennsylvania "where defenders of faith, family and freedom are absolutely changing the political order in the Keystone State."
And this:
Consider:
Turley's audience lustily cheered the story of Roslyn Williams, a former campaign organizer for Georgia Democrat Stacey Abrams who said she was fired from her job after returning to her native Philadelphia for refusing to obey a coronavirus vaccine mandate and seemingly has disavowed the Democrats because of it.
They also audibly booed images of Republican legislative leaders like House Speaker Bryan Cutler, R-Lancaster, and Senate President Pro Tempore Jake Corman, R-Centre County whom the filmmakers blasted as lacking the stomach to fight for Trump. That's a group that Mastriano has been purposely trying to unite behind him since the fractious primary battle.
Turley's film featured Mastriano only as part of a larger ensemble cast filled with the kinds of people that made his rise possible — Williams, the leaders of the Reopen Pa movement, or Danielle Lindemuth, an Elizabethtown school director who said she ran for office after being denied information about her child's classroom environment.
Others profiled are Toni Shuppe, the leader of a group called Audit the Vote that began with a quest for a full forensic audit of Pennsylvania's 2020 election results; and Tabitha Valleau, a co-founder of Free PA, which led early grassroots opposition to many of Wolf's coronavirus restrictions and is now recruiting "constitutionally conservative" candidates for state and local office.
Even so, the trappings of the 2022 governor's race couldn't be missed.
Just off the church grounds, a peaceful group of 10 demonstrators greeted the attendees with signs reading "Doug Mastriano for prison," in a possible reference to the candidate's presence at the Jan. 6th, 2021 march on the U.S. Capitol that turned into a violent attempt to disrupt Congress's certification of Democrat Joe Biden's election.
Read the entire piece here.
Here is the trailer for the film:
I have not seen this film, but based on the trailer it seems like it was produced to scare people. It offers up Mastriano and others as strongmen who will protect Pennsylvania from liberals and progressives. Notice that it doesn't offer any positive or constructive vision. Also notice how the trailer connects the Mastriano campaign to Trumpism. As I argued in Believe Me, Trump's success among evangelical voters in 2016 and 2020 was based on a campaign of fear, the pursuit of power, and nostalgia for a golden age that is either long gone or never existed in the first place.
Let's focus for a second on nostalgia. The use of the past in the film, including Mastriano's appearance on the battlefield at Gettysburg, suggests that Mastriano's reading of the American Revolution and American liberty is the correct reading. But that's not how history works. Good history examines the past in all its fullness and complexity. Bad history (if you can call it history) manipulates the past for contemporary political or cultural ends. I guess Mastriano did not learn this in his graduate seminar in history at the University of New Brunswick. Or perhaps he did learn this and just chose to ignore it because this kind of responsible approach to the past was not useful to him.
Finally, this entire event may be a violation of the Johnson Amendment.