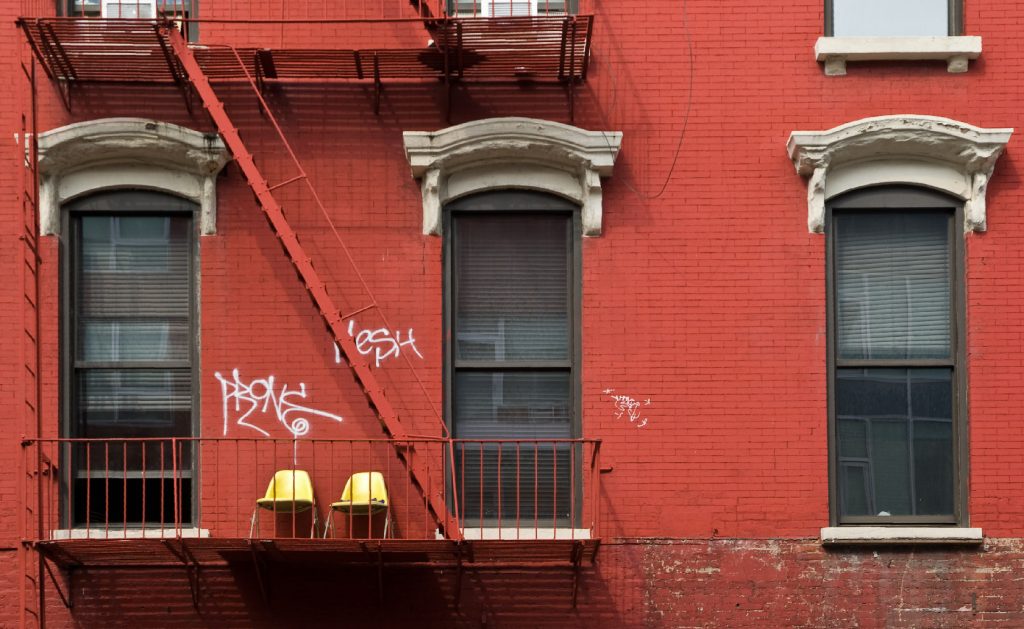 Julie Phillips imagines the possibility of creative work and family life combined
The Baby on the Fire Escape : Creativity, Motherhood, and the Mind-Baby Problem by Julie Phillips. W.W. Norton & Company, 2022. 320 pp., $27.95
How is it that the same cultural moment that reviles helicopter parents battens on tales of moms and dads—okay, mostly moms—who abandon children in moments of spectacular neglect? The charge that moms neglect children when they do something for themselves inspires Julie Phillips's The Baby on the Fire Escape: Creativity, Motherhood, and the Mind-Baby Problem. The book takes its fine title from an accusation that artist Alice Neel once stuck her baby on a fire escape while she finished a painting. A mother writing about mothers writing, Phillips digests biographies of twentieth-century female artists and writers to make an announcement: Motherhood and creativity are not mutually exclusive. The news is jubilant and packaged as surprise.
What Phillips's thesis posits with one hand it takes away with the other, since the author doesn't "believe that one kind of mothering is better than another," applauding women who parented on their own terms rather than obeying conventions that would drain them of "the energy and independence of mind necessary to creation." It is hardly necessary to argue that motherhood should bend to accommodate art when Phillips's chosen subjects proved plenty capable of bending it into desired shapes. No solution need be sought to the general problem of pairing motherhood and creative work if motherhood already is this malleable and no one's solution is right for anybody else.
The prejudices against which the book's characters struggled mostly no longer obtain.
Yet the book's premise is too good to let go, even if it cannot dispel the problem it names. The book bundles a few sets of puzzles more usefully disaggregated. At one level, it wonders what conditions are necessary to make art, for women or anyone else. Within the precincts fertile for art-making, writing poses specific challenges of its own. The book also gives yet another treatment of women and careers, what has gone wrong and what can be done to improve opportunities. Finally, motherhood gets beckoned back to the drawing board to reimagine a version better suited to an interesting lifestyle.
Recent handlings of strife over women and careers mostly make the same kinds of checklists, redistributing domestic tasks so men do more, shifting schedules to balance "life" and "work," demanding more from childcare and paid-leave policies. In some respects, creative work is just like any other kind of work, presupposing supports that allow women to enter it productively. Unlike jobs that can be subdivided and or multitasked, though, creative composition really does require sustained focus. Composition depends on the mysterious interplay between a particular person—with her skill, interest, experience, vision—and a truth the work bear may forth. That interplay can be an ego-boost, artworks coaxed like a patronus out of the artist's uniqueness. The artist doesn't pop out masterpieces ex opere operato just by going through the motions. Creativity depends on a presence of mind; it wants that trance-like animation sometimes called flow, with the doer immersed, undistracted, unselfconscious in the process.
If flow conjures one set of images for the visual artist, broad sweeps of paint across rough canvas, the writer's situation is a little more awkward. Walker Percy called painters and sculptors the Catholics of the art world but cast the writer as a Protestant, "marooned in his cortex," working "alone in a room as bare as a Quaker meeting house with nothing between him and his art but a Scripto pencil, like God's finger touching Adam." For writers now, even this screwed-tight concentration can be elusive, since inscribing words with keys onto screens sacrifices the tactile outlet of even the pencil and clickbait lurks just under the cursor. Writers who have children might see that spare room-pencil picture as impossibly quaint and luxurious at once. Mothers rarely find themselves alone in a bare room with a door that locks. Sometimes that means things don't get written.
Good creative work avoids interruptions. But parents have interruptions. The syllogism can be closed by barring parents from creative work, by reducing interruptions, or by discovering a kind of creative work improved by interruptions. Though most of Phillips's characters get art done by putting distance—literal or metaphorical—between themselves and their households, hope glimmers in the direction of that last possibility. Some kinds of art-making may be foreclosed by family life. But receptivity to other people might improve another kind. One can't stay long marooned in one's cortex with youngsters grabbing at the knees. Tedium of diaper and dishwasher does not itself create richer work, but response to interruptions or creativity embroidered around interruptions might make something gorgeous. Perhaps the solution to the mind-baby problem is the opposite of the career women's checklist: not reducing burdens but drawing out of the burdens a new kind of creativity.
If the solution to the mind-baby problem is new art shaped by responsiveness, that breakthrough slips from grasp if its exemplars manage what they do by spurning nurture. The author approves a daughter's defense of her mother's scorn for domestic conventions: "I believe she was right to act as she did; all the boring women who have told me 'I could never leave my children' have helped to convince me." Motherhood can have drudgy parts and glorious ones. But if the drudgy parts potentially transform art, those boring women might have not only angels on their side but muses too. Phillips affirms the "acts of emotional sabotage" these women meted out to lovers, husbands, and children, acts that "let them set boundaries without feeling hard-hearted." Boundary settings usually do not feel good in the same way to those on the other side of their imposition. Motherhood does not need to fit a single mold. But it does presuppose a certain care, physical and emotional. Mothers have relationships with children, beings who can be fouled by hard-heartedness. Neither should husbands and lovers be so instrumentalized. As in other spheres, progress for women should not be registered by their embrace of behavior—mining lovers as inspiration for art, maintaining detachment from dependents—we rightly regret in men.
What is lost if women can't do creative work, as Virginia Woolf and others have testified, is a lot of good art and good books. Conditions enabling creative women to produce their work should be found; otherwise, we all are the poorer. Phillips mostly takes that point for granted, animated instead by what would be lost in the personal fulfillment of her subjects had motherhood gotten in their way. Some would-be artists are drawn to art more for the feeling of being creative than the urgency or quality of their creations. Protecting time and focus to serve creative work can look like selfishness. Sometimes it actually can be selfishness.
Imagining nicer combinations of creative work and family life is a worthy project. The pair is unlikely to fit together better if creative work is mostly the means of self-fulfillment around which other stuff and humans orbit. It stands to reason that a good artist or writer probably has love for other stuff and humans. The trick is not so much enforcing boundaries but making space for each one's creative work by mutual deference, which comes from love.
Agnes R. Howard teaches in Christ College, the honors college at Valparaiso University, and is author of Showing: What Pregnancy Tells Us about Being Human.