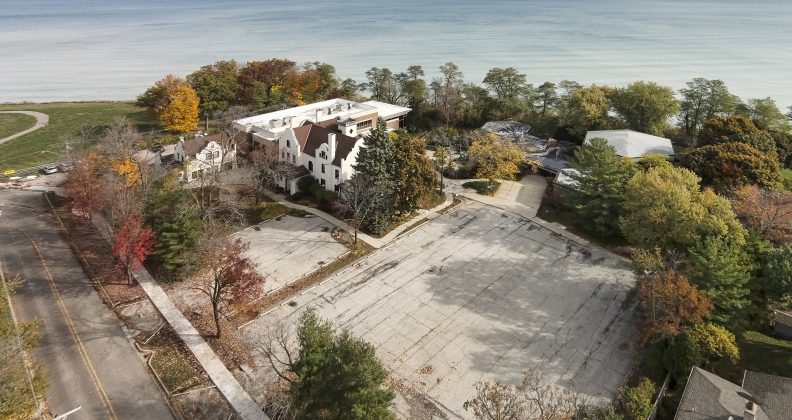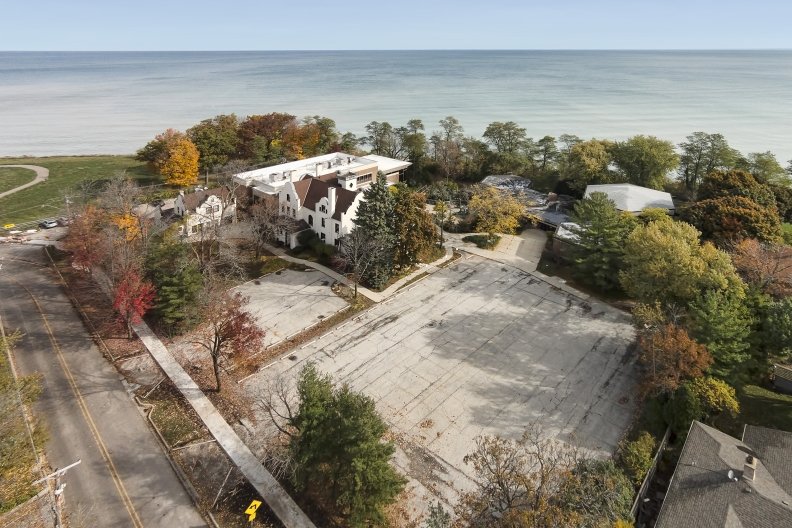 The shootings are getting closer to "home."
I live nearly 700 miles from Highland Park, Illinois, but I resided in this Chicago suburb for two important years of my life. From 1992-1994 I lived at a now defunct synagogue in Highland Park located adjacent to the old Fort Sheridan. I filmed bar and bat mitzvah's, landscaped the grounds, set-up chairs and tables for afternoon Hebrew school, and stood on call during high holy days. The leadership of Congregation B'Nai Torah called me and my co-workers–all evangelical divinity school students– "the boys." In exchange for our labors the synagogue paid us a fair hourly wage and let us live on the third floor of the house that served as the congregation's offices (the house pictured above). It was a great deal. We were single, poor, and trying to figure out our next steps. Life on the shore–the literal shore–of Lake Michigan was a wonderful place to sort it all out.
Highland Park was the place where I dated Joy. She lived a couple of miles away–near the hospital and closer to where yesterday's shooting took place. A lot of our dating life consisted of hanging-out at the synagogue, walking along Central Avenue, and eating pancakes at Walker Brothers restaurant.
In order to afford an engagement ring I worked multiple jobs. I managed to land some work at a local community college teaching United States history surveys. It was my first experience in a college classroom. I also worked graveyard shifts as a security guard at Highland Park High School. I imagine I am one of very few people to have shot baskets in the school gym, napped in the nurse's office, swam in the pool, and done my laundry in the home economics room at 3:00 AM. Joy would occasionally come by with food or just to keep me company. Sometimes I would get off my graveyard shift at 6:00AM, grab a couple of hours of sleep, and drive to the College of Lake County in Grayslake to teach my 9:00am class. On weekends I would sometimes work double shifts at the high school.
I spent this July 4th (2022) alone in a Nashville hotel watching the Highland Park tragedy unfold on television. I viewed the images of Central Avenue with a strange mix of nostalgia and sadness for the people of Highland Park and our country generally. During some of my reading yesterday I stumbled across Howard Bryant's ESPN.COM piece "Baseball, Barbecue, and Losing Freedom This Fourth of July." For reasons I am unable to articulate clearly right now, Bryant's piece resonates deeply with my thoughts about what happened yesterday in Highland Park and what is happening in this nation.
Here is a taste:
July 4th was the best day of the year. Everything was centered on family. In some ways it was even better than Christmas because the entire family showed up — the Fourth was a de facto family reunion. The massive barbecue, the pool at one uncle's house, even though you nearly drowned in it not once, but twice. All the cousins. The older ones who brought the cherry bombs and bottle rockets, the younger ones like you who were content with a strip of firecrackers. The Boston fireworks displays at the Esplanade, or later, at Stephens Field in Plymouth. The touch football games. The math reminds you just how young everybody was. When you were 40, your boy was in preschool. When your mother turned 40, you were a freshman in college.
You look out the window. The towns pass and so do the memories. Don't think about them. Your mother is dead. Long dead. Fifteen years now. Your father, ravaged by dementia, is breathing, but he's not alive. Hasn't been a presence in years. The young family is now old, a small family getting smaller. Look ahead. Look at the road. Look at what has replaced the memories. The Fourth is coming. Look at what it has become.
And this:
Grilling, baseball and fireworks, first replaced by symbols — and now by a country tearing itself completely apart. July 4, 2022, falls in the midst of devastation. It is Independence Day in America with independence under current and relentless assault. From Miranda rights to the environment, to the separation of church and state, to guns — so many guns — people are reeling. The U.S. Supreme Court has run a chain saw through what two generations of Americans had known to be the legal baselines of their lives. Tens of millions of women today do not feel freedom and certainly are not celebrating independence. The people who can become pregnant who feel celebratory toward the Court may do so from the victory of their position, but it nevertheless remains true that the power of choice — and the right to privacy — has been taken from all of them.
You look at the Betsy Ross flag, and then you look at it again. As a kid it was your favorite version of the American flag because the 13 stars in a circle looked kind of cool, reminded you of "Schoolhouse Rock!"– the old Saturday morning cartoon. As an adolescent, you associated the 13 circular stars with sports — Dr. J, Andrew Toney and the Philadelphia 76ers. Today, as an adult, you see how the flag has been co-opted by white nationalist groups, some of the same ones who stormed the U.S. Capitol on Jan. 6, 2021.
"Schoolhouse Rock!" A cartoon short birthed during a period of Congressional concern in the early 1970s that children devouring Saturday morning cartoons required some balancing educational component. ABC voluntarily created the legendary three-minute cartoon focusing on math, science, grammar — and civics, the basic tenets of the American democracy. There is no pretense of basic civics today.
YOU WATCH TV, even though you swore to not pay attention to the Jan. 6 congressional hearings. It was not a decision made from the perch of elegant privilege, of too rich to care, but from a full dissidence — a weariness of the gaslighting and false equivalencies, the whataboutisms, the goalposts moving that have defined the past several years. The spectacle of all-white juries acquitting proud, admittedly guilty white killers of Black people largely predated your birth, and thus for the past 18 months you've held on to a truth: The events of Jan. 6, where Americans stormed the most symbolically important legislative building in the free world — and a sitting president reportedly enraged he was not taken to the Capitol to join them — are the most unforgivable betrayals of the American ideal in your lifetime.
You said you were not going to watch, but inner conflicts aside, you are an American — so you watch. You revisit the images of police barricades being knocked down, of Americans climbing through windows trying to breach the U.S. Capitol, of elected American officials sheltering in place and of police running from Americans lest they be trampled by them. Think about the people chasing them, the ones over past decades who always told your people to obey, the ones so quick to call others anti-American. You tell yourself to not think about the utter, enraging hypocrisy, to resist the useless and flaccid equivalencies. (Imagine if Black people did that…) It all falls flat. We are post-hypocrisy. The equivalencies don't hold up. They never did.
Instead, you drift back into sports, to the players over the past decade, the Black ones who knelt silently, who appealed for better with a momentary gesture — and for it, they were called unpatriotic. They were called sons of b——. By the fans who paid to see their wondrous abilities. By the then-president of the United States. They lost their careers for it. They were traded for it. A Supreme Court Justice, the late Ruth Bader Ginsburg, called the protest by Colin Kaepernick and others "stupid," as well as "dumb and disrespectful" before the eventual unsatisfactory apology. These Black players were the subject of constant news stories dissecting the appropriateness of their actions. Recall the individual moments; CC Sabathia, as a Yankees pitcher, on the team plane trying to explain the Black communities and their tense relationships with police after one of his white teammates asked of Black suspects, "Why don't they just obey?" You think about John Mara, a co-owner of the NFL's New York Giants, and Steve Bisciotti, majority owner of the Baltimore Ravens, who indirectly reached the same conclusion: The majority of their fan bases just simply would not accept a kneeling player. That crime was that great, a line too far. Both publicly said they supported Kaepernick's right to protest, but neither dared even let Kaepernick try out as a backup — even after several productive conversations between Ravens coach John Harbaugh and Kaepernick. They said the right words, but their deeds, along with the other 30 owners, told a different, far more truthful story.
You always wondered how the players would react to Jan. 6, knowing that the people who stormed the Capitol, threatened congressional leaders and the vice president of the United States, and were part of a riot that led to a police officer's death, reflected the same constituency of Americans who told the players to obey, to respect the flag, to find a better way to protest.
You think about Tony La Russa, manager of the Chicago White Sox, who always has so much to say about who is doing what and how they're doing it. Kaepernick was just seeking attention, La Russa said. He was disrespecting the flag, La Russa said. You think about John Tortorella, who as coach of both the NHL's Columbus Blue Jackets and the U.S. National Hockey team, said in 2016 — before changing his stance in 2020 — that any player who took a knee or made any sign of protest against the flag wouldn't play. You think about Boomer Esiason, the former NFL quarterback turned broadcaster who criticized Black players for their protest, which consisted of a silent gesture. You think of Ray Lewis, the Hall of Fame Baltimore Ravens linebacker, who said Kaepernick needed to shut his mouth if he wanted to play in the NFL.
When the barricades were overrun, and elected officials of both parties hid under their desks, and the cops were killed, and the very people who told Black people to respect the law and obey did not obey, where was La Russa? Where was Tortorella, who believed so much in America? Where was Esiason, and Ray Lewis and all the commentators who demanded law and order and respect?
They were silent.
Read the entire piece here. Bryant's piece may also explain why I have been retweeting so many old baseball pictures lately.