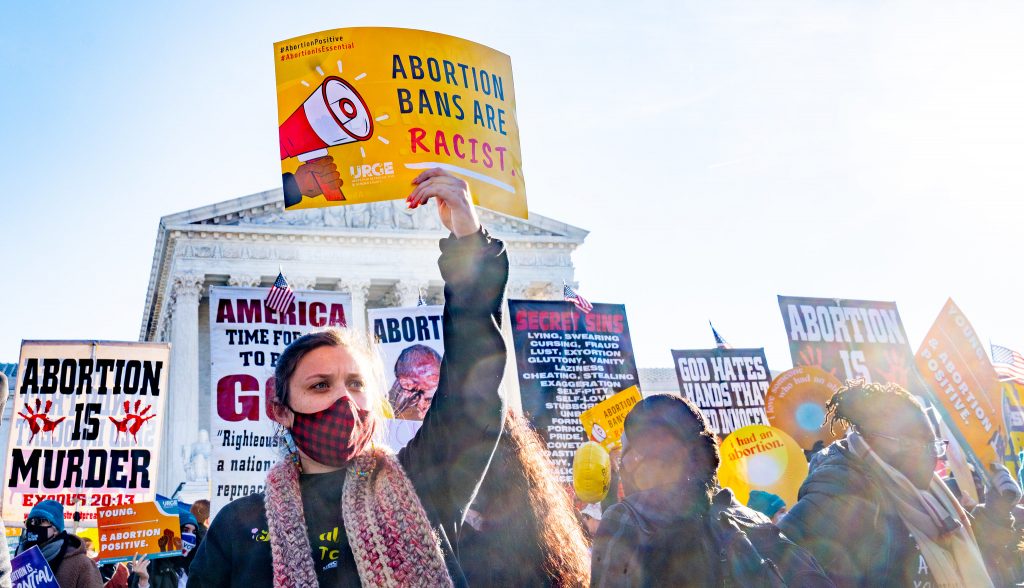 A time to listen
This past Friday afternoon, as the tidal wave of the Dobbs decision was washing over us all, the editors put out a call to friends of Current for brief responses to the moment—responses that might range from the personal to the analytical, from the prophetic to the meditative, from the left to the right. Hoping for two days' worth of submissions, we received way more—a windfall of wit and wisdom, layered in no small amount of anguish.
Our forum "The End of Roe" will run through Thursday of this week. It will feature reflections from scholars, writers, pastors, professors, and activists who have been engaged in this most divisive and personal of issues for many years, some since the Roe decision itself. We hope that amid your own responses to this moment you will find this forum an aid to deepening understanding and fruitful action.
Please note that we've removed our paywall for the site through the end of this forum—The Editors.
***
The burden of mystery
Anonymous woman, late-20s
I feel like a coward, afraid to speak. I am afraid to speak because I feel uncertain. And uncertainty doesn't seem to be what the moment calls for.
The question of where life—or more precisely, personhood—begins feels impossible and unknowable. Fertilization, quickening, ensoulment? We know that a person feels more like a person the longer they have to grow. We grieve them differently when they are lost at different points along the way. But setting any benchmarks for when a person becomes a person is frightening to me. What if we get it wrong?
Perhaps it's best to be conservative, then: To draw the lines early, to acknowledge that in the face of the mystery we must settle for something hard.
"We" must settle: It's not accurate. The hard things I impose via this worldview are on others: mainly, women who are younger or less resourced than I am. Even with allowances in some states for medical emergencies and violent conceptions, what this new order will demand is sacrifice. You may believe that sacrifice is worth it. Perhaps I am a coward for not proclaiming that. But it's very hard for me to hand the burden—the burden of mystery, the hard thing—to someone else.
Many of my friends are grieving, calling it all injustice. I am grieving too. Maybe that grief is suspect, because I want what they want—dignity for women, communal care, actual liberty, another kind of politics—but manifested differently.
There's no fallen world in which organizations and government and neighbors will always step in to fill the gaps with funds and supplies and support. A consistent ethic of life, cherished at the beginning and at the end: It is an easy thing to advocate for. I can hope it comes to infuse our common life. But I know it won't in every case, especially in those that are most quiet and private and painful.
When the children are born, even into sorrow, it's difficult for a society to wish they hadn't been. Easy for me to say, some would sneer: married, resourced, not even a mother myself. And it's true. It's all too easy for me.
***
Where is the man?
I'm not qualified to assess this decision from a legal or constitutional perspective. Nor can I point with certainty to the moment a human embryo becomes a human being with a right to life. When I look for Biblical guidance on the question, I find nothing definitive. Yet John 8 seems indirectly relevant. The text tells us that when asked what he thought about the woman caught in adultery, Jesus bent down and started to write on the ground with his finger. The text does not say what Jesus wrote. But some who have reflected on this passage wonder if what he wrote was, Where is the man?
Like the act which the Pharisees of the gospels criminalized, conceiving a child without forethought of the consequences is an act that involves both a man and a woman. Yet the refusal to bear that child to term, in our legal framework, only implicates the woman. Are there comparable refusals that, now or in the past, have legally implicated only men? Until very recently, the decision whether or not to go to war for one's country faced men alone. Like the decision whether or not to bear a child, it was considered a question of accepting a duty, or welcoming a privilege, that one's gender entailed. Socially, those who refused to take up arms were often scorned or bullied. But they were not necessarily criminalized. If a man said, "this violates my religious convictions," we allowed him conscientious objector status. If he explained, "I need to stay home to care for my blind mother," we postponed his enlistment. If the man's physical health did not fit him to fight in battle, we exempted him. The state allowed that a man may have reasons not to fight. Among those who would criminalize abortion, one looks in vain for recognition that a woman may have reasons not to bear a child.
Ellen Tucker is a writer and editor for Teaching American History, a program that provides content-based seminars and other resources for secondary school teachers of American history and government.
***
America remains a pro-choice country
How can I keep from singing? Well, I have a Ph.D. and have been trained to see the cloud approaching every ray of sun. Yes, I am happy that the Supreme Court finally overturned Roe v. Wade, a loathsome decision affirming the legality of a heinous act of infanticide by means of a spurious legal logic that has given credence to the conservative charge that liberals have used their dominance of the American legal system to legislate from the bench. On the other hand, the path to the Dobbs decision has been paved by so many unscrupulous political alliances that it is hard for me to see the mere rejection of Roe as ushering in the more positive development of a culture of life. The "ordered liberty" invoked in the decision has for several decades been a conservative dog whistle for a coupling of an "ordered" personal morality with an unbridled economic "liberty." This nostalgic, nineteenth-century cocktail has failed time and time again. Fewer abortions are a good thing. But anyone looking at contemporary America who thinks that merely outlawing abortion in some states will restore moral order to America is delusional.
A certain other delusion runs as well through the Dobbs decision: the repeated invocation of "history and tradition" as a guide to legal decision making. True, at one level Roe went against statutory laws dating back to the nineteenth century and a general moral bias against abortion going back even further. Yet American history is nothing if not a revolt against established traditions. The transformation of the United States from an agrarian republic to an industrial-capitalist superpower came through rejecting nearly every traditional restriction on the rights of private property; when farmers, workers and reformers pushed back in the name of older standards, the Supreme Court reliably intervened to bestow constitutional protection on the new ways. Even as the twentieth century courts began to support greater restrictions on economic freedom, they also granted greater freedom in matters of culture and morality. Dobbs may at first glance appear to be a push back against this cultural libertarianism, providing a kind of cultural equivalent of the regulatory state. In fact, it affirms abortion as a choice but simply shifts the decision-making agency from individual women to individual states. America remains a pro-choice country.
Christopher Shannon is associate professor of history at Christendom College in Front Royal, Virginia. He is the author of several works on U.S. cultural history and American Catholic history, including American Pilgrimage: A Historical Journey Through Catholic Life in a New World (2022), available now from Ignatius Press.
***
They weaponize trauma
One weekend back in my undergrad days an anti-abortion group called the Genocide Awareness Project (GAP) set up shop in the middle of campus. All around the student center, the GAP raised 8-foot-high color photographs of aborted fetuses. Dependent upon morbid shock and sudden guilt and nourished by the gotcha faux spirituality that tends to be anti-abortion's stock-in-trade, an enormous sneak attack was the order of their day.
At the time, I'd never impregnated anybody. I was a product (victim?) of evangelical Purity Culture. No matter what, sex was right out. So what could huge pictures of aborted fetuses teach me—a cis-gendered, heterosexual, middle-class, white kid—about my own burgeoning sexuality? It's a rhetorical question but, what the hell, let me answer it: THERE. IS. NO. ROOM. FOR. YOU. TO. SCREW. [PUN. INTENDED.] UP. YOUR. SEXUALITY. YOU. WILL. NEVER. GET. OVER. THE. GUILT. And since this was all sanctioned, supported, and blessed by myriad campus Christian groups, the inevitable, indelible post-script was AND. JESUS. WILL. NEVER. FORGIVE. YOU.
That GAP visit did nothing to further my own understanding of abortion, not to mention its attendant political and evangelical underpinnings. Nor could it have. The organization is a war club, not a diplomatic mission, and each visit it makes ("makes" and not "made," because the GAP still exists) constitutes an unprovoked act of war on whichever campus it visits. But look: Brass tacks, huge pictures of tiny bloody body parts, while gross and bizarre, weren't blows aimed at my head. I'm not the one the GAP was swinging at.
J'accuse, GAP, and the modern anti-abortion movement: Besides lacking all decency toward victims of definable genocide (e.g. the Holocaust), they weaponize trauma. Their modus operandi is the surprise injection of unbearable shame into the lives of women who've had or could someday possibly have (i.e. all women), an abortion. The prevailing, unstated but unmistakably clear purpose of the GAP, and indeed the modern anti-abortion movement, is to judge and execute women who've undergone, or may yet undergo, abortions: a rolling, carpet-bombing campaign of retributive and pre-retributive trauma that will almost certainly ramp up in the wake of the SCOTUS decision. "We can't actually send women to hell," you could almost hear the GAP and its allies, say, as it set up those giant photographs, "so let us bring hell to them."
Paul Luikart is the author of the short story collections Animal Heart (Hyperborea Publishing, 2016), Brief Instructions (Ghostbird Press, 2017), Metropolia (Ghostbird Press, 2021) and The Museum of Heartache (Pski's Porch Publishing, 2021). He serves as an adjunct professor of fiction writing at Covenant College in Lookout Mountain, Georgia, and lives in Chattanooga, Tennessee.
***
The kind of blueprint we need
In the mid-third century CE, a period in Roman history that is in some ways the most similar to our present moment (including economic instability, empire-wide political turmoil, and a pandemic all at once), a recent convert became the bishop of the most influential see in Roman Africa: Carthage. While Cyprian never preached on abortion directly, as far as we know, his leadership of the church at Carthage from 248/9 to 258 CE provides a convicting blueprint for a church that is self-sacrificially, comprehensively, and consistently pro-life, unlike the Roman culture in which it was situated. This is the kind of blueprint we need right now as we try to discern how the Church can respond lovingly to the overthrow of Roe in our own culture.
For Cyprian, the mission of the Church consisted of ministering to others in crisis, believers and unbelievers alike, in Word, deed, and cash. Usually he recommended using all three at once in situations that ranged from advocating support of different kinds for widows and unmarried women, buying back Christians who had been kidnapped for sale into slavery by nomadic tribes, supporting new converts from scandalous backgrounds, and encouraging believers to care for one another during the horrific pandemic that ironically eventually acquired his name: the Plague of Cyprian.
This present moment is a powerful opportunity for the Church to be fearless in its loving care and kindness to all in need, serving them in Word, deed, and cash, just as Cyprian exhorted his flock to do. This is what a pro-life ethic requires of us, at a minimum. After all, poverty continues to be a significant cause of abortion in this country.
But a comprehensive and consistently pro-life ethic demands much, much more. Yes, it demands our time, money, and prayers. It also demands mourning over a brutal and unjust war that rages across the ocean. And it demands mourning over unnecessary deaths and the utter disregard for the bodies of all image-bearers in this country, whether in the more distant past or just this month: The freedom to take away life gained even more protection the day before the overthrow of Roe.
It is easy to condemn abortion. It is not easy to be consistently pro-life.
Nadya Williams is Professor of Ancient History at the University of West Georgia. She is a Contributing Editor for Current.
***
What we mean when we say this decision is anti-democratic
Growing up in southwest Virginia I met a lot of principled pro-lifers. They were honest about what they wanted: to ban abortion by constitutional amendment. They wanted to educate and convince the public to recognize a fetus as a human being, and when that happened, abortion would end. They wanted to make their case.
That is not what happened Friday. Rather than proclaiming the personhood of a fetus, the court instead gutted the right to privacy, insisting that only the rights the authors of the Fourteenth Amendment had in mind when it passed in 1868 are covered by it. They did not defend the rights of the unborn. Instead they told all of us—those who might get an abortion and those who will never get an abortion—that we do not have a right America had recognized for fifty years.
A right we have relied on is simply gone.
Nor was anyone honest about what they wanted. Justices Gorsuch, Kavanaugh, and Barrett all referred to Roe as settled precedent that had to be respected in confirmation hearings. In order to confirm Gorsuch in 2017, Mitch McConnell broke precedent and refused to fill an empty seat on the Court. Republicans said this was a new precedent—no new appointments in an election year. This too was a lie. In 2020, Ginsburg died and they filled it eagerly. They were not bothered by their pledge. Their word meant nothing.
And the ruling falls amid revelations of another series of lies: those about the election of 2020, which has already triggered crises of legitimacy across the nation.
My grandparents lived through this when they crawled out of Eastern European autocracies—places where, as Jews, they had no rights as human beings, but merely the formalities of denizen-ship. They lived there, and whatever the emperor or czar decided to do with them from one day to another was done. That was "history and tradition"—the same rhetoric used to eliminate our rights as Americans just last week.
When politicians lie about policy and programs, when precedents are trashed whenever convenient, no one knows what rules will apply tomorrow, let alone years from now. There is no trust. When there is no trust, there is only force. It is the same as living under the dukes and czars. Whatever the leader thinks when he wakes up is law for that day—a hallmark of President Trump's leadership style.
The pro-lifers of my childhood should be glad that fetal life has been protected—but I hope they also realize this protection comes as a byproduct of creeping autocracy. For the sake of their ability to make their argument, I hope they will savor their victory and join the rest of us in fighting autocracy.
Adam Jortner is the Goodwin-Philpott Professor of Religion in the History Department at Auburn University. He is the author of the Audible series Faith of the Founding Fathers and was part of the creative team behind Where in Time is Carmen Sandiego? He is a contributing editor for Current.
***
This heaviness
I was raised in a politically conservative Mormon home. This conservatism included an opposition to abortion rights, grounded less in religious doctrine than in a moral repugnance of what abortion entails. That repugnance stayed with me for many years; indeed, it remains with me still.
Yet a sign in our front yard calls for people to vote "no" on the so-called "Value Them Both" amendment referendum this August, which, if it passes, will stipulate that the Kansas state constitution does not guarantee women even a minimal right to abortion services. With the overturning of Roe v. Wade, this vote is, for thousands of female Kansans, of great seriousness, and I support them. So what happened to me?
What happened is that I've been married for 29 years, and we have four daughters.
As my wife and children and I have grown older, the pressing and often painful complexities of marriage, sex, love, risk, desire, and children, along with the confusions and justifications and fears that attend all of them (as well as, of course, the many joys and surprises they bring), have simply become enormous to me. Add to that concerns about money, extended family, health (mental and physical), and maybe most important all, the innumerable assumptions and (mis)understandings among those we love that we must navigate every day. The result of all this is a heaviness—the same sort of heaviness I remember feeling when I held our firstborn daughter and felt both the physical as well as the moral weight of that which my wife and I had taken responsibility for.
The notion that women's approach to that heavy complexity—the costs and rewards of which are always unknowable beforehand—should be fundamentally subject to others' judgment, no matter their circumstance or the science of what is going on (or not yet going on, or no longer going on) inside their bodies . . . well, that is what I find repugnant today.
This is not an absolutist defense of every possible kind of reproductive service in every possible situation. I don't feel that way (and don't feel that existing abortion laws in Kansas are indefensible compromises). But as painful as the moral reality of abortion truly is, the reality of denying a woman—a living, post-embryonic, struggling, thinking human being—full access to all the difficult paths she might feel a need to choose between as she navigates the heaviness mentioned above strikes me as the much greater burden. So, whatever the many legitimate complexities in how abortion rights in the U.S. are construed, I mourn with those who will be hurt by the Supreme Court's decision and hope to do my part to mitigate some of that harm.
Russell Arben Fox runs the History & Politics major and the Honors Program at Friends University, a small Christian liberal arts college in Wichita, KS, where he has lived with his wife and their daughters since 2006. He is a regular contributor to the localist website Front Porch Republic, the Religious Socialism blog sponsored by Democratic Socialists of America, and the Mormon blog By Common Consent.