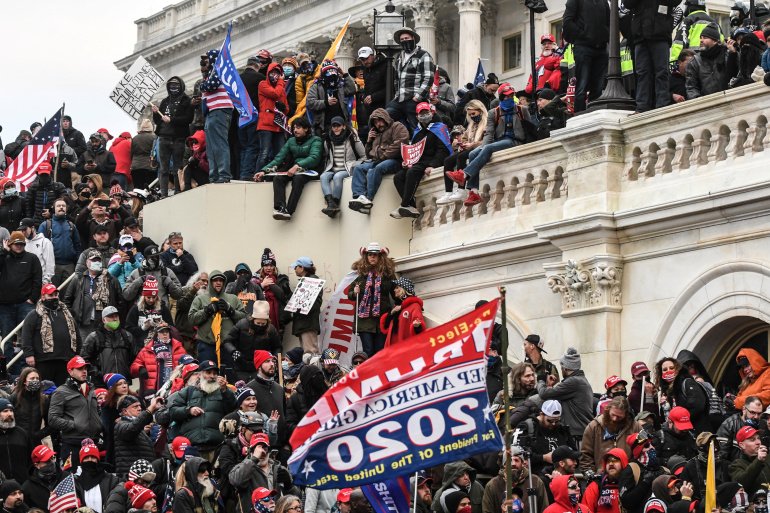 Over at Vanity Fair, Jeff Sharlet writes about the right-wing religious movement that has emerged around Ashli Babbitt, a women who was shot while breaching the United States Capitol on January 6, 2021.
Here is a taste:
At the podium now is John Pierce, a ruddy-faced lawyer in a pink Brooks Brothers shirt who boasts a roster of past and present clients representing nearly the full range of right-wing concerns: J6ers, Giuliani, a Proud Boy leader indicted for vandalizing Black churches, and—the name for which the crowd hoots—Kyle Rittenhouse. Ashli, Pierce says, "was all of us." This rally is her portrait, her marble, her bronze. "Generations from now," Pierce declares, "when this once again is a free land, Americans will remember one name from that very fateful day on January 6." Trump? No. Ashli, a.k.a. the "us" for which she stands.
Martyrdom is a magic trick, a sleight of hand and soul by which the dead substitute as the center of the story for those who survive to tell it. "She did not die in vain!" cries Pierce. Her death was a "warning," he says. Of what? Slavery, slavery, slavery—"our" liberties stolen, "the worst political divide in our nation since the Civil War." A subtle move, much like that of the speakers who conflate the insurrection with MLK's March on Washington. To a "color-blind" crowd, the implicit equation is one of themselves with the formerly enslaved. Black becomes white, white becomes the oppressed. Whiteness has always claimed the suffering it inflicts on others as its own, white grievance and white justification overlapping to create the idea of an "innocence" that never was. And yet whiteness needs an "other," an enemy. It makes one by means of law and whip and most of all fable. Think of the movies, the first ones, The Perils of Pauline, The Hazards of Helen, white women tied to railroad tracks, here comes the big black engine; think of 1915's The Birth of a Nation, the white virgin who flees the desire of a Black man—by leaping to her death off a cliff, foreplay to the film's real consummation, the lynching that follows in her name.
"We live in very bad times," preaches Pierce in Sacramento, "in the eternal battle between freedom and tyranny." But all is not lost, he says, for God so loved the world he sent us an "angel like Ashli Babbitt," to "remind us" that freedom "comes at a cost," and that the price is "blood."
Whose?
Read the entire piece here.