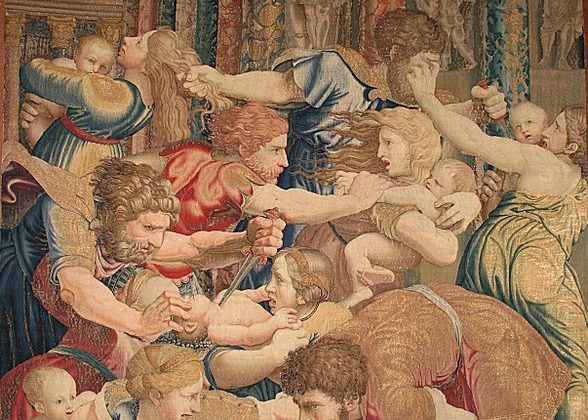 Can art of the past help us better grieve the present?
I can't get the image out of my head: A mother, her face tense with fear, clutches her toddler to her chest and simultaneously torques her body to push away an oncoming attacker.
No, this is not a news photograph of some fresh grief. It is part of a sixteenth-century tapestry hanging in the Vatican Museum, and I have not stopped thinking about it since I woke up to the horrific news of the school shooting in Uvalde, Texas, while teaching an art history course abroad in Italy.
I had been in Italy with my students for just under a week when our seeming bubble of beautiful paintings, glittering mosaics, and dynamic sculpture had been punctured by the racially-motivated shootings in Buffalo, New York. And then ten days later, as our class was coming to a close, the United States began its awful and familiar ritual of announcing and responding to a school shooting: the press conference, the climbing death toll, questions about the killer's motivation, "thoughts and prayers," candlelit vigils, outrage, protests, and political narrativization.
Philosopher James K.A. Smith would call this repeated set of actions a "liturgy." He uses this term to describe the actions we regularly perform, religious or otherwise, that form us and our relationship to the world. In this sense, a liturgy can be both the raising of hands to receive a blessing at a church service and going out to eat in order to celebrate a life milestone. It can be calling senators and representatives after each mass shooting, or reposting infographics.
America's cultural liturgy for grappling with mass shootings, particularly school shootings, has been repeatedly condemned as inadequate. The impulse to act—to fix a system and heal a wound—is a good and deeply human response. But we can also refuse to participate in one set of rituals and choose to build another. For me, a necessary first step is acknowledging the enormity done even as words fall short. Contemplating an artwork as image and object has become an essential part of my own liturgy of grief.
And so I find myself returning to an artwork I had seen days earlier in the Vatican Museum: sixteenth-century tapestries depicting the Massacre of the Innocents. The story is recounted in the Gospel of Matthew: King Herod, alarmed by the Magis' assertion that a new king of the Jews had been born, orders the execution of all the infant boys in Bethlehem. In the Hall of Tapestries, the narrative is depicted in three, eighteen-and-a-half-feet-tall wall-hangings woven from colorful wool with golden threads running throughout. Designed by Raphael's student Giulio Romano and made in the workshop of Pieter Coeke van Aelst around 1531, they are part of a cycle of twelve tapestries depicting scenes from the life of Christ.
Of the three, it's the leftmost tapestry that haunts me. In front of a classical colonnade, figures densely pack the foreground, engaging in a fierce conflict. We can trace the taut lines of grasping, pushing arms that zigzag from the top left where a fleeing mother is yanked backwards by her hair, then down and across to a man with blade poised above a child's throat. Finally, our eyes whip back across to the bottom row where a bearded man lunges to the left, grabbing the leg of a toddler while his mother desperately separates them with her extended arms. The mothers claw at their attackers' eyes, push against their chests, or turn to flee, all while tightly gripping their babies. The tension in the work is also heightened by the implied lines that connect the gazes of mothers and murderers. The bodies pile on top of each other, filling the tapestry edge to edge and forming a visual barrier. We cannot ignore the violence or escape into a distant landscape.
Why do I want to look at this after the killing of nineteen students and two teachers in Uvalde? Is it escapism? An improper equation of tragedies? Or can it be a structure for mourning?
The Massacre of the Innocents tapestry delivers a necessary gut punch. It cuts a path for my grief to follow by expressing in artistic—rather than graphic or exploitative terms—the horror of the shooting at Robb Elementary School. The visual push and pull of bodies, the tangled wall of flesh that hems us in as viewers, and the terror of seeing violence about to be carried out while being helpless to prevent it all work together purposefully to elicit an emotional response. The carefully orchestrated composition provides a means of responding with appropriate horror without obsessively consuming media coverage, fetishizing the victims, or falling into performative outrage. Like a finely crafted bell, its ring resonates with the weeping in Uvalde.
To be clear, these tapestries were not made to express an artist's anguish over the murder of children. They are not a personal catharsis of trauma. Instead, they were commissioned by a pope, likely Pope Clement VII in 1523, as decorations for the Vatican during a time of great religious and political upheaval. Tapestries were luxury items, and Clement VII hung these on the walls of the Sistine Chapel just a few years after the devastating Sack of Rome. As an object, the Massacre of the Innocents re-asserted papal authority after public humiliation.
Indeed, it is perhaps not too far a stretch to say that then—as now—those in power have at times used tragedies to burnish their own credentials and solidify their political position.
But I don't think the tapestry's original function need be its only use. Today, while acknowledging its place in history, we can also choose to learn from it. We can embrace art's capacity to both invoke and receive deep human emotion, even as we recognize the age-old impulse to profit from others' sorrow. The tapestry can be both receptacle and warning.
When our words are not enough, when we cannot bear to see another grid of tiny victims' faces, and when we tremble with unspent rage, art can begin a liturgy of grief, helping us hold what we cannot carry and imagine what we cannot fathom.
Elissa Yukiko Weichbrodt is Associate Professor of Art and Art History at Covenant College in Lookout Mountain, GA.