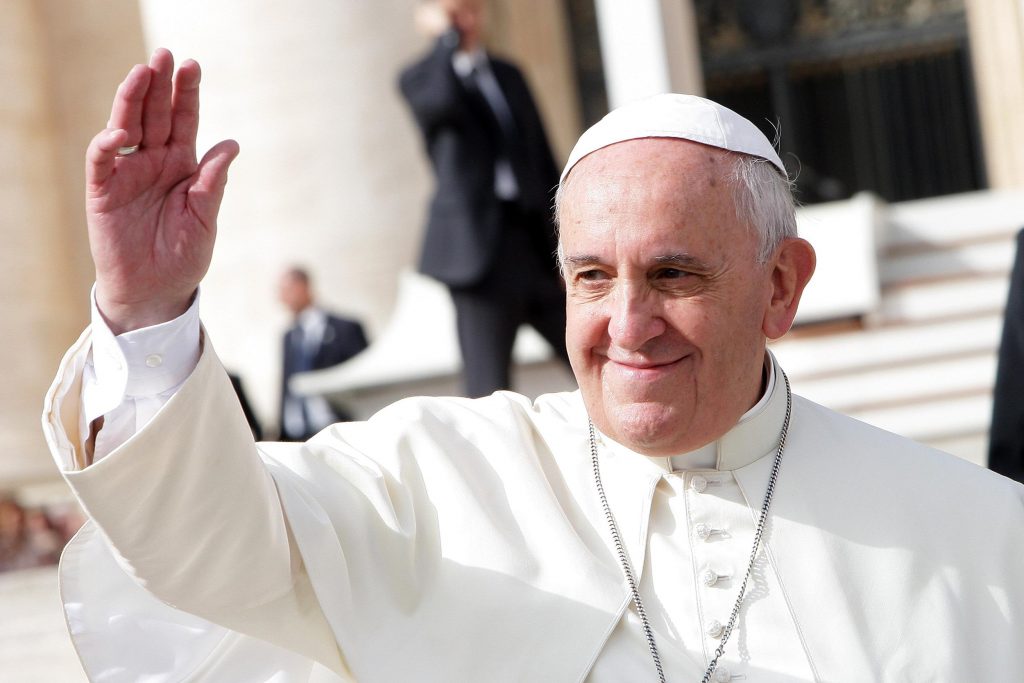 In times of crisis, regeneration may come from the margins
I discovered not long ago that the word utopia has an alternate spelling and an alternative meaning. As the Oxford English Dictionary explains, over against utopia ("no place" or an impossible concept), the notion of eutopia means "a place of ideal well-being, as a practical aspiration." Reading this, I realized I have become a eutopian.
Just like Pope Francis, whose Let Us Dream—a mid-pandemic essay written shortly after that iconic address to the world from an empty St. Peter's Square—is a marvelous eutopian statement, coming in our "Noah moment" of potential regeneration. 
Most of the time very little in contemporary society encourages us to grow our social imaginations. But we are no longer in ordinary times. We have endured several systemic shocks in the last two years which, I'd argue, have finally freed us to dream, precisely in response to these crises and unveilings.
We begin to dream best when we go out to the peripheries, to use a term Francis loves, the places where poverty often conceals itself in shame. "You have to go to the edges of existence," he suggests, "if you want to see the world as it is." Contrary to all our technocratic, neoliberal logic, Francis suggests that in these "discarded" zones of humanity—among the Rohingya, the Uighurs, the garbage pickers, landless peasants, sweatshop workers, squatters and the pavement dwellers of the world's bursting cities—is where we will find a new future. What can he possibly mean?
I hear in this essay a socio-theological vision that contains elements of the teologia del populo from one angle and the alternative epistemologies of the global South from another. Most American readers are unfamiliar with either influence, which partly explains our persistent deafness to messages from "the world's spiritual director," as he's been called, including his vision of a different society and an alternative social analysis.
Francis is proposing that we begin to see those on the peripheries as the protagonists of change, not merely the recipients (or victims) of it. He is speaking of "the wisdom hidden in our neighborhoods" and the potential it represents for the change we need.
Against the neoliberal paradigms of the global North, he posits a hybrid concept made famous in his Laudato Si' (a social encyclical, he emphasizes, not merely a "green" encyclical): that of integral ecology.
At its root, and against our various elitisms of legalism, moralism, clericalism, and pharisaism, his focus is on the implications of the kerygma, the proclamation of Christianity and its teaching that no one is saved alone. What saves us is not an idea but an encounter.
After that encounter we can no longer set ourselves above the people. "To reject a struggling migrant, whatever his or her religious belief, out of fear of diluting a 'Christian' culture, is grotesquely to misrepresent both Christianity and culture."
This solidarity with the global South (or better, the global majority) hopes to imitate the Gospel injunction to give every person their human dignity through a recovered sense of our fraternity with those we sometimes call "the other." (As a friend once remarked, "for believers, there are no 'others.'")
Finally, aside from the theological or Catholic dimensions of Francis's public witness, I want to note the rise of the secular (but by no means materialistic) movement around the social and solidarity economy, this "global archipelago" of popular movements, in Francis's phrase. They represent a tapestry of responses often on behalf of indigenous populations threatened with the destruction of their traditional landscapes and livelihoods at the direction of national governments eager to enclose and commodify what little these peoples have. Moreover, strong threads of Christian reflection run through this alternative economic framework, notably that of the Italian "civil economy" of which Pope Benedict has spoken often.
On occasion Francis has participated in the World Meeting of Popular Movements, which he describes as "sowers of a new future, promoters of the change we need. . . ." He urges the Church to open its doors more widely to these movements and to collaborate with them, specifically in their efforts toward a new vision of the "three Ls": land, lodging, and labor.
I want to include a striking comment that Francis makes about the response to the killing of George Floyd, "when many people who otherwise did not know each other took to the streets to protest, united by a healthy indignation. Such moments reveal not just popular feeling but the feeling of a people, its 'soul.'"
Thus Francis's dreams include a Church that takes up its particular role at times of crisis, "precisely to remind the people of its soul, of its need to respect the common good."
He concludes, "Let it not be said, in years to come, that in response to the coronavirus crisis we failed to act to restore the dignity of our peoples, to recover our memory and to remember our roots." Good dreams, we're reminded by this unusual world figure, must lead us to good actions.
Elias Crim is the founder of Solidarity Hall, a national blog and podcast. He is also the editor of Ownership Matters, a biweekly newsletter on the solidarity economy.