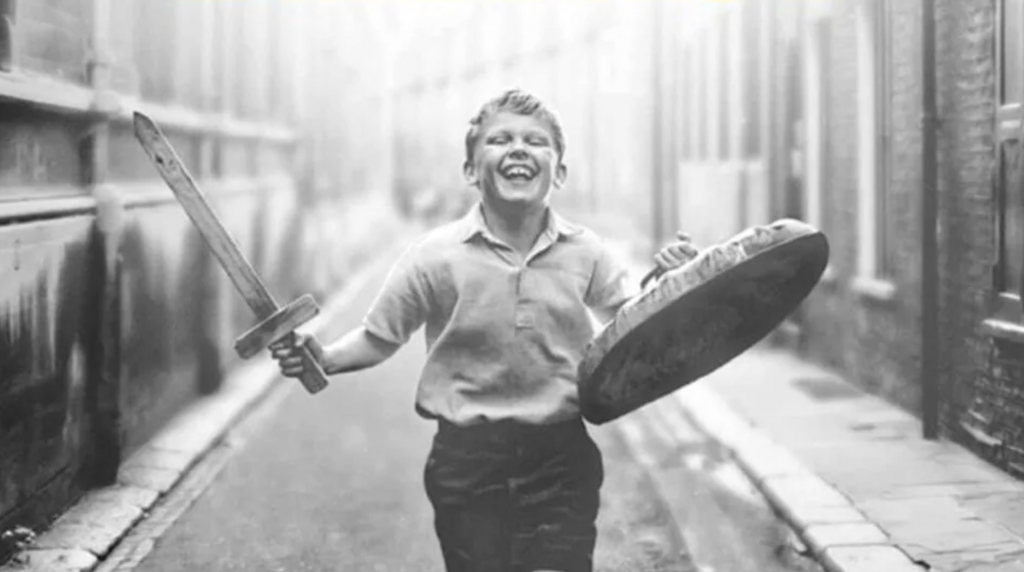 Kenneth Branagh's film shows us what it means to come down to joy
The movie Belfast opens onto a dazzling cityscape. From its vantage point in a cerulean sky, the camera lens takes in sea and harbor, grids of streets and rowhouses, glistening angles of modern architecture, and green hills in the distance. Just the name of the city, Belfast, conjures up darker memories, and soon the film will turn to those. But for now, bathed in the color of sunshine, all is right with the world. In its best light, few would contest the category of beauty all its own that is Ireland.
The soundscape matters. Identifiable from the first note, the trademark melodies and rhythms of Belfast bard and local son Van Morrison turn the sightings of every corner of the city into visual caresses. Like so many of his songs, "Down to Joy" conveys emotion through motion, mood through movement. And it is the particular direction of that movement that makes it so noteworthy: waking up "felt like I was coming down to joy." When it comes to joy, the modern ear, trained by the planned obsolescence (and guaranteed disappointment) of evermore rarified quests for the ultimate high, expects up. The word down is a gamechanger.
What does it mean to come down to joy? An ideal fit for Belfast, Van Morrison's songs on the movie's soundtrack provide some helpful clues.
Belfast captures a moment in time. After glorying in the color-drenched Belfast present, the camera lingers on a city mural before crossing over a wall into a tiny urban backyard shared by multiple families. Fadeout "Down to Joy" to sounds and sights of black-and-white Belfast past. Bikes askew, children play hopscotch or slay dragons, using metal trash-can lids as shields, while mothers sit by backdoors reading or bending over strollers. Out front, just inches from the front stoop swirls a crowd of people of all ages going about their daily lives, one mother repeating at an uninhibited volume, "Buddy!" Hearing it's teatime, the young boy in question exults to himself, "Yes!" Played by Jude Hill, this 9-year-old character based on director Kenneth Branagh's boyhood self then pauses. His smile fades. A horrifying commotion has broken out at the end of the street, where two angry groups clash before turning without warning down his very street. Buddy cries out for his mother, who snatches him into their house, yelling at him and his brother to hide beneath the table. A mob yelling threats and epithets against the few Catholics living in this Protestant neighborhood breaks windows with clubs and ignites a car, which explodes in the middle of the street. Belfast captures the idyllic period of his youth as recalled by Branagh—the movie opens in August 1969—but also the start of The Troubles.
The Troubles. If there ever was a euphemism for domestic terrorism, insurrection, polarization, and, well, civil war, this one takes the cake. Spine-chilling to anyone alive in the late 20th century or hearing about it since, violent conflict tore at the very fabric of life in North Ireland in that period. Those who wanted North Ireland to remain part of the United Kingdom (unionist, loyalist, mostly Protestant) fought those who wanted it to join Ireland (nationalist, republican, mostly Catholic), and internecine violence among rival factions (the most famous of these paramilitaries being the IRA) on each side complicated matters, as did the role of the police, British military occupation, and Irish security forces. A toxic mix of longtime historical resentments and an incendiary form of street-fighting qua politics made it seem like this particular region would never get free of militarized animosities. When the Northern Ireland peace process finally brought most of the violence to an end by the late 1990s, it seemed like a miracle.
The Troubles largely figure into the movie just as a premise, and the main driving plot of Belfast is minimal. Should Buddy's family stay in Belfast where it is growing more dangerous, or move to safer England where his father works? What makes this question interesting enough to sustain the viewer's interest is not so much the acting of the parents whose marriage seems to hinge on the resolution to this question—Buddy and his grandparents (played by Judi Dench and Ciaran Hinds) easily steal the show—but the role of place in our lives. Does it matter if we pick up roots and move somewhere else when the going gets tough? Should we try to stay and fight? At what cost? In our lives and in our hearts, what is the place of place?
Belfast's real gift is that it captures not just a moment in time but a particular place in that moment, less the disruptive change of The Troubles than what exactly was disrupted. Eloquent cinematography and understated lines (Branagh received an Oscar for best original screenplay) immerse us deep into the intimate details of life in a little corner of the city. Facing a decision between the cramped quarters shared by Buddy's family and grandparents, where the outhouse toilet served double purpose as lawn furniture, and a house with a small yard, the right choice might strike us as obvious, troubles or not. But upon hearing that the family might have to relocate, Buddy, usually happy and steadfast, bursts out crying. Likewise, his mother (played by Caitríona Balfe) responds to her husband's idea not just with chagrin but utter disbelief: "You and me, we've known each other since we were toddlers. We've known this street and every street round it all our lives. And every man, woman, and child who lives in every bloody house, whether we like it or not. I like it. And you say you've a wee garden for them boys? But here, they can play wherever the hell they like 'cause everybody knows them, everybody likes them, and everybody looks after them."
Compelled to move, whether for jobs, safety, peace, or all of the above, many of course form attachments as strong or stronger than where they left. The closing credits dedicate the movie to those who stayed and those who left. But ignoring the powerful presence of particular places—and their absence—in our psyche risks the loss of those places themselves. Tragedy after tragedy threatens the places we call home—witness the Russian invasion of Ukraine today—every time we cannot find better approaches to our troubles.
Van Morrison's 1995 song "Days Like This," endowed with special meaning during the peace process, provides the accompaniment to one of Buddy's happiest afternoons in the movie, as he plays games in a park surrounded by his loving family: "My Mama told me there'll be days like this." Lyrics and melody richly convey what it feels like when the range of our possible troubles large and small do not interfere with our sense of at-oneness with the time and place in which we find ourselves. Van Morrison's songs are replete with details of real-life places—streets, roads, hills, churches, neighborhoods—that become settings for emotions like despair and isolation to yield to enchantment and transcendent connection. Surely, this is what it means to come down to joy. If so, the place of place is to provide for that possibility.
Elisabeth Lasch-Quinn is Professor of History at Syracuse University and Senior Fellow at the Institute for Advanced Studies in Culture at the University of Virginia. She is the author of numerous essays and books including, most recently, Ars Vitae: The Fate of Inwardness and the Return of the Ancient Arts of Living (Giles Family Fund Recipient, Notre Dame, 2020), a study of ancient philosophy and modern culture.