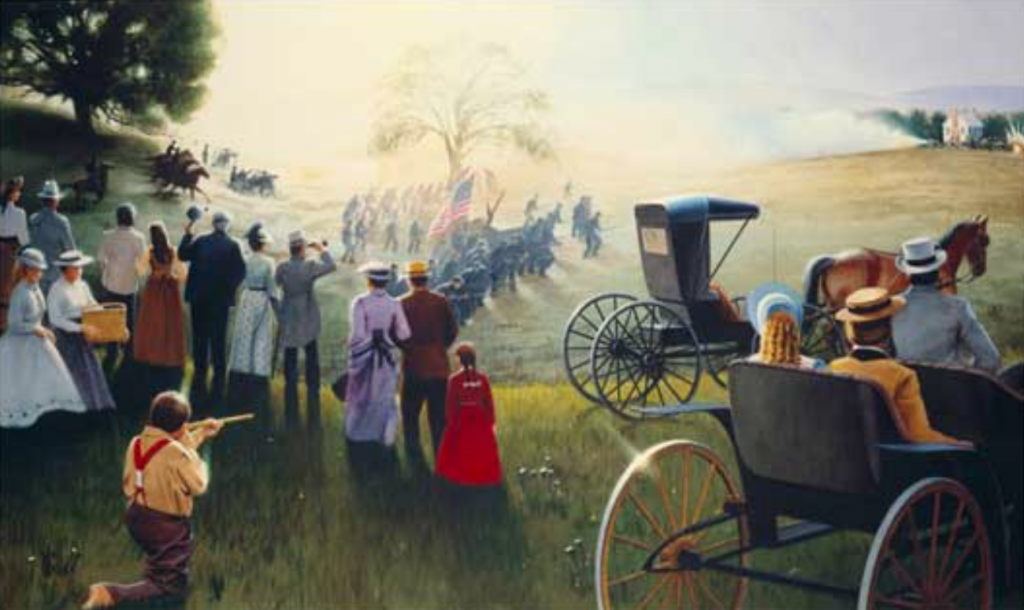 When war becomes a spectacle, what have we become?
The vast presence of today's social media provides instant access to global news. Through platforms such as Facebook and Twitter people connect, exchange belief systems and ideas, debate current events and history, and gain insight into lives they may never live. Some, including myself, become enraptured with "doomscrolling," an act defined as devoting too much time digesting negative news. As the Ukrainian conflict with Russia continues to dominate current events, we might find ourselves seeking every news outlet, frustrated that the lightning-speed news cycles do not move quite fast enough. Yet as some observe, the act of Ukraine doomscrolling may have negative effects on our mental health.
As a graduate student, I study nineteenth-century picnics. One might assume that a leisurely pursuit like picnics does not involve brutality or war, or any suffering for that matter. In fact, Merriam-Webster defines a picnic as "an excursion or outing with food usually provided by members of the group and eaten in the open" and "a pleasant or amusingly carefree experience." Of course, the traditional picnic embraces outdoor eating, often in nature, celebrating life with pleasurable company. Lest we forget, however, the character of some picnics during the nineteenth century did combine bloodshed with pleasure.
The First Battle of Bull Run involved spectators who came along with picnic baskets and opera glasses to survey the battle as soldiers marched to war. The Crimean War, fought between 1854 and 1856, also witnessed "war tourism," as newspaper coverage detailed war realities that piqued the public's interest. Tourists could be seen with telescopes and picnic baskets, hoping to see war firsthand and indulge in a taste of violence through entertainment, similar to watching gladiators fight in the Roman Colosseum. In this, tourists could vicariously live through events, despite not acting as actors in such pursuits. This feeling, a taste of the macabre, a yearning to experience an event far removed from one's selfhood, drives individuals even to the darkest corners of humanity.
Looking back to the beginning of February, I recall seeing on my TikTok "For You" page several videos of individuals expressing concern about a possible Ukrainian-Russian conflict. But I was deep in a picnic-research rabbit hole at the time and continued past these videos with a quick swipe of my thumb. However, as news spread on Russia's invasion of Ukraine on Thursday, February 24, I soon became yet another person enraptured by doomscrolling.
In my doomscrolling, there was a sense of shame that I hadn't paid close enough attention to clues leading up to the event. I asked myself, "How is there so much happening in the world, and I'm studying picnics?" It sounds naive — the feeling of restlessness, the feeling that someone as small as myself could do something. Yet I carried on in my safety and began meditating on the idea that perhaps doomscrolling and war picnics may not be so different after all.
In our modern-day world, we are often people on the sidelines—distanced by countries and oceans—who live through tragic events through news outlets and social media. Consider when the events at the Maidan, Ukraine's central public square in the capital of Kiev, became a locus point for revolution during the winter of 2013 and early 2014. A key actor Mustafa Nayyem had posted on his Facebook page: "Come on, let's get serious. Who is ready to go out to the Maidan by midnight tonight? 'Likes' don't count." The response to this one Facebook post skyrocketed — from peaceful local demonstration with a crowd of mostly students to full revolution—raising existential dialogue within the self: At what point did those individuals physically present at the Maidan, who witnessed brutality and offensive accounts from their own government, begin to consider the possibility of their own deaths? And when did they come to accept this possible fate? As first-hand witness Jurko Prochasko said: "When a person is in such a state something appears that says that this experience of such enormous human solidarity is more important than the value of my individual life." I wish to take the opportunity here to reflect on the question: Is it even possible for those not present at the Maidan to understand these true feelings of solidarity and such acceptance?
Much like today's current events, the rest of the world's eager eyes had sought television screens and Twitter to remain updated with the Maidan crisis. The realities of this distant audience sparked the necessity for historian Marci Shore to keep up in real-time and document the Maidan events in her book, The Ukrainian Night. Her work seeks to connect the experiences of individuals immediately impacted by the Maidan to western readers, allowing distant onlookers to grasp the events emotionally and tangibly, and capture the desperation, tragedy, and heartbreak of another's situation. Today prominent journalists such as NPR's Tim Mak and Ukrainian journalist Anastasiia Lapatina provide similarly direct commentary, allowing those like me, a distant onlooker, to better grasp the current events.
But what can we say about those spectators at the First Battle of Bull Run or the Crimean War? Was war reduced to a spectacle for them—a visually striking display or performance? And are we considered spectators today as well? I wonder whether social media's response to tragedy not only serves to inform viewers but also encourages the tendency to merely scroll through for engagement and entertainment. In contrast to those present at the Maidan, a doomscroller may distantly place themself in another's situation to contemplate their place, but nonetheless, carry on with their everyday life. Much like the picnickers during the Crimean War and the First Battle of Bull Run, the opportunity to step away from such events serves as a privilege.
As the Russian-Ukrainian conflict continued to unfold, I found myself on another side of the planet one weekend. I sat with a packed lunch with my partner at a park, both of us scrolling through our Twitter feeds, sorting through posts about current events, nervous about the future outcome of Europe. It was there at the quiet park on a sunny afternoon that I considered picnickers sitting at the sidelines with opera glasses, waiting for war to begin.
Jen Glaze is a graduate student in history at the University of West Georgia