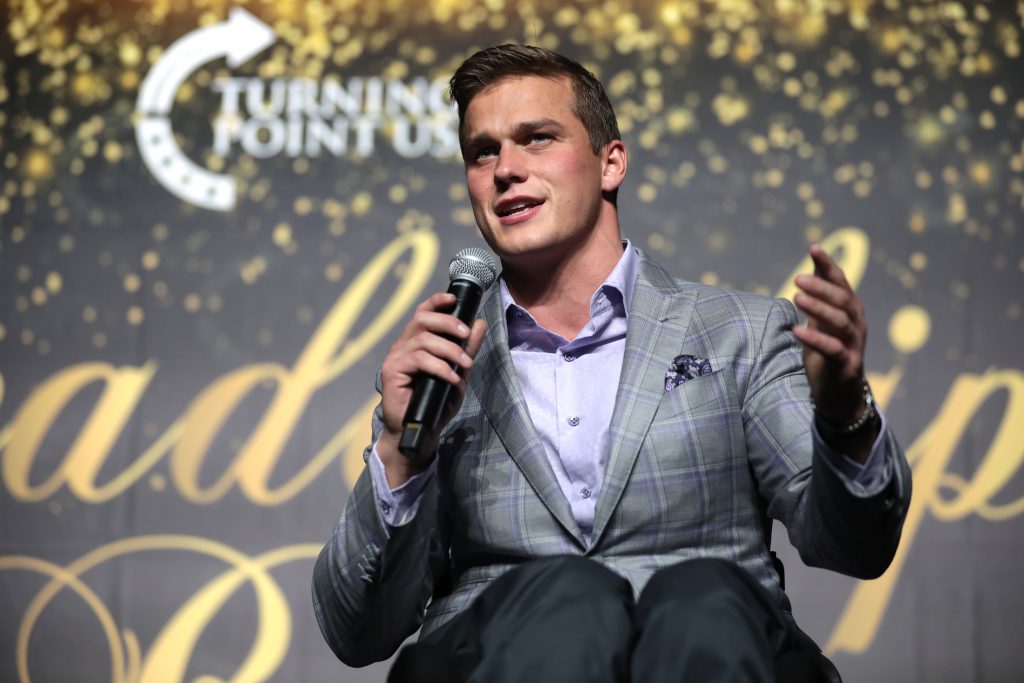 The sorry case of Madison Cawthorn raises a question: Exactly what line did he cross?
Right now, everyone is attacking Representative Madison Cawthorn (R-NC). Racy photos of him have leaked from close acquaintances. News is out of illicit insider trading. He was recently caught with a gun as he was trying to go through airport security. And all of this only in the last couple of weeks—there are more scandals dating back through his brief and troubled public career.
It seems the entire Republican party has it out for Cawthorn. All of these stories come from former allies or are promoted by them. Senator Thom Tillis (R-NC) is openly opposing him for re-election. This as the primary for Cawthorn's seat is less than two weeks away, on May 17th.
These are all informal sanctions. What he needs is to face real consequences from the Republican Party—or from the voters.
Why all the furor, anyway? It seems allegations Cawthorn made in an obscure podcast of cocaine-fueled orgies among Washington's Republican leadership have damaged his reputation in a way that earlier scandals have not. As a result, House Minority Leader McCarthy has said that twenty-six year-old Cawthorn has "lost my trust." Even though Cawthorn's claims seem ridiculous on their face (the geriatric Republican establishment looks like it would choose a nap over cocaine any day), the establishment was thrown into enough of a tizzy to consider formal charges. While they didn't end up following through, they have undertaken less formal means of control.
It's a problem when a party can't formally rebuke someone that it desperately needs to. When a member of any political party is out of line there are many ways of disciplining them, from informal to formal. As sanctions rise in formality they impinge on the concrete power of congresspeople: An investigation by an ethics committee can consume a representative's time and energy, and being stripped of committee assignments can leave them without much to actually do in Congress. One profile of the disgraced Iowa Republican Steve King paints an image of someone simply puttering around Congress, bored.
But formal sanctions require people to make public decisions and enforce difficult boundaries, so the Republican establishment, except for Senator Tillis, has decided to use less formal sanctions. My guess is this is because Minority Leader McCarthy does not have enough authority over the House Republicans to ensure his continued control should he attempt bolder action. Leaks and allegations are part of the informal sanctions of modern political life, but parties are also great networks of expertise, people, and money—and these can be effective means of control. When major donors and polling companies stop answering Cawthorn's calls, it becomes difficult for him to do anything.
This whole sorry situation also shows exactly what the standards are for the modern Republican Party: low. Calling the Catholic bishops "Satanic" for their care of immigrants, as Representative Marjorie Taylor Greene has done, may merit disapproval but it doesn't invoke the same sanctions as attacking the personal character of Republican leaders. When sanctions are applied as they have been in Cawthorn's case, it makes it clear which elements of their base the Republican party must appeal to.
So what is the solution? Here are two elements to consider.
First, actual party discipline. Formalizing sanctions against bad actors within the Republican party and exercising more informal sanctions against people who do things like support racist positions, lie about COVID vaccines or encourage insurrectionists would go a long way toward cleaning up our public conversation. Senator Tillis is doing the right thing by firmly opposing Cawthorn's re-election.
Second, electoral discipline. Rep. Cawthorn is facing a host of primary challengers in a couple of weeks, which gives the voters of North Carolina's 11th District the chance to decide whether they want him in office any longer. Should he prevail, he will face a general election on November 8th, which would give the voters another chance to make a wise choice. When elites, whether party elites or business elites, don't make the right choices then ordinary people need to. 
Maybe Madison Cawthorn isn't in your Congressional District, but I can guarantee there is someone in your region, on the right or left, who needs to face electoral discipline. My favorite local example is the DC mayoral candidate who once accused the Rothschilds of controlling the weather. Ask around, do some research, and do your bit to ensure that our political leaders are not foolish, arrogant, or immature. Our democracy is on the line.
Greg Williams works in digital politics at Faith in Public Life (although opinions are his own). You can yell at him on Twitter @gwilliamsster but he'd prefer if you were kind.