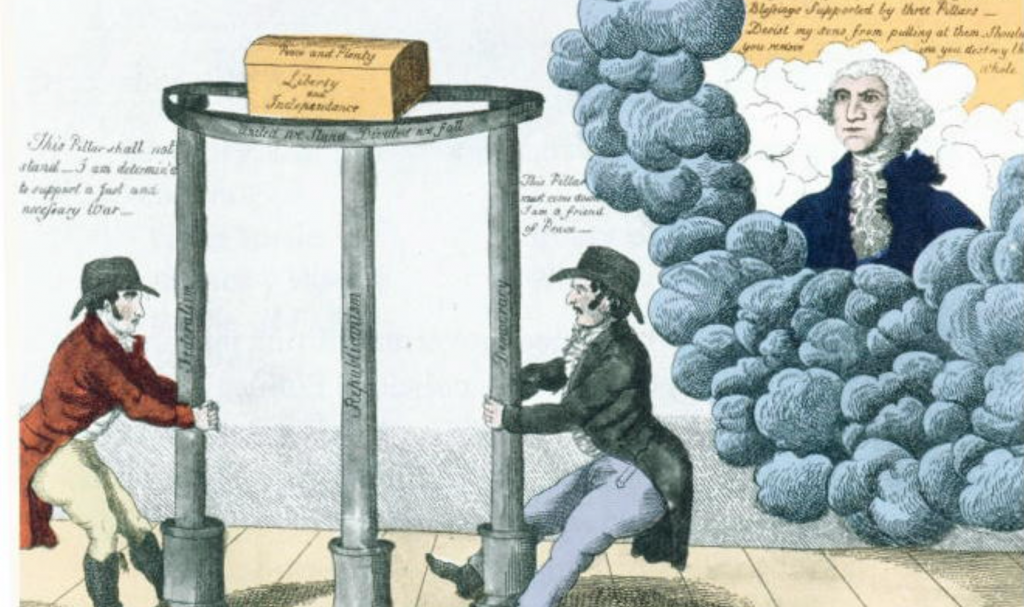 The Founders' fears of political parties seem more than justified today
This essay originally appeared here on May 15, 2021. It is even more relevant today than it was a year ago.
It's easy these days to be an ex-Republican. The party's magnificent failure offers an exit strategy that requires neither apology nor explanation. The burden of explanation is on any who stay.
I was a young Republican. I do not remember why. Although I'm sure deep cultural dynamics impelled me in that direction, they were well beyond my perception. My family's pre-Religious Right variant of conservative Protestantism kept our focus elsewhere. As a boy I was simply drawn to politics. By 1980, I was drawn to Reagan.
Was it his stylish grandfatherly cool that reeled me in as a ninth grader? Or maybe the promise of an abrupt turn from the diffuse humiliation of the Carter years, that feeling that settled in from waiting cumulative hours in gas lines cramped in the back of our van, wondering what the heck "inflation" was?
Did it have to do with years of absorbing Carter's nervous smile? I was sick in bed the day the news of the botched rescue mission in Iran broke into whatever I was watching—I can still see the images I formed that day of helicopters crashed in the desert. Seeing the scary bags under Nixon's eyes as his presidency disintegrated is my first political memory. Might Carter's strange and unbelievable smile in the face of public failure have set my political tracks in another direction?
Whatever the reasons, I cheered on Reagan through high school. Four years later I cast an enthusiastic vote for him and tried to act like the snazzy, snappy young Reaganite Alex Keaton. Republicans were cool.
The Party was over for me sometime in the 90s. By that time I'd studied and thought and lived my way out of it. What's curious to me now is how little anything like rational deliberation had to do with my early political awakening. Politics was about the gut. I think that's true for most of us, whether young or old. And I think it's a problem. A big problem.
The founders would almost certainly agree. For their nearly universal abhorrence of political parties they have tended to look naïve to us. In view of what we are witnessing today, it's hard not to feel their (now) time-honored fear.
In The Idea of a Party System, the historian Richard Hofstadter describes the early American political scene in a way that cannot but incite foreboding: "Each party hoped to bring about the other's destruction by devouring and absorbing as many of its more amenable followers as could be won over, and by forcing the remaining top leadership into disorganization and impotence." Clearly this all too familiar ambition was no pathway to a more perfect union.
But in the first half-century of the republic, Hofstadter writes, the citizenry experienced "a net gain in the sophistication of political thought and practice." In the course of daily political life, the value of what Hofstadter calls a "constitutional opposition" to whichever party was in the majority became apparent; in fact, having two parties at odds politically but in sync constitutionally actually helped accomplish in a superior fashion some basic functions of government. Parties would become one of the means by which the Constitution could be actualized—a governing process not foreseen with adequate clarity by the framers when the Constitution took effect in 1789.
The framers were not naïve about people or parties. Rather, they were simply unsure of the extent to which a citizenry—this citizenry—might grow to inhabit the ideal set before it: self-government. In his Farewell Address of 1796 Washington described party spirit as "a fire not to be quenched; it demands a uniform vigilance to prevent its bursting into a flame, lest instead of warming, it should consume." Would Americans be so vigilant? Could we be trusted with political fire, a fire as necessary as it was threatening?
There turned out to be plenty of threats that led to destruction, as the mere mention of a name like Gettysburg reminds us. But there was also warmth that fostered growth—what Hofstadter means by "sophistication." The early crises of the republic—the intensely and bewilderingly contested presidential elections of 1796 and 1800, for example—led its leaders "in the spirit of practical men," says Hofstadter, "to step back from their partisan embroilments, take a larger look at what they were doing, and try once again to make a fresh estimate of each other."
A fresh estimate. Today, as a Republican Party now ruthlessly consolidated around Donald Trump not only strikes out at the Democrats but devours its own (former) leaders, sane spirits know that it is a fresh estimate of each other that we need. They know what some knew two centuries ago knew: that "to ponder the legitimacy of opposition was also to calculate the value of union," as Hofstadter puts it. What is sophistication if not the ability to handle the tangle of human experience with grace—a grace that in the sphere of politics denies destructive instincts and corrects facile assumptions in the service of a deeper, if elusive, good?
For us, this good is constitutional union—a union that ameliorates (without necessarily extinguishing) differences.
Whatever our gut may tell us, we must not absolutize our ideological identities. To do so is to open a gateway to deepening, potentially catastrophic conflict. Within a republic, partisan identities can never be properly basic or adequately fundamental. They are the result of contingent, make-shift arrangements built on foundations too weak to bear such weight. Let ideological identity float more freely, not as a tether but as a shifting space with built-in exits—exits that lead into the common space that is the republic itself.
How do we become a people able to live in looser relation with our partisan identities and in closer relation to the republic? It may begin with generosity—civic generosity.
When I was in graduate school a friend, also a grad student but at another university, gave me a subscription to a magazine I was eager to ingest—beyond eager, in fact. In those days there was no other way to read a periodical but to own it or borrow it.
I, looking into my own bare cupboard, was astonished by my friend's generosity. When I tried to express my gratitude, he said, "Eric—I don't want money to get in the way of something that needs to happen." Don't want money to get in the way . . . ? Suddenly it clicked. I put the Cold War question to him: "Are you a socialist?"
He was. He had been found out, outed by works that backed up—and likely sustained—his political faith. How could it be that I hadn't known this, that it had never come up, I wondered. His response has stuck with me: "Politics is in the bones. I find it doesn't do much good to talk about it." But I, the ex-Republican, had been affected by more than talk—and much good had happened. My mind was challenged, my feelings altered. Somewhere in my bones a change had taken place.
It's not that politics should be separated from the gut—as if that were even possible. Politics just shouldn't live there, unchecked and unexamined, beyond rational reach, whether of our own minds or the lives of others. If our political system requires, famously, "checks and balances," surely the same wisdom requires similar measures when it comes to our political passions, instincts, and affiliations.
The best checks, and the superior balance, come from a vibrant, open, argumentative public square, one sourced in an underlying generosity emerging from a shared confidence in the greater good of union. The caution of 1789 about parties is a word in season. So is its hope for union.
Eric Miller is Professor of History and the Humanities at Geneva College, where he directs the honors program. His books include Hope in a Scattering Time: A Life of Christopher Lasch, and Brazilian Evangelicalism in the Twenty-First Century: An Inside and Outside Look (co-edited with Ronald J. Morgan). He is the Editor of Current.