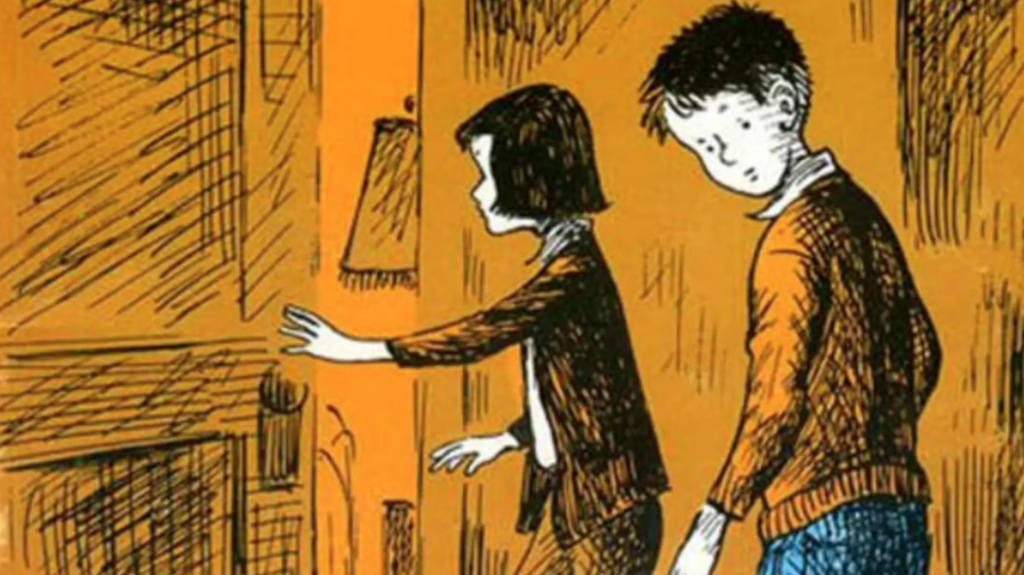 How do we discern the plot of life?
When I was a kid I loved detective stories—Sherlock Holmes, The Hardy Boys, Encyclopedia Brown. Two friends and I even founded our own detective agency. We distributed homemade business cards around my 200-person town and went on bike rides in search of intrigue. This past year reminded me of my affection for detective fiction: Seeking distraction in the midst of the pandemic, I returned to favorite stories and tightened my grip on the genre that first helped me make sense of the world.
It was a harrowing time. Our daughter was due in the fall, but COVID meant complicated medical protocols; my son began kindergarten, moving from leisurely days with his younger sister to eight hours a day of masked learning with new classmates; and my father was diagnosed with a virulent form of cancer. Our family's collective anxiety was brim-full. I realized it when my son started carrying a blanket, two stuffed bunnies, a tiger, and a teddy bear wherever he went, including the bathroom.
Work was complicated too: At the college where I teach, students rotated in and out of class, with some attending remotely each day. Wearing a mask and standing in front of masked undergraduates felt like some strange standoff. The students were inscrutable, and I realized how much I depend on feedback, how much classroom instruction is like a dialogue. But the pandemic changed that, and injected a sense of foreboding into our community. Each week the college emailed an update on our COVID cases, and everyone scrutinized the numbers. And hovering at the edges of all of this was the rampant fear of contagion.
Fear had me seeing everything a certain way. I dreamed of a shooting at my son's school: With nightmare logic I carried my son while guiding a line of his classmates, and like a playground game of crack the whip, we fled the school, winding through downtown streets, the buildings giant obstacles that barred our way to safety. I remember thinking, in that state between sleeping and waking, This was bound to happen. That such a thing seemed inevitable was a lingering terror that I carried like a clenched fist.
Dedicating myself in the early days to news of the pandemic, I felt responsible, civically engaged. Then I started to skim the reports with their brittle coherence, the pieces endlessly contested. Then I stopped listening to the news and ignored social media as much as possible. It's funny that someone who explains things for a living would despair of understanding—or at least despair of knowledge as a means of control. The concentric circles of exposure to the world contracted as I eventually taught from home and we quarantined. This meant new focus. My family and I started exploring our neighborhood and the microclimate of our backyard. And I read mysteries.
A friend says that along with the liturgies of faith the pleasures of fiction seem more important than ever during such a time. I found myself reading insatiably, careening through chunks of text. It was as if I wanted to know the plot of life itself, and I sated this impulse in fiction.
When I teach, I describe literary genres as ways of thinking about our lives. When we read poets, novelists, and playwrights, we inhabit little worlds, which can help us reconsider the actual world. Tragedy and comedy are easy enough to illustrate. We've all lost; we've all bumped up against our own mortality. Likewise, we've all encountered the joys that comedy is so good at recognizing—friendship, forgiveness, reconciliation. But during the height of the pandemic I was struck by the power and insight of mysteries.
What I discovered is that mysteries imbue events, and life itself, with significance. There's something out there to be discovered, so the detective pays ferocious attention. For example, in "The Hound of the Baskervilles," Sherlock Holmes identifies a woman by the perfume left on a sheet of paper. He says, "There are seventy-five perfumes, which it is very necessary that a criminal expert should be able to distinguish . . . and cases have more than once . . . depended upon their prompt recognition." Did you get that? He recognizes seventy-five different kinds of perfume. Because mystery is woven into the tapestry of his world there is no detail too small to notice. The novelist Amanda Dennis calls the detective novel "the most thrilling of narrative genres because of how closely we are asked to pay attention." I love mysteries because everything one encounters, following the detective, is part of the mystery. The story radiates meaning, and the reader takes note, eager not to miss it.
What's more, the mystery pulls the detective into it. Recognition of the mystery changes everything for the detective; it reorients perspective, priorities. They see it, and they're out the door, chasing after it. At the beginning of "The Adventure of the Abbey Grange" Holmes wakes Watson at dawn, shouting, "Come, Watson, come! . . . The game is afoot. Not a word! Into your clothes and come!" This is no detached speculation from a distance. Instead, the mystery urges investigation as the detectives follow hunches they can't ignore. To recognize the mystery is to be caught up in it.
Most important, just as the mystery draws the detective in, it alters the detective's circumstances. Just think of your favorite detective story—from Lord Peter Wimsey to Nancy Drew—and it will likely feature a protagonist whose life is upended, transformed by the mystery. In The Mystery of the Creep-Show Crooks, my favorite detective story when I was a kid, Jupiter Jones investigates a mystery only to find that the bad guy has followed him home and is waiting in Jupiter's secret headquarters.
Discoveries in the world of detective stories are never consequence-free. They change the protagonist's situation and self-understanding. This, for me, has always been part of the genre's attraction. I think it's what prompted me and my friends to start a detective agency. Because we longed for adventure, we copied the characters from our favorite stories, hoping to be taken up into the mystery—to be transformed by it.
We live in a world with a multiplicity of narratives—relentless, pervasive, compelling. Many of these stories insist on knowledge that explains life away, reduces it, makes it safer, thinner, more palatable. But mystery defies easy intellectualizing, tidy binaries.
I tend to believe that, like Umberto Eco's William of Baskerville or James Lee Burke's Dave Robicheaux, we are all caught up in mystery—that it plays out in our lives and will change us. I think of trying to comfort my father in the midst of his unbearable physical pain. "Buddy, it's going to be okay," he said, loving me so much that he was comforting me. I think of walking around with fatigue from sleepless nights, and then seeing my three-year-old daughter in her unicorn nightgown, reaching for dust motes in the morning sunlight—with a fragile beauty that stopped me in my tracks. And I knew I'd miss that moment for the rest of my days. These things speak of the mystery I'm talking about.
What I really want to say, have resisted saying until now, is this: It was wonder that surprised me during this past year, sustained me even. Certainly things will change—and change again. But there must be more here than a message about the vicissitudes of life. For me, it's been about recovering mystery—not naive optimism but an inclination toward wonder.
Even as I write these words, I know tragedy is coming, with a shrill call that will drown everything out. But, God help me, there will be wonder still.
Last fall I taught a Shakespeare class in a room of anxious students, and we read The Winter's Tale, a play very much about wonder. At one point a character responds to his son's report of death and destruction: "Heavy matters, heavy matters. But look thee here, boy. Now bless thyself: thou metst with things dying, I with things new-born. Here's a sight for thee." I felt the same way: In the face of a world seemingly undone, I held a marvel—and her name was Alice. During a time when fear was as thick as fog, her presence was reassuring beyond words—a living, breathing, crying sign of goodness. For months after she was born, I rocked her through the night. And to pass the dark hours, I read mysteries.
Robert Erle Barham is Associate Professor of English at Covenant College in Lookout Mountain, GA. He is also Associate Editor for Current.