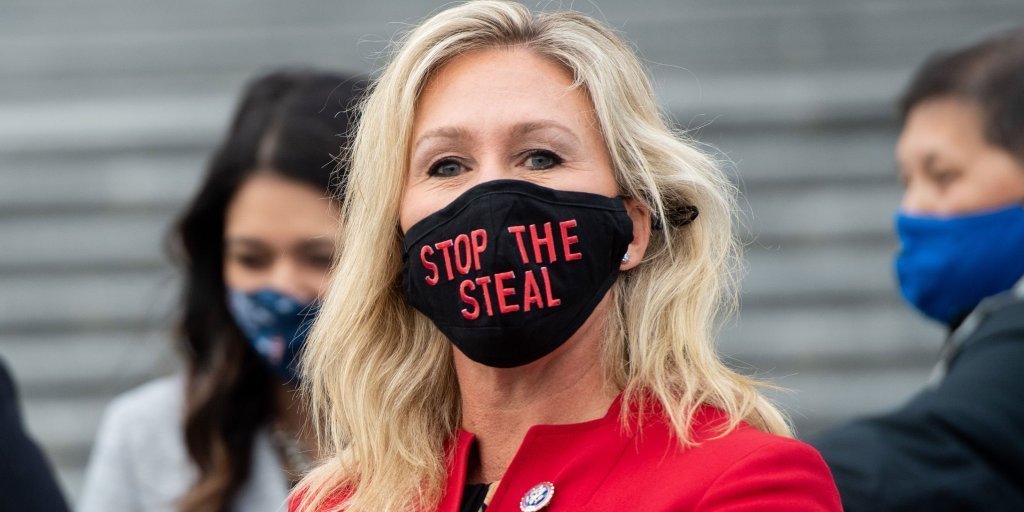 America contributing editor Bill McCormick S.J. writes on a recent Marjorie Taylor Greene interview with Michael Voris from an organization called "Church Militant."
A taste:
For many Catholics, there was no real story in Marjorie Taylor Greene's recent interview with Michael Voris of Church Militant, reported by America's Michael O'Loughlin, and her statement afterward that she believes Catholic bishops are "satanic" and are "destroying our nation" through their support of migrants. Who cares if two people many Catholics already did not agree with were criticizing the church?
But that's not all that was happening. Two dimensions of Ms. Greene's interview stand out for me: a Catholic baiting a Protestant into attacking other Catholics; and that Protestant then revealing through her criticism of the bishops that she is a baptized Catholic herself, and one with strong feelings about the clerical sexual abuse crisis.
The Republican congresswoman from Georgia showed little love for the Catholic Church in the interview, claiming that "Satan's controlling" it and noting sarcastically that "the Vatican has a wall, doesn't it?" during the conversation about immigration. (The Leonine wall does not actually enclose the Vatican, which anyone can freely enter.)
Ms. Greene is a Protestant, and Catholics and Protestants in the United States have not always gotten along. But if this were a Protestant trashing Catholics, it would not be news. There is more to the story because it was actually a "Catholic" outlet giving anti-Catholicism a platform. (Mr. Voris identifies as Catholic, but Church Militant was instructed by the Archdiocese of Detroit not to identify itself as Catholic in 2012.) It makes one wonder if some of the primary anti-Catholics in the United States today are Catholics themselves.
To be clear, Ms. Greene did not bring up the bishops during the interview. But once prompted by Mr. Voris, she had plenty to say. As a preface to criticizing the bishops for supporting immigrants, she said, "I thought we had a separation of church and state," which is a confusing statement from someone who constantly talks about bringing her Christian values to Washington. And given the anti-Catholic provenance of the line–the Catholic Church that has long been portrayed as a forbidding institution that seeks to dominate politics—Mr. Voris should have challenged her on it.
And this:
Strikingly, Ms. Greene spent a fair amount of time in the Church Militant interview ostensibly explaining what it means to love one another, and how to preach the Gospel and the word of God. But she did not cite Scripture. Instead she went through a list of political talking points.
Ms. Greene is entitled to her political beliefs. But it is clear that she thinks the bishops should be aligned not with the Bible, but with the Republican Party, and with her vision for the party at that. It is almost as if she believes the church doesn't have anything to offer in politics. Which brings us to my second point.
Read the entire piece here.