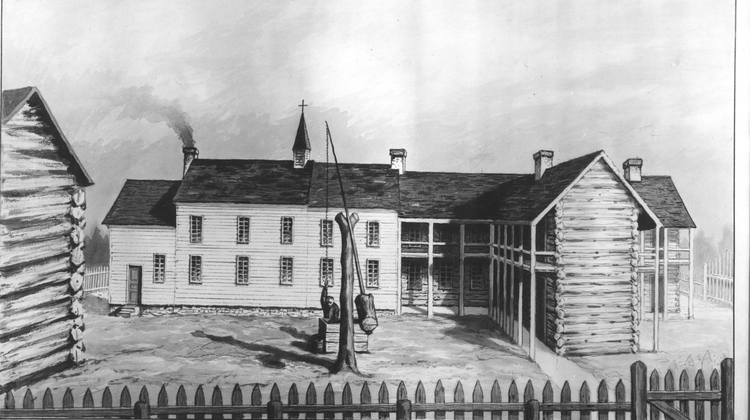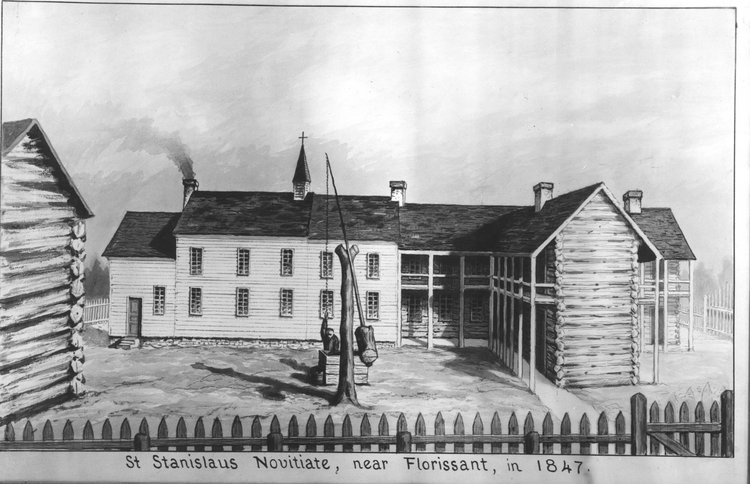 St. Regis Seminary opened on March 11, 1824 in Florissant, Missouri. Here PBS News Hour:
In the last two years, Canada and several U.S. states have begun to recognize their histories with Native American boarding schools, institutions that set out to "assimilate" Native American children into westernized U.S. ways of life by stripping them of Indigenous tradition and culture.
What would start with a small number of schools following the Indian Civilization Fund Act in 1819 would eventually grow to more than 350 "government-funded, and often church-run" schools across the United States in the 19th and 20th centuries, according to the National Native American Boarding School Healing Coalition.
But a key part of reconciling with the past is better understanding what happened in those schools, who survived and who didn't, and documenting stories in a key period of the long history of trauma from governments and religious institutions on Native people — information that can be in some cases sparse and hard to find.
As legislation that would create a federal commission to explore the country's history with boarding schools has stalled, efforts from others, such as the National Native American Boarding School Healing Coalition, have continued. The Society of Jesus, widely known as the Jesuits , which ran a number of these schools, as well as local researchers are trying to provide a more complete picture of what life was like, before, during and after these schools existed.
In St. Louis, that means compiling an archive of documents and research that delve into the Midwest's chapter of a long and painful yet important American story. It is a history that in many ways started with promises of better education but instead led to hours of forced labor and beatings documented by Jesuits themselves."It's important for us to know our historical past, no matter how nuanced, no matter how diverse, no matter how tragic at times."
The local boarding school, St. Regis Seminary, opened May 11, 1824, in Florissant, Missouri. At its start, it housed two boys from the Sauk Tribe who were later joined by three from the Ioway Tribe. It was all a part of Bishop Louis Valentine William DuBourg's vision to "familiarize" his young missionaries with "their manners and languages." Over time, the school would take in 30 boys in all.
The PBS NewsHour reviewed letters and available historical records, and interviewed experts, researchers and several Jesuits to piece together what happened at St. Regis. However, researchers say there is far more to learn. Additional details are likely to emerge as they go deeper into other archives found across the country or Jesuit correspondence kept in Rome. In January, the Society of Jesus hired its own researcher based in St. Louis to look specifically at its history with boarding schools and to uncover details about their existence.
"Unquestionable amounts of children never had justice," said Kent Blansett, associate professor of Indigenous studies and history at the University of Kansas — and for that there is a cost. These children could have gone on to be writers, Einsteins, leaders in their community, he said.
There is also the trauma and legacy of those who survived. Combined, this leads to a "real toll that doesn't exist in just one generation," Blansett said.
This is all the more reason to understand the history of boarding schools, said Kim Cary Warren, associate professor of history and associate dean of diversity, equity and inclusion at the University of Kansas — not only for what happened when they existed, but the consequences that persisted long after.
"It's important for us to know our historical past, no matter how nuanced, no matter how diverse, no matter how tragic at times, no matter how triumphal," Warren said.
Read the rest here. Dig deeper with this piece at America magazine.
.