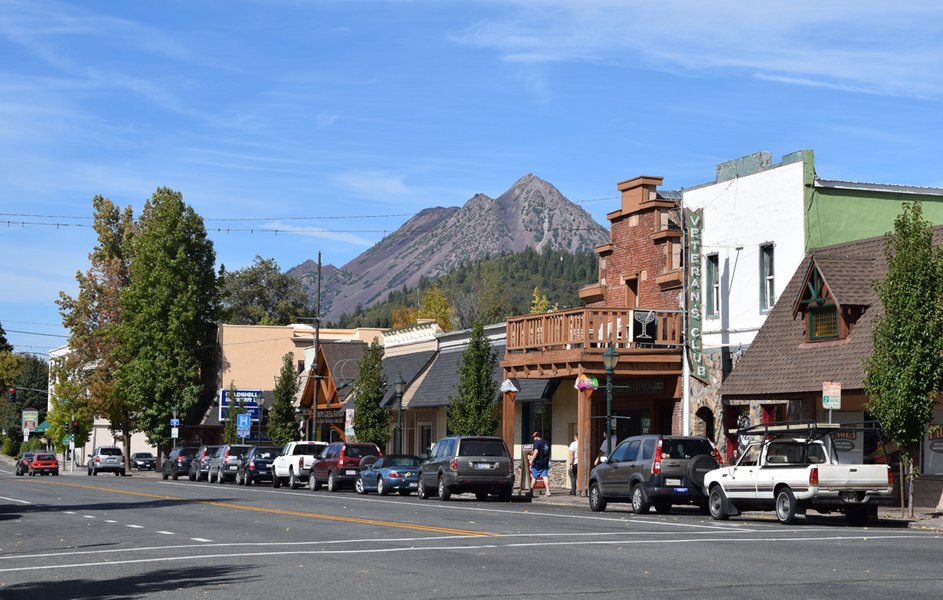 According to writer Tim Holt, they need a "Plan B." Here is a taste of his piece at Zocalo Public Square:
Mount Shasta, California, and Ashland, Oregon did it right. Located in the California–Oregon border region where I live, they avoided economic devastation by having their survival plans well underway by the time their lumber mills began to shut down more than a half century ago.
Indeed, Mount Shasta was more than 100 years ahead of the curve thanks to a guy named Justin Hinckley Sisson, who planted the seeds for the town's future reinvention as a recreational tourist destination. A schoolteacher from Connecticut, Sisson moved out West and reinvented himself as a rugged outdoorsman. In 1866 he opened a hotel and restaurant on the lower slopes of Mount Shasta and started taking his visitors on hunting, fishing, and mountain climbing excursions.
The timber boom that had begun around that time had pretty well petered out by 1990, when the last lumber mill closed in Mount Shasta.
By then, a wave of newcomers attracted to the recreational opportunities in the area had taken up where Sisson left off, setting up outfitting stores and offering guide services. A new ski park opened in 1985. All this was complemented by a new batch of motels and restaurants. Beginning in the late 1990s a nonprofit organization called the Mount Shasta Trail Association, fueled by grants and private donations, greatly expanded the area's hiking opportunities, adding 20 miles of trails along lakes and rivers and on the slopes of Mount Shasta, with another 46 miles currently in the works. All in all, it added up to a smooth and vigorous transition from a timber-based economy to one based on recreational tourism.
Seventy-five miles up the road sits another former timber town, Ashland, Oregon. The last of its eight lumber mills shut down in 1967. But an English professor at the local college, Angus L. Bowmer, had already planted the seeds for the town's reinvention. Bowmer had done some amateur acting on the side, and he got the idea of converting an unused structure in the city park into a venue for Shakespearean plays. The city of Ashland offered him $400 and funds for a construction crew—just enough support to get his project off the ground.
The first two productions occurred in 1935 and became an annual event: the Oregon Shakespeare Festival. By the 1960s the festival had established Ashland as a major theatre town that drew fans of the Bard from up and down the West Coast. By 2019 the Ashland Chamber of Commerce estimated that over 100,000 visitors were showing up at the theatre festival each season. Its success has spawned a number of other live theatre venues.
Read the entire piece here.