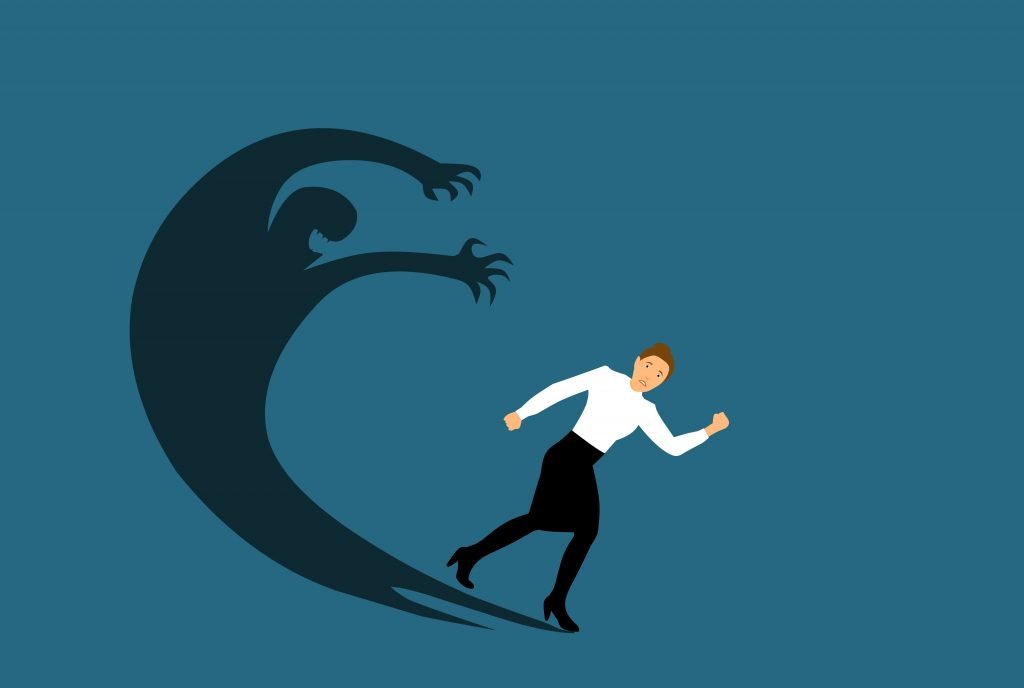 Need to overcome some fear? Brain science and a sweet reward may just do the trick.
My husband and I are planning a trip to Italy. I've never been there, in spite of teaching Latin for fourteen years and also learning Italian, though not enough Italian to help me understand a videotape of La Dolce Vita I once brought home from the library. The two of us watched it together in earnest silence. At the end, my husband said, "That was very weird," and I gave him a superior look meant to suggest, falsely, that I had understood it. The next day the librarian asked me if I didn't want to try watching the FIRST cassette of La Dolce Vita. Apparently I had only checked out the second half.
Anyway, I've always longed to visit Italy. It's what artsy women over fifty want to do—what we must do, if we've seen Enchanted April, which we all have. Unfortunately, what I've nurtured in my heaving bosom along with a passion for Italy is a paralyzing fear of flying. It all began way back in 1984 (anyone need a bathroom break before I start this story?) on a flight to Chicago that almost crashed—or, well, it could have crashed if the control tower had been right about the landing equipment falling off on the tarmac. The pilot told us he thought it was uhhhh, prooooobably all fine, but just to be on the saaaaaafe side he was, uh, going to have us all get reeeeady for a tough laaaaaanding . . . heads down! hands over your heads! glasses and sharp objects tucked safely away in the seat in front of you! Our air hostesses marched up and down the aisle with burning looks which I interpreted as "Make your peace with God," but they refused to give us alcohol.
I have always been an anxious person, but after landing in the crash position with what seemed like 100 fire trucks waiting for us I became a professional nerveuse. I flew less and less and then stopped altogether. Other fears crowded in: nuclear war, tornadoes, cancer, Lyme disease, interstates, buses, the sun, losing my nose because of the sun. To deal with my fears I avoided everything to do with them.
I've learned since that avoiding the things you fear increases the intensity of anxiety and makes it spread to other areas of your life. This isn't just some feely self-help nugget. This is brain science. The brain is always building new pathways to areas that receive attention, whether the attention is good (I like this!) or bad (this disgusts me!). That's the logic of the learning process, which is only tangentially affected by education, values, or your absolute loathing for the song "Let It Go." The more you try not to think about "Let It Go," the more you'll hear it in your head.
When it comes to fear, the only way to extinguish it completely is to stop paying attention to it: not try to stop paying attention (that feeds it) but actually stop. And the best way to do this, short of losing consciousness, is to experience something scary for so long that your brain becomes habituated to the fear and loses interest—the way you would feel after watching Silence of the Lambs for the thirtieth straight time.
Obviously, the big challenge is to stay in the chamber of horrors-level panic you'll feel in the early stages of the habituation process. To remain willfully in that kind of panic, you have to want something very badly that lies on the other side of it. During my high anxiety period I had few motivations to fight my way to the other side of fear. In fact, avoiding scary stuff, besides probably keeping me alive longer, had some nice perks. I once convinced a United flight attendant to let me out of a plane just before take-off. He arranged a complimentary night in the airport hotel with a bottle of champagne on my table at breakfast.
Eventually, like so many other crazy people, I decided to get a degree in counseling. I learned a lot about how the brain works, and my greatest revelation came one day in class when the professor said, "There are a lot of ways to treat anxiety disorders in the therapy room, but the treatment with the highest cure rate is in vivo exposure. That means having clients do the thing they're afraid of in real life. You know, like a person that's afraid to fly can just get on an airplane."
I was scribbling in vivo. I loved it when Latin and counseling intersected. Wait, what?
Her voice took on a wistful tone. "It's hard to get them to do it, though. People don't like it. That's why we don't do in vivo very often."
Had I heard right? The best way to stop being afraid of something is to . . . just do it? Not talk about it or practice calming breaths or even take medicine but just go ahead and do the thing? It was like someone was telling me the moon landing really had been a hoax.
I began in vivo-ing myself. I stood on cliff edges, I drove to New York on the freeway, I watched Phantom of the Opera all the way to the end. Gradually I extinguished or decreased most of my phobias and anxieties. But the last great enemy was flying. You can live an okay life without flying. But you can't visit Italy.
During my years as a Latin teacher in a posh school I occasionally had students visit Rome over Christmas break and post photos on Instagram. These children were in danger of getting C's in January. It's hard to enjoy the sight of someone who never mastered the third declension standing in front of the Coliseum with a bored look. And yet jealousy and resentment, enjoyable as they are, make poor motivators. A better motivator for me has been the idea of foreign language itself. I've always loved learning languages. I have four going on Duolingo now, including a Latin refresher course, which is truly one of their worst (talk about your egregious use of the participle "fartus"). And yet, for all my language nerdiness, I've never been to the home country of a language I've studied. It's not that I deserve Italy more than a Latinless ninth grader. But damn it, after all that Horace, Livy, and the second half of Fellini, I really do.
Just a few weeks remain before my husband and I take the great in vivo volo to Europe. Barely enough Duolingo time to brush up on those ancient and Romance languages and also learn German. I'm spending hours a day chatting with morose French cartoon characters and practicing sentences like, "By which window did the thief leave the neighbor's house?" And yes, I'm quite nervous about the flight. But my birthday is tomorrow, and I know that by the time another Geburtstag rolls around I will almost certainly be still in vivo and fairing pretty bien, not having died in anything so romantic as a Flugzeugabsturz. Also, if I'm dead by the time you read this, please cancel my Duolingo subscription. 
M. Elizabeth Carter is a counselor and writer living in Alabama.