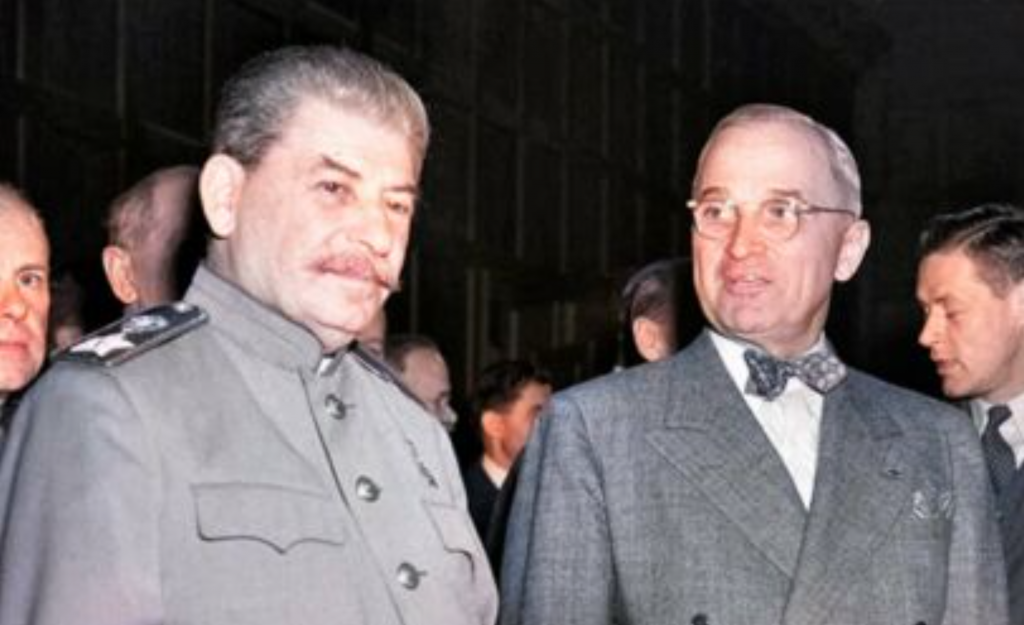 Putin has opened a window for restoring American politics
The Cold War is back. This idea exploded across our planetary consciousness on February 24 as Russian missiles bombarded Ukraine, and Moscow's army began a violent, muddled march to Kyiv. Vladimir Putin followed up the invasion with nuclear saber-rattling of the kind not seen since Cuba 1962. In the United States, media apparatchiks compounded the shock with weeks of noncommittal and blasé chatter: surely, surely Putin was posturing.
After all, there were Rules and Norms. An international system. No one would break an international system, just as no one was supposed to ask whether the international system was good or bad, only whether it was working.
It was not working. Now it is broken. And possibly, just possibly, a new Cold War actually offers some hope of a better world.
The invasion is an atrocity and the Ukrainians have borne all the suffering. Whatever Putin's war has done to America's psyche or politics cannot compare to the bloodshed across southeastern Europe. I am not happy that we have entered a new Cold War. I am not happy that my childhood fears of nuclear Armageddon once again haunt my sleep, now with a savage new edge as I think about my own children.
But Cold Wars—then and now—can construct red lines, can bring clarity and predictability. Those qualities, sorely lacking in American politics for the last decade, ought to be welcomed back in the midst of our grief and pain.
Away with the nostalgia: The Cold War created tragedies, caused death, sewed panic. Most of all it made fear. Writer Grant Morrison remembered his childhood in Scotland as "the Bomb, always the Bomb, a grim and looming, raincoated lodger, liable to go off at any minute, killing everybody and everything." Magazines imagined how the world might look after a nuclear war, giving Morrison images of "carrion landscapes . . . shattered, obliterated skeletons contorted against blazing horizons of nuked and blackened urban devastation," sometimes with an eight-hundred-foot Grim Reaper broadcasting bombs in satisfaction.
The fact that those landscapes never became real is not attributable to some inherent quality of nuclear weapons but to the hard work, foresight, and difficult political choices of the first generation of American Cold War leadership. It was Harry Truman and George Marshall who created NATO in 1947 —against the howls of isolationists—and committed the United States to an overseas military presence. Truman initially trusted Stalin and the Soviets, but as the Iron Curtain fell across Eastern Europe the American president understood what was happening. If the Russians marched across Europe, America was next. And America would be weaker for having lost Europe. Truman sacrificed his own political popularity and made the choice to commit America to defending democracy in Europe. Thus, Article 4: Any attack on one member of NATO is an attack on all.
It was and is a terrifying proposition—but it is also clear. Any diplomatic or military guesswork is removed; strategic planners do not need to wonder if any particular country is "important" enough to warrant a full-scale response from the U.S. The Soviets responded with the Warsaw Pact, a parallel arrangement with their client states in Eastern Europe. The lines were clear, and as Soviets turned Eastern Europe into a series of puppet states Republicans grudgingly backed Truman. In 1952 the GOP dumped its isolationist wing and nominated Eisenhower, committed to the same security arrangement as Truman. Kennedy, Johnson, and Nixon followed suit.
President Biden has followed Truman's lead. The White House and the American military were perfectly clear as to what would happen if the Russians invaded Ukraine in 2022. As Putin raised the stakes and various pundits claimed he would never invade—What sense would that make?—Biden and Blinken did not budge: An invasion would mean the end of cooperation between Russia and the U.S., massive new sanctions, and no more free lunches the oligarchs had been enjoying in the West. The U.S. would not commit troops, but neither would we lend American economic or banking strength to a regime that declares war on democracies. And when the war came, Biden and the U.S. military were ready. They had told us to expect it, and they were prepared.
Although the media paid little attention to the GOP response, for the most part the Republicans stood behind a president they can't stand. Indeed, when Lindsey Graham asked if someone could assassinate Putin, none other than Ted Cruz publicly shamed him and backed a long-term, clear-eyed policy of sanctions. Senators Marco Rubio and Brian Schatz echoed one another from across a deep ideological divide, urging calm, patience, and resolve for what is going to be a long fight.
That may just be enough.
Not just for the world but for us in the United States. Putin's full-scale invasion of a democratic neighbor, his denial of Ukraine's right to exist apart from Russia, and his ruthless prosecution of the war have emphatically underlined the long-hidden but inescapable truth that American democracy is not a game; it is not about winning or personal gratification. Rather, it is about facing our problems and finding answers. Our government does not exist to satisfy our cravings but to protect an ongoing and beautiful experiment in freedom.
That requires sacrifices. It requires leaders willing to accept problems and provide solutions rather than soundbites. Such an attitude has been sorely lacking in American politics for decades. Even after the attacks of 9/11, George W. Bush raised no taxes and asked little of average Americans in the face of an existential threat. The Iraq War was sold as an easy fight—"these people will welcome us with open arms." Obama, too, preferred to sidestep difficult struggles in the hopes they would simply go away; his muted response to Putin's invasion of Crimea in 2014 was topped only by his administration's refusal to inform Americans that Russia was actively seeking to control Trump's presidential campaign. Trump masterfully denied that any problems were actual problems. Climate change was "a Chinese hoax," and he promised that COVID would magically disappear in the summer of 2020. (When it didn't he reminded America that the disease was no big deal: "It mostly kills old people.")
Enough.
Among recent presidents, Biden is by far the least charismatic and most boring. And yet it is Biden who has finally laid out and pursued a foreign policy based on clarity and red lines, who has been willing to accept a Cold War mentality that cuts Russia off rather than allows Russian troll farms and businesses to profit from American wealth and poison our democracy. It is Biden who is willing to tell Americans that gas prices will rise and that we will need to make sacrifices—a Trumanesque approach, and one that has added to Biden's Truman-like approval numbers.
Not everyone is on board. Sen. Josh Hawley has vowed to hold up every nominee to the Defense Department until Secretary Lloyd Austin resigns, forcing Democrats to spend valuable floor time getting around the procedural loop. The solution here seems obvious: Have the Senate start meeting on Fridays and weekends, too. If ever there was a time for long hours in the Senate, this is it. Ukrainians are fighting for their lives, we are fighting for democracy; Chuck Schumer can schedule a few extra hours of work time.
But possibly we have found our baseline: We are not going to bow to dictators. In a choice between accepting a Cold War and a continued fantasy that our problems need never be faced, I'll take the former. What Truman said about the White House is also true of America itself: the buck stops here.
Adam Jortner is the Goodwin-Philpott Professor of Religion in the History Department at Auburn University. He is the author of the Audible series Faith of the Founding Fathers and was part of the creative team behind Where in Time is Carmen Sandiego?