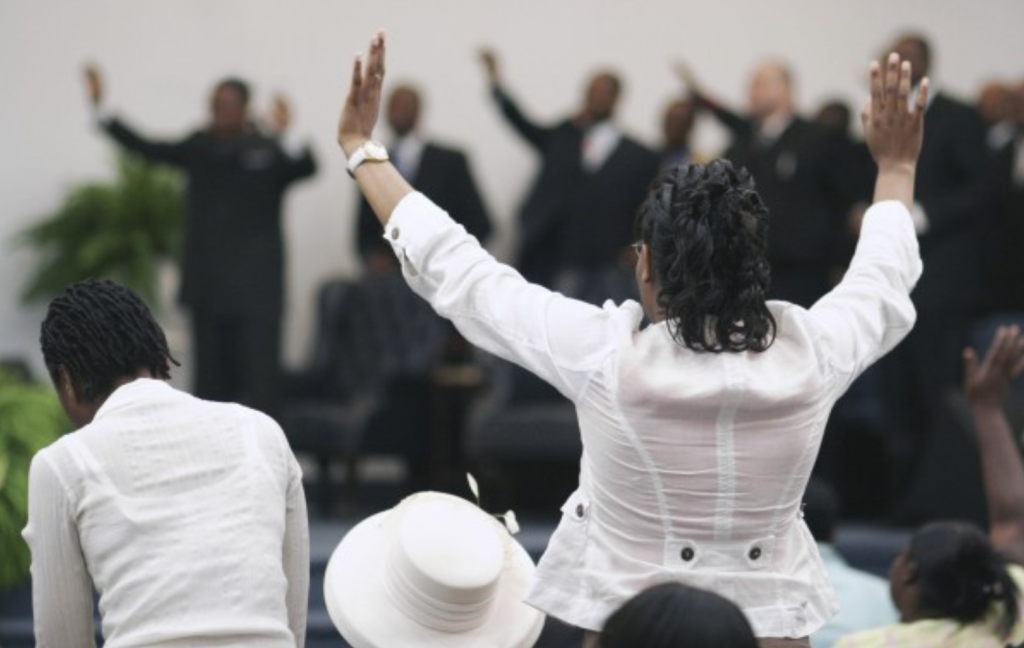 The second of a two-part series on the Black church and gay marriage in 2004
In early 2004, the dam holding back the floodwaters of gay marriage in America was starting to crack. Same-sex marriage in Massachusetts was all but a reality. San Francisco mayor Gavin Newsom's decision to start issuing marriage licenses to same-sex couples led other cities across the nation to do the same. The Religious Right battled these local efforts at every turn, but they were not the only Christians fighting to preserve traditional marriage and do whatever possible to patch up the dam in order to hold back the coming tide. As I wrote in this space last week, Black churches often led the way in the fight against gay marriage. 
According to the Public Religion Research Institute, only 23% of Black Protestants supported gay marriage in 2003. Black clergy opposed the practice because they believed it contradicted the teachings of scripture. In this sense, their argument was not much different from the anti-gay marriage arguments made by the Christian Right and other evangelicals. Rev. Gregory Groover, pastor of Charles Street African Methodist Episcopal Church in Boston, could not have been clearer when he told the Associated Press that Black preachers were "progressive in our social consciousness, and in our political ideology as an oppressed people we will often be against the status quo, but our first call is to hear the voice of God in our Scriptures, and where an issue clearly contradicts our understanding of Scripture, we have to apply that understanding." Cheryl Sanders, pastor of Third Street Church of God in Washington D.C. and a professor of Christian ethics at Howard University School of Divinity, took a similar stand. "We do not have any place in the Scripture in our tradition that we would consecrate, or affirm or acknowledge, marriage between two persons of the same sex," she told Religion & Ethics Newsweekly. "Homosexual practice in my understanding of Scripture is a sin. It's not the only sin, and it may not be the worst sin, but it's certainly a sin." During a news conference on gay marriage held by African American Baptist ministers in Chicago, Rev. Gregory Daniels of the United Truth and Change Church announced that "if the KKK opposes gay marriage, I would ride with them."
In Georgia, where the capital city of Atlanta was becoming a hub for Black homosexuals, gay men and women often ran into opposition from African American churches. They claimed that few churches welcomed them and "gay bashing" from the pulpit was common. Funerals and deaths from AIDS were often "glossed over as 'cancer.'" Since the church remained the cultural center of black life in Atlanta, many gays continued to attend services while remaining in the closet.
Members of the African American community who defended gay marriage as a civil right were in a decided minority, but they made every effort to push back against the conservatism of the church on this issue. Black public intellectual Michael Eric Dyson argued that there was an inherent contradiction in much of the Black church's theology of marriage. "Black Christians, who have been despised and oppressed for much of their existence should be wary of extending that oppression to our lesbian sisters and gay brothers." 2004 presidential hopefuls Carol Mosely Braun and the Rev. Al Sharpton made similar arguments. So did Selma marcher and Georgia congressman John Lewis, as well as Coretta Scott King.
But as we saw in Asbury Park, New Jersey, not all Blacks were willing to compare the fight for gay marriage to the African American fight for civil rights. Consider Walter Fauntroy. He was a leader in the Southern Christian Leadership Conference, helped organize both the 1963 March on Washington and the 1965 Selma-to-Montgomery march, and served as Vice-Chairman of Lyndon Johnson's White House Conference on Civil Rights. In 2004 he served as a spokesman for the Alliance for Marriage, a non-partisan group advocating for traditional marriage amendments at the state and national levels. Fauntroy believed that gay and Black people's struggle for civil rights were "exactly" the same when it came to "access to income, education, healthcare, housing, and criminal justice," but he placed marriage in a different category. From his position as pastor of the New Bethel Baptist Church in Washington D.C., Fauntroy preached: "My religious tradition says that homosexuality is an abomination."
Lorraine Williams, the pastor of the Stanton Heights United Methodist Church in Pittsburgh, claimed that comparisons between civil rights movement and the gay rights movement "are an insult to the suffering and pain of black people and to the memory of our civil rights leaders who were killed." She added, "They suffered and sacrificed for more than the right of people to sleep with someone." Williams's words were matched by Black Southern Baptists. "How dare you," said Brendan Saunders, pastor of Freedom Church in Baltimore, "take the years of oppression enforced on the black community and trivialize it because you want to justify your sinful actions, how dare you?"
That fact that white Christian Right organizations like the Family Research Council used Black clergy to promote their anti-gay marriage agenda did not go unnoticed by astute Black commentators. Dwight McBride, the chairman of the African American Studies Department at Northwestern University, suggested that by rejecting gay marriage, ministers proved to white America that there were respectable Black people. Reverend Louis Sheldon, the white leader of the Traditional Values Coalition, said that his organization was "looking for African American clergy members who have local authority, and we're getting them to hold a summit on marriage." The Christian Right had used this strategy for decades. As sociologist Sean Cahill writes, "Antigay groups increasingly put forward African American spokespeople to argue that gay rights threatened the civil rights of people of color."
Black writer Kenyon Farrow understood this phenomenon better than most. In a piece titled "Is Gay Marriage Anti-Black?," he pulled no punches: "I, as a black gay man, do not support this push for same-sex marriage. Although I don't claim to represent all black gay people, I do believe that the manner in which this campaign has been handled has put black people in the middle of essentially two white groups of people, who are trying to manipulate us one way or the other." Farrow targeted white evangelicals: "The Christian right, which is in fact anti-black, has tried to create a false alliance between themselves and blacks through religion to push forward their homophobic, fascist agenda." But he also saved some criticism for white gay activists: "The white gay civil rights groups are also anti-black, however they want black people to see this struggle for same-sex unions as tantamount to separate but equal Jim Crow laws." 
A 2019 poll conducted by Pew Research revealed that less than half of Black Protestants favor same-sex marriage. If the recent anti-transgender rant from North Carolina Lieutenant Governor Mark Robinson is any indication, the African American community continues to represent a significant roadblock, even in our current post-Obergefell world, to the white progressive agenda on sexual ethics. At the same time, the way the Christian Right is using Robinson's remarks reminds us that some things may never change.
John Fea is Executive Editor of Current.