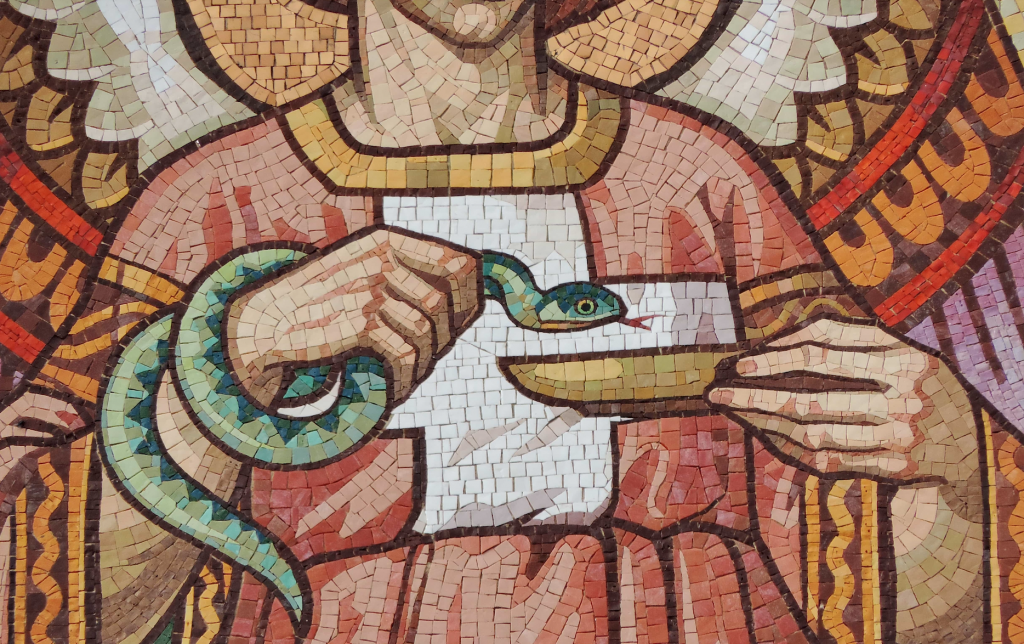 Certitude and cynicism alike bow to wonder—at least every now and then
I've never cast a demon out of anybody. Nor have I spoken in tongues. I've never sipped a drink laced with strychnine and I don't understand how picking up venomous reptiles could usher me closer to the throne of God (except that maybe one good bite on the wrist would mean a quick trip to heaven).
I am ex-evangelical in the harshest sense that one can be ex-anything. Of late, a cynicism has sprouted in my spirit unabated, its presence stamped TOTALLY JUSTIFIABLE by every unwelcome pastoral hand down every skirt or laid upon each breast or back or thigh. Not to mention every other outright abuse of power evinced by every single evangelical pastor with six degrees of separation from Justin Bieber. At the very least, the quantity for whom this (or worse) is actually true, combined with the magnitude of the devastation they've caused, combined with their collective un-sorrow for their sins—well, I imagine that Roman spear driven so far up and into the ribcage of Christ that the bloody spearhead protrudes from His divine shoulder.
Not long ago I visited the Old Rock House Holiness Church in Section, Alabama. This congregation I learned about from Dennis Covington's 1995 masterwork Salvation on Sand Mountain. Members of the Old Rock House Holiness Church handle snakes (among other expressions of worship I'd only ever heard of). In the Gospel of Mark it says, "And these signs shall follow them that believe: In my name shall they cast out devils; they shall speak with new tongues. They shall take up serpents; and if they drink any deadly thing, it shall not hurt them." I've read that the practice finds its origins in these verses.
I felt a compulsion, a "leading of the spirit" in the parlance of a former and more faith-filled iteration of my life, to visit the Old Rock House Holiness Church. Covington's book is one of the best I've ever read and I long to be a writer as honest as he. The church isn't far from my house in Chattanooga, either. And my wife and kids were out of town that weekend. I'm aware enough of my own proclivities to know that when I'm left to my own devices, I'm much more likely to obey that little voice that slithers through my thoughts with untenable suggestions.
I was one of about thirty people in the church house, and the only stranger. But despite my efforts to affect an air of invisibility, every member of the church, every pastor and every layperson, welcomed me personally. Even some of the people featured prominently in Covington's book—nearly twenty-five years beyond its original publication date—shook my hand. More than one member explained that if the Holy Ghost moved me, I was welcome to walk up to the front and pick up a guitar or play the drum set. I wondered how I'd know, even if the Holy Ghost was sitting next to me. But the walls were hung with tambourines and, once, about halfway through his preaching, the pastor paused and looked down at me and said, "Man from Tennessee want to come up and say anything?"
I come from a mall, religiously speaking. My anti-sojourn through evangelicalism made it clear that to interact properly with God all notions of should do should be destroyed. But the sheer amount of things a person could do within the church seemed to be the primary metric of corporate spiritual health. I could take a little class to discover my "spiritual gifts." I could play ultimate Frisbee at the park on Wednesdays after work. I could go to—though I still shudder at the idea—a group called "Men's Frat" whose purpose was to mold regular bros into bros who shot-gunned the New Testament instead of Coors Light. "Shop in every single store if you want!" the Church-Mall might've said, "Or lace up your kicks and power walk from Macys to Sears without dropping a dime." Evangelicalism is nothing, I found out, without its God of Options. In practice, that amounts to Optional God. And any take-it-or-leave-it god, the sort offered like a sample in a food court, cannot actually be a god.
I feel sure that I used to know God's parameters, the boundaries which distinguished Him from any particular feeling or orientation or thought process or will. Or, at least, I'm sure I feel sure that I once felt more sure.
About halfway through that Old Rock House Holiness service I noticed a young woman get to her feet and sidestep her way down her row to the middle aisle of the church. Sobs chuffed from whatever metaphysical engine it was inside her that powered her on. At the intersection of row and aisle, she turned and began to glide toward the front of the church house, toward the pastor, who seemed to be waiting for her. He held one hand high and, with the other, pinned the Bible to his hip the way a mother pins her child to her side in the face of danger. As the woman moved, she attracted others, about half the people in the church house, who fell in behind her as if her invisible wake through the heavy air was magnetized. They escorted her, but more than that they became her, embodied her, all of them the woman and the woman all of them, all one, all at once, beside her, before her, after her, enfolding her in terror and love. The pastor's hand fell on the woman's forehead like a plummeting sparrow and the words he pronounced were in the language of heaven. The girl, felled by the blow, toppled backward. But, caught by those around her, she rose again in their arms.
They stood her and walked her back and sat beside her and they would not leave her side. 
Paul Luikart is the author of the short story collections Animal Heart (Hyperborea Publishing, 2016), Brief Instructions (Ghostbird Press, 2017), Metropolia (Ghostbird Press, 2021) and The Museum of Heartache (Pski's Porch Publishing, 2021.) He serves as an adjunct professor of fiction writing at Covenant College in Lookout Mountain, Georgia and lives in Chattanooga, Tennessee.