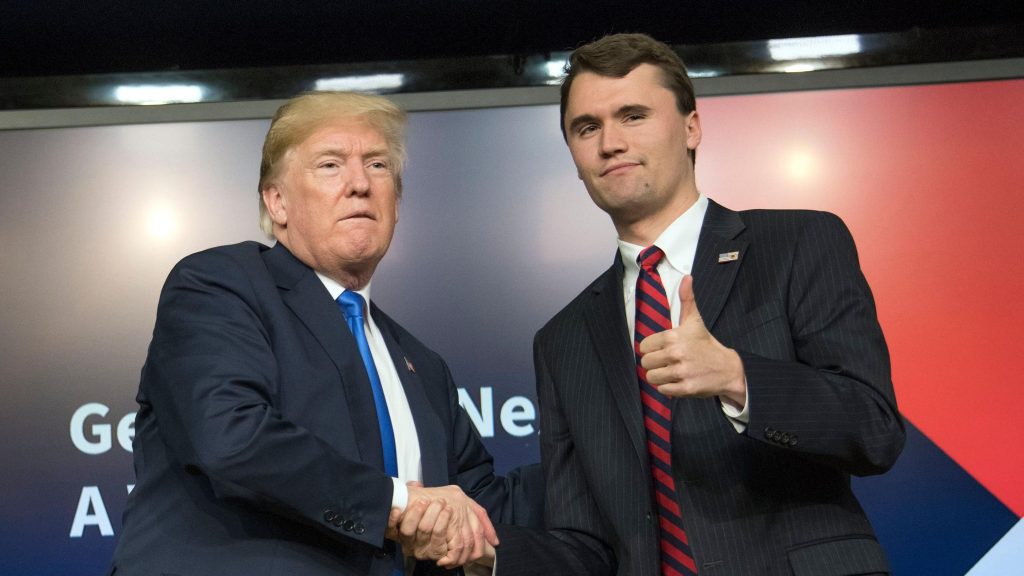 Charlie Kirk, the pro-Trump pundit who spends most of his time rallying college students to a combative form of conservative populism, regularly appears on the weekends at evangelical megachurches. He is currently visiting churches as part of his "Saving America Tour."
Here is a taste of Brian Kaylor and Beau Underwood piece on Kirk at Word and Way, a 125-year-old Baptist publication:
"Watch out for false prophets," Jesus warned his followers. "They come to you in sheep's clothing, but inwardly they are ferocious wolves. By their fruit you will recognize them."
Jesus sounded the alarm that some people will seek to pull his followers away from the path of discipleship. They will claim to be righteous and wise, and will pretend to be compassionate and other-minded. But secretly, they are serving only themselves. The problem is identifying them, especially given how charismatic and persuasive they might seem.
Biblical scholar N.T. Wright summarized the analogy Jesus used in this way: "Look at the life of the person who is offering you advice. Think of it like a tree. Can you see healthy, tasty fruit on this tree? Can you see other people being generally nourished by it? Or is it, in fact, producing a crop of lies, immorality, and greed?"'
"Turning Point USA has been known for attacking professors and universities for teaching things they consider to be off limits," Anthea Butler, chair of the University of Pennsylvania Department of Religious Studies and author of White Evangelical Racism: The Politics of Morality in America, told us.
"What the new church iteration of Turning Point USA is doing is a similar type of activity to what the Christian Coalition did to organize politically in churches in the 1990s and early 2000s," she added. "What you can be sure Turning Point USA is doing by branding their 'Saving America Tour' alongside Donald Trump is creating a coherent message designed to bring evangelical voters out in 2022 and to contest elections that don't go their way in 2022."
With this clearly partisan agenda, churches that host Kirk as he tries to "save" America join him in conflating the Christian gospel with the agenda of one party (really, one former president). This reduces transcendent truth to mere political handmaid. Kirk's invitation is not to abundant life but to cultural warfare. In fact, as he makes clear, heeding his call involves violating the law in ways that place the community in harm's way. Any church that loses its tax-exempt status risks serious membership and financial repercussions.
Moreover, we've documented here how Kirk's jeremiads are filled with half-truths, indefensible denials, and downright lies. Rather than believing the "truth shall set you free," his hope is that conspiracies and sophistry will succeed in pulling the wool over his audience's eyes. As to greed? Well, Kirk's drawing a handsome salary from his Turning Point empire and encouraging his followers to "Buy merch[andise]. Save America."
Huckster. Snake oil salesman. Charlatan. These are all apt labels for Kirk and his pseudoscience, pretend knowledge, and false gospel. But we'll be old-fashioned and stick with the Bible: he's a wolf in sheep's clothing. He's one that Jesus warned us about who arrives in our churches falsely claiming to speak a word from the Lord.
Read the entire piece here.