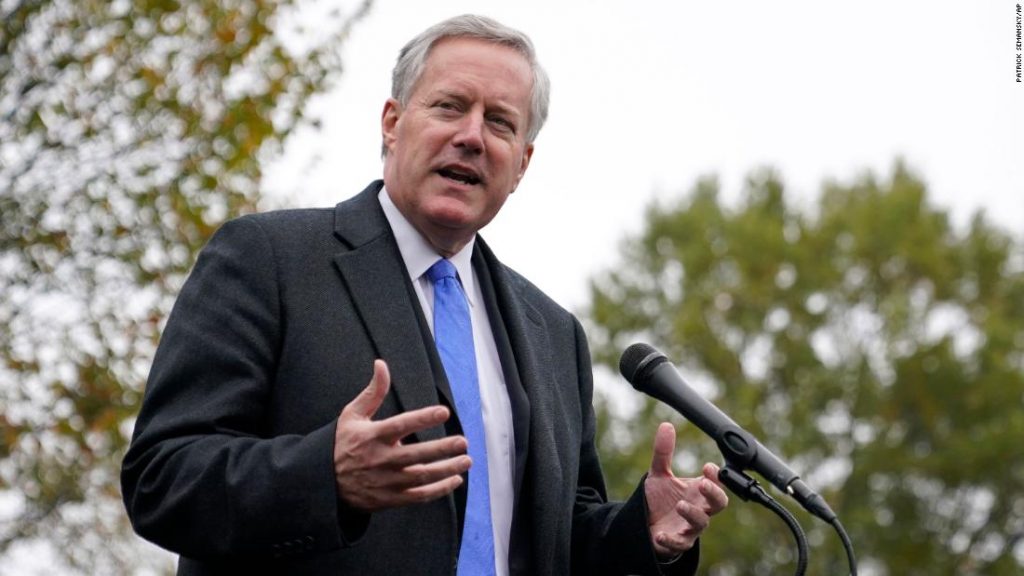 In case you missed it, Ginni Thomas, a conservative activist and wife of Supreme Court Justice Clarence Thomas, was texting with Donald Trump's Chief of State Mark Meadows in the weeks between the 2020 election and the January 6, 2021 insurrection.
You can read excerpts from the texts, released by the House Select Committee on January 6th, in Bob Woodward and Robert Costa's piece at The Washington Post. I was particularly struck by this part of the story:
On Nov. 10, after news organizations had projected Joe Biden the winner based on state vote totals, Thomas wrote to Meadows: "Help This Great President stand firm, Mark!!!…You are the leader, with him, who is standing for America's constitutional governance at the precipice. The majority knows Biden and the Left is attempting the greatest Heist of our History."
When Meadows wrote to Thomas on Nov. 24, the White House chief of staff invoked God to describe the effort to overturn the election. "This is a fight of good versus evil," Meadows wrote. "Evil always looks like the victor until the King of Kings triumphs. Do not grow weary in well doing. The fight continues. I have staked my career on it. Well at least my time in DC on it."
Thomas replied: "Thank you!! Needed that! This plus a conversation with my best friend just now… I will try to keep holding on. America is worth it!"
It is unclear to whom Thomas was referring.
Read the entire piece here.
Nothing shocks me anymore about the way the Christian Right wages the culture wars, but I am still doing my best to use this blog to chronicle and curate as much of this story as possible.
Meadows and Thomas believe they are on the side of the angels. 1 Corinthians 13:12 reminds Christians that we "see through a glass darkly' but then face to face: Now I know in part; but then shall I know even as also I am known." Meadows must be really close to God because he claims to have a view of the divine will that is much clearer than the rest of us mere mortals. He sees the hand of God on Donald Trump and the forces of evil influencing all of Trump's rivals. If his text message to Ginni Thomas is any indication, the devil and his minions stole the election from God's anointed one and it is now Meadows's responsibility as a Christian politician to "fight" a holy war that will inevitably triumph over evil and restore Trump to his rightful place as the leader of a Christian Republic, a "shining city upon a hill." By suggesting that he has "staked his career" on this fight, Meadows can't lose. He will either serve as a catalyst for the eventual triumph of the "King of Kings" or he will go down as a Christian political martyr. I'm putting my money on the latter.
Since the Russian invasion of Ukraine began last month we have done several posts about the way evangelical clergy believe that this war in Europe could be a harbinger of the so-called "last days." Today as I was reading in the New Testament book of 2 Timothy I entertained the idea that these preachers may be right in their claim that we are living in the last days, but wrong about the signs. (But what do I know–I see through a glass darkly). Here is 2 Timothy, chapter 3:
Be sure of this. In the last days hard times will come. 2 People will love themselves. They will love money. They will talk about themselves and be proud. They will say wrong things about people. They will not obey their parents. They will not be thankful. They will not keep anything holy. 3 They will have no love. They will not agree with anybody. They will tell lies about people. They will have no self-control. They will beat people. They will not love anything that is good. 4 They cannot be trusted. They will act quickly, without thinking. They are proud of themselves. They love to have fun more than they love God. 5 They act as if they worshipped God, yet they do not let God's power work in their lives. Keep away from people like that. 6 They are the kind who go quietly into people's houses. There they get foolish women to believe them. These women know that they have done many wrong things. And they want to do many kinds of wrong things. 7 They are always trying to learn, but never able to find out what is really true. 8 Jannes and Jambres were two men who were very much against Moses. In the same way, these men I am talking about are against what is true. They are men who have wrong thoughts in their minds. They do not believe. 9 But these men will not get very far. Everyone will see that they are wrong, just as people saw that Jannes and Jambres were wrong…13 Bad men and those who fool other people will grow worse and worse. They will fool other people, and other people will fool them. 14 But you, Timothy, must keep on doing the things you have learned. You know they are right. You know who taught them to you.