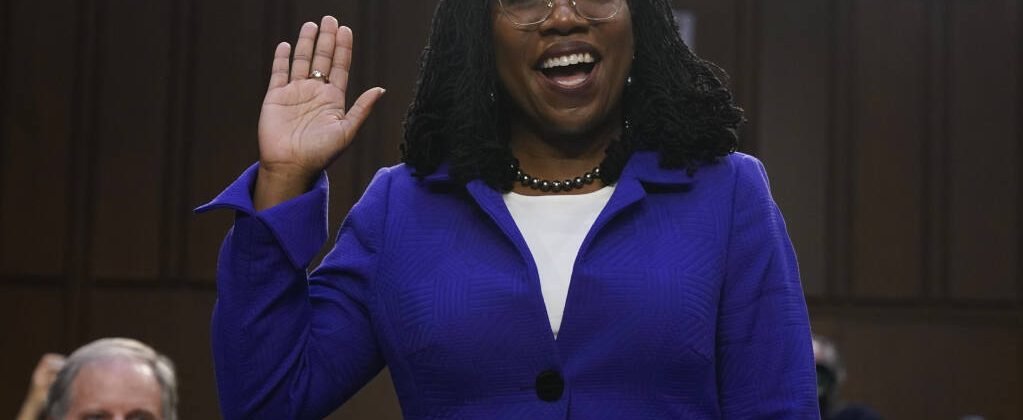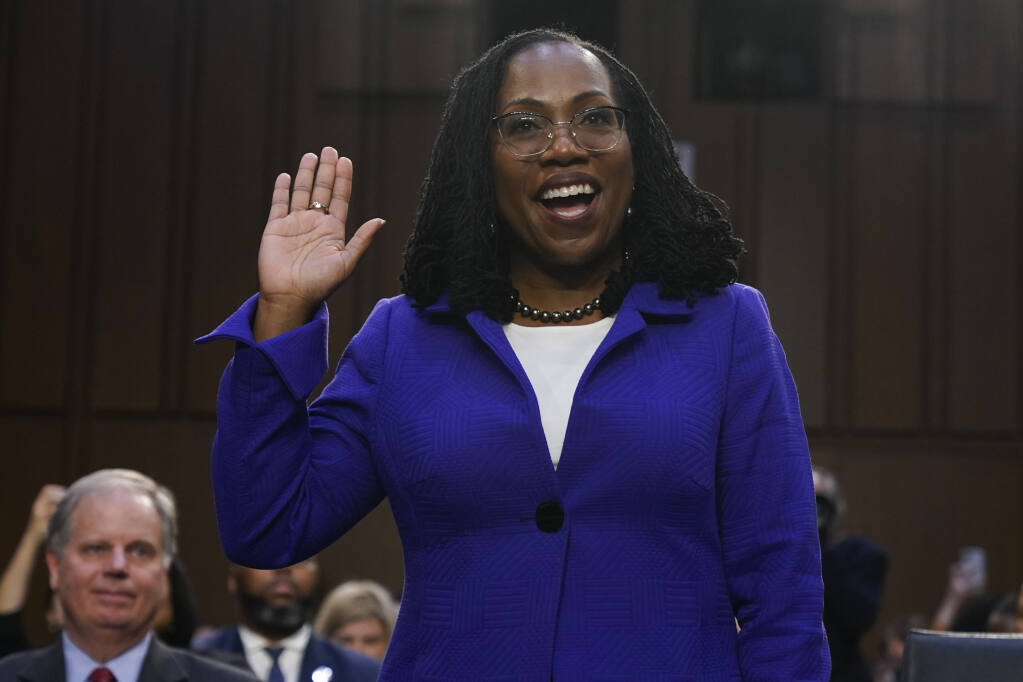 As Adelle Banks notes in her recent article at Religion News Service, the first Black woman nominated to the Supreme Court has said virtually nothing about her religious background. Here is a taste:
When she spoke at the first day of her Senate Judiciary Committee confirmation hearing as a nominee for Supreme Court justice, Judge Ketanji Brown Jackson stated her belief in God and her gratitude for divine blessings.
"I must also pause to reaffirm my thanks to God, for it is faith that sustains me at this moment," she said on Monday (March 21). "Even prior to today, I can honestly say that my life has been blessed beyond measure."
This echoed similar remarks after President Joe Biden announced her historic nomination.
"I must begin these very brief remarks by thanking God for delivering me to this point in my professional journey," said Jackson after thanking Biden and Vice President Kamala Harris during the Feb. 25 speech. "My life has been blessed beyond measure, and I do know that one can only come this far by faith."
Njeri Mathis Rutledge wasn't surprised her former Harvard Law School classmate's first impulse was to thank God.
"She's a very sincere person so I believe that was in her heart to say," said Rutledge, who lived in the same dorm and attended the same core classes with Jackson, an appellate court judge named by Biden to succeed Justice Stephen Breyer.
"I think being a Black woman in the legal field, which can sometimes be hostile," added Rutledge, "it does take faith."
But Rutledge, now a professor of law at South Texas College of Law Houston, like many other admirers and supporters of Jackson, 51, does not know the details of her college friend's religious practice, though she considers her to be "a woman of strong faith, strong Christian faith." Rutledge, who is Facebook friends with Jackson, said she doesn't recall whether or not Jackson, who "spent a lot of time with her studies," attended a local Black church with her and some other Black students during their first year of law school.
She said Jackson — who would become the nation's first Black female Supreme Court justice if confirmed — was not overtly expressive of her faith when they were in school together in the 1990s.
"The way that we express our faith is not just through words but by actions," said Rutledge, describing Jackson's kind and supportive ways, including making sure Rutledge had enough pencils before a civil procedure exam. "And she certainly had the heart of a Christian."
Scant details of Jackson's past or present faith are available, most of them drawn from a few speeches in a 2,086-page document from the Senate Judiciary Committee. Others questioned by Religion News Service could not describe her current religious practice, if any.
A staffer at the Senate Judiciary Committee could not comment further on details about Jackson's faith.
"I don't have direct knowledge of any disclosure regarding religious affiliation," the staffer said. "All official correspondence with the Committee is within her questionnaire and attachments, so if she has, they'll be in there."
The Rev. Leslie Watson Wilson, national director of People for the American Way's African American Ministers in Action, cited Jackson's faith statement at the nomination announcement and said she hadn't learned more about Jackson's religious persuasion, adding she suspects Jackson or others who know her may be preventing her from being "stigmatized or put into a particular box" about her faith since critics are already casting her as liberal or radical.
"It's one of those things where we are going to have to respect her privacy," Wilson said.
We may not know Jackson's religious affiliation, but in 2010-2011 she sat on the advisory board of Montrose Christian School in Rockville, Maryland, a K-12 school connected to Montrose Baptist Church. Montrose Christian School closed sometime around 2015. The school produced a lot of NBA basketball players, including Kevin Durant. This seemed to be its claim to fame. In 2015, it was trying to move away from its reputation as a high school basketball powerhouse. The Washington Post reported that it was listed for sale amid "ongoing financial distress."
Here is Banks:
The speech included in the Judiciary Committee records where Jackson expounded most on faith was at the 2011 graduation ceremony at Montrose Christian School, a now-defunct Maryland school on whose inaugural advisory board she was a member prior to becoming a federal district judge.
"You are here in the sanctuary of Montrose Baptist Church, in the shadow of the Cross, where people come to worship and give thanks," she said. "Remember that it is here, in the church, that your teachers, friends, and loved ones prayed for you and wished you well as you began this next phase of your life," she said. "When you're out there, and you're struggling (as we all do), look back — recall that you have never been alone, and be grateful for what God has done for you."
She recalled the prayers of her parents and remembered how, as a sobbing Harvard freshman undergrad turning 18, she was comforted by an answering machine message on which her mother sang for her. "Her song was the encouragement that I needed in that moment, and even in my loneliness, I thanked God for the opportunity he'd given me, for the firm foundation he had provided, and also for how far I had come."
Some anticipate that, as occurred when she was a nominee to the U.S. Circuit Court of Appeals for the D.C. Circuit, Jackson will be asked by senators about her connection to wording in a statement of faith on Montrose Christian's website, which included opposition to homosexuality and encouragement to "speak on behalf of the unborn." In response at that time, Jackson said she was unaware of the website declarations and added that in general, as a federal judge and pending judicial nominee, "it would be inappropriate for me to identify any statements or policy positions of those boards and indicate my personal agreement or disagreement with those statements."
Read the entire piece here.
At the time that Jackson served on the Montrose Christian School advisory board, Richard Halloran was the school headmaster. Halloran was a graduate of evangelical Washington Bible College and Dallas Theological Seminary. He is now the headmaster at Providence Classical School in Spring, Texas. Even the most cursory glance of the website confirms that Montrose Christian School was an evangelical school. In December 2010, the school's doctrinal statement affirmed the inerrancy of the bible, the virgin birth of Jesus Christ, the necessity of a personal conversion. The website also linked to The Baptist Faith and Message 2000, a document that upholds inerrancy, the virgin birth, substitutionary atonement, the new birth (or the necessity of a born-again experience), baptism by immersion, a pro-life view of abortion, marriage between one man and one woman, and complementarianism. Most Christian schools would require members of its board, and perhaps even consultants to the board, to uphold these beliefs. If Jackson did not affirm these things at the time she served Montrose Christian School, it would be unusual.
But there is another way to look at this. Jackson does not appear to have served on the school's board of trustees, but on an "inaugural advisory board." It is certainly in the realm of possibility, and perhaps even likely, that Montrose Christian School had more liberal qualifications for the members of its "advisory board." Last year, during the confirmation process for her seat on the U.S. Court of Appeals for the D.C. Court, Texas Senator Ted Cruz grilled Jackson in written questions about her role on this board. Here is Cruz:
You served on the advisory board of the Montrose Christian School. While you served, the school had a statement of beliefs, posted on its website, that included traditional Christian moral teachings like "all Christians are under obligation to seek to make the will of Christ supreme." Were your aware of this publicly posted statement of beliefs during your time on the advisory board?
Here is Jackson's response:
I served on the inaugural advisory board of Montrose Christian School—a now-defunct kindergarten through 12th grade private school—for one year, from the fall of 2010 to the fall of 2011. I was aware that Montrose Christian School was affiliated with Montrose Baptist Church. I was not aware that the school had a public website or that any statement of beliefs was posted on the school's website. My service on the board primarily involved planning for school fund-raising activities for the benefit of enrolled students. I did not receive any compensation for my service.
Cruz did not stop there. He went on to ask Jackson if she was aware that Montrose Christian School believed that gender difference was a "gift" of God; if Christians had the responsibility to speak for the unborn; and if women should submit to their husbands. Jackson told Cruz to see her previous answer about her relationship with Montrose (the answer I pasted in the previous paragraph).
Then Cruz said that he would not inquire any further about Jacksons faith, adding that "probing a nominee's faith, and making it a matter of public display and ridicule, is and has never been appropriate…." He asked (again in writing): "Do you agree that an individual's beliefs on these matters do not affect his or her fitness to be a judge?" Cruz's line of questioning here invoked the debate over the faith of Donald Trump nominee Amy Coney Barrett during her appellate court hearings in 2017. Read about that debate here. Cruz was probably legitimately interested in how Jackson would answer these questions, but his questions also suggest that the Texas senator was trying to make a point about the way Barrett was treated by California Senator Dianne Feinstein and others.
Jackson responded:
Article VI of the Constitution forbids any religious test for appointment to any public office, including an appointment to judicial service. That provision states, in relevant part, that "all executive and judicial Officers, both of the United States and of the several States, shall be bound by Oath or Affirmation, to support this Constitution; but no religious Test shall ever be required as a Qualification to any Office or public Trust under the United States." Per the oath of office and the Code of Conduct, a judge is required to set aside all personal beliefs, including any religious beliefs, when she undertakes to rule in the cases to which she is assigned.
Right answer.
During Jackson's time on the advisory board, the pastor of Montrose Baptist Church was Dr. Ken Fentress, an African American graduate of conservative Southern Baptist schools (Criswell College and Al Mohler's Southern Baptist Theological Seminary). Fentress also has a Ph.D in near Eastern studies from Johns Hopkins and served as dean of Southern Seminary's Intercultural Studies program. Fentress has been the pastor of Montrose Baptist Church since 2007. The church remains a Southern Baptist church that adheres to the Baptist Faith and Message. It also emphasizes ethnic and racial diversity.
Here is a taste of Ketanji Brown Jackson's 2011 Montrose Christian School Graduation Speech (p.1241) titled "Two Directions":
O.K., so, graduates of the Class of201 l- go ahead and look back. I mean, literallyturn around right now and look behind you. . .. Look at your surroundings. Think about where you are. You are here in the sanctuary of Montrose Baptist Church, in the shadow of the Cross, where people come to worship and give thanks. Remember that it is here, in the church, that your teachers, friends, and loved ones prayed for you and wished you well as you began this next phase of your life.
O.K., so, now graduates, look forward. Out there, in front of you. What do you see? . . . The smiling faces of your friends and loved ones. That favorite teacher. A pesky sibling. Walls, windows, doors. There are, and will always be, lots of things to see-but your success will require vision, not just sight. Vision is the ability to see beyond the immediate circumstances and to look ahead-far ahead to what can be. This is a familiar lesson; indeed, there are many Bible stories that attest to the importance of having vision: Daniel in the Lion's Den; Job's trials and tribulations; Shadrach, Meshach, and Abednego' s escape from the firey (sic) furnace. The Bible is filled with people who, through faith, were able to see beyond the present, to a world of hope and glory. Now, that is not to say that any one of us has any special insight-only God knows what lies ahead for each of us. The best that you can do, as you look forward, is to take the long view.
I scanned all 2086 pages of the packet given to the members of the Senate Committee on the Judiciary and based on my quick reading it seems like Jackson said just as much about faith in her opening statement today than she has in her entire professional career.
Is Ketanji Brown Jackson an evangelical? I have no idea. But she certainly seems to be a woman of faith. Should her faith matter to tomorrow's hearing? Absolutely not.