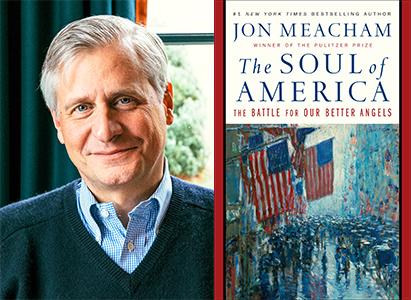 Back in November, I wrote a piece at Current titled "Canceling Jon Meacham." Here is a taste of that piece:
…I thought about Meacham's visit to Messiah, a Christian university with strong ties to American evangelicalism, when I learned that Samford University, a Southern Baptist school in Birmingham, Alabama, withdrew his invitation to speak at the inauguration of its new president.
President Beck Taylor asked Meacham to speak on the themes covered in his recent book The Soul of America: The Battle for Our Better Angels. In this book Meacham reminds us that the United States has been through dark and divisive times before, and suggests how heroic figures in ages past have led this country through struggles to restore the soul of the nation.
This all sounds quite fitting for a presidential inauguration. If Samford is like most American colleges and universities, it probably needs a healthy dose of optimism and hope amid ongoing campus debates over politics, race, and COVID-19 protocols. 
But when some students and alumni learned that Meacham had delivered an October 2021 lecture to a meeting of Planned Parenthood of South Texas, they signed a petition, posted by junior Samford student Emily Kerby, to prevent the historian from speaking at Beck's inauguration. 
The petition reads in part: "Meacham is involved with raising money in support of an organization that does not value life in the same way the Christian faith does. As Samford is the top-ranked Christian University in Alabama, the invitation for Mr. Meacham to speak is not only disappointing, but alarming for the future of Samford." 
To be clear, abortion was not the central theme of Meacham's Planned Parenthood lecture. His speech to the organization concentrated on many of the same themes he would no doubt have presented at Samford. Moreover, Samford does not appear to have a policy on abortion to which faculty, students, or administrators must conform. I know that Samford has at least one pro-choice student on campus and I imagine that it has many pro-choice faculty members who would support the work Planned Parenthood does in the area of women's health.
In response to the petition, which now has over 1000 signers, Taylor decided to uninvite Meacham. His letter to the campus community announcing this decision expresses disappointment with those who equated Meacham's visit with an endorsement of abortion, promises to invite the historian back to campus "at a more appropriate time to an event not closely connected to the symbolism of the inauguration," and affirms Samford's commitment to "free expression and civil discourse." 
Going forward, it will be important that Taylor and the administration and faculty continue to teach students that Samford, though a church-related institution, is also a university. A Christian college might require administrators and faculty to embrace certain theological and moral commitments (and all Christian colleges will draw these lines in different places), but it should also be a place where students and faculty engage with the ideas of those who may not share their beliefs. For example, the petition is not clear whether its author and signers believe that a supporter of Planned Parenthood should be prevented from speaking at inaugurations or at any Samford event. Will the next petition focus on the banning of pro-choice authors from class syllabi? In the future some conservative students may push for something like a "biblically consistent curriculum."
When an administration regularly caves in to student complaints and fails to defend some level of academic freedom, it no longer deserves to call itself a university. 
On the other hand, this petition put Beck Taylor in a difficult position. While it is clear from his letter that he wants Samford to be a place of intellectual hospitality and civil discourse, he is correct when he describes presidential inaugurations as celebratory events that bring the campus together in unity. And while I am guessing that many faculty members would prefer to unite around a shared commitment to the free exchange of ideas rather than a particular view of abortion, inaugurations, especially at Christian colleges, are sacred events in the life of an institution. Sadly, Meacham's invitation and disinvitation will now distract from whatever unity the Samford community can muster for this event.
In the end, Beck Taylor did the right thing by postponing Meacham's visit. Now the Samford faculty, and those of us who monitor the world of Christian college higher education, will watch closely to see how quickly he follows through with his promise to bring the Pulitzer Prize-winner to campus for a future lecture.
Well, I am happy to report that Meacham is returning to Samford as part of a week-long emphasis on civil discourse. On Tuesday, March 22, he will deliver a lecture titled, "The Soul of America: The Battle for Our Better Angels." As part of the event, the university recommends readings from Tim Keller, John Inazu, Richard Mouw, Amy Black, Ben Mitchell, and Miroslav Volf.
Nice work, Samford!