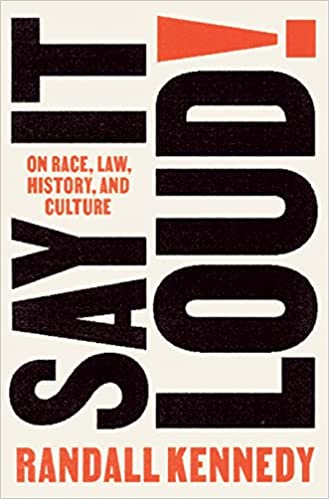 Randall Kennedy is a Harvard law professor and author. He recently talked with Nathan J. Robinson, editor of Current Affairs, about his new book Say It Out Loud : On Race, Law, History, and Culture.
Here is a taste of their exchange
Robinson: This book covers a lot of ground. I saw you recently on a Manhattan Institute panel about critical race theory. And I was really fascinated with your contribution. Manhattan Institute is pretty conservative, and they invited critics of critical race theory on the panel because the big thing that Republicans have been talking about is critical race theory in the schools. It's a big issue in Virginia. And they had all these critics on including Christopher Rufo, who has been doing a lot to scare people about critical race theory. I think your perspective was the most interesting of the bunch. I'm not sure that they expected the take that you gave them. They invited you as a critic of critical race theory, I think, maybe expecting that you would concur with everyone there, who was talking about critical race theory as if it's worthless. But you didn't concur. And I think it's very interesting. Throughout your book, you take ideas that you are critical of and deal with them in a way that is, to my mind, quite fair-minded. You see value even in things you disagree with. Critical race theory has been on people's minds. You knew Derrick Bell, an early proponent of critical race theory. You write a whole essay about him, and your take on it, as I understand it—that you disagree with him but also find some value in his work—seems to have changed over time.
Kennedy: I'll say two things about this. Firstly—this is apart from the substance of critical race theory. The campaign that is being waged against it is, in my view, abhorrent and dangerous and deeply disturbing. As we speak, there are now several states in the United States that have basically said that critical race theory cannot even be discussed in public schools, not just lower grades, but also in higher education. And so what we're seeing is something that I think is a tremendous threat to learning, to academic freedom, to the freedom to read, and the freedom to think. And so that's the first thing in my view of what's been going on over the past few months. Let's put quotation marks around critical race theory because, frankly, the people who are attacking critical race theory have concocted a boogeyman. They have put together a whole bunch of ideas that they think will be just totally unattractive. And they've attached the label critical race theory to that. And they've buffaloed people. Many people are unaware of and have never read anything about critical race theory. And so the critics have made critical race theory into a very unattractive idea and have attacked it in this way. And I think that's very bad and very, very dangerous. So now let's talk about critical race theory: the substance of ideas that have been propounded by people in legal academia and outside of legal academia. When I went on this program at the Manhattan Institute, I'm quite sure that I was invited on because I have written critically about certain features of critical race theory. They probably thought that I was going to damn it. But I did not.
In fact, I'm a little bit cross with myself that I didn't come out a bit more aggressively in defense of some of the central ideas of critical race theory. There are two ideas that you don't have to be a critical race theorist to embrace. One is simply the idea that racism has been pervasive and deeply entrenched in American life. Well, who can disagree with that? If you take a look at the most public activities—you know, voting, jury service—or even the most intimate activities like sex or marriage, race is everywhere in American life. And that's one of the central ideas of critical race theory. It's a good idea. It's a very useful idea. And it has produced very useful scholarship.
The second idea is that the reforms of the second Reconstruction, the various anti-discrimination laws that were passed during the 1950s and the 1960s—some of the critical race theorists say that these reforms were welcome but not enough. Or inadequate. You don't have to be a critical race theorist to embrace that proposition. I think that they are, again, correct. So there are very basic ideas within critical race theory that are useful, that are incisive, and that are productive. I think that there are people who call themselves critical race theorists who have written things that have certainly enlightened me.
Read the entire interview here.