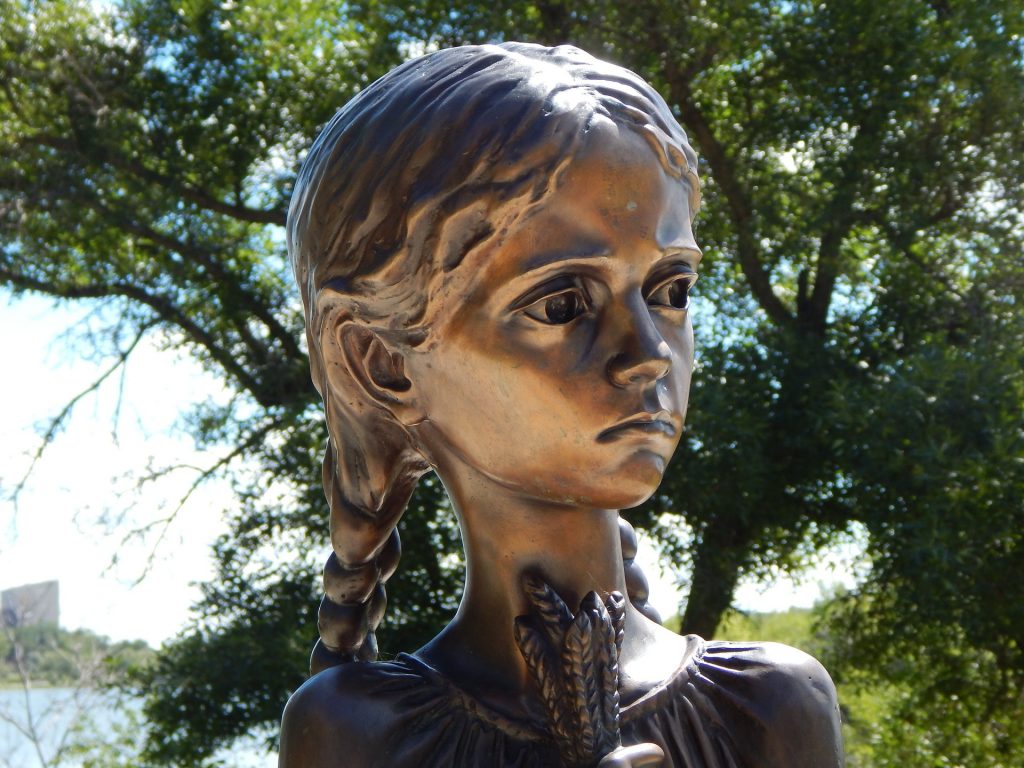 Russian invasion, Ukrainian resistance: We've seen it before. Or have we?
Last weekend rumors started flying concerning Russian plans to carry out public executions of Ukrainian community leaders. Whether or not these plans are actually in place—and the confusion and fear surrounding the rumors are almost certainly part of the point—the idea is even more horrifying in this war because such executions, intended to demoralize the population and decapitate a potential resistance movement, have specific historical precedent in Ukraine. This is an extremely effective scare tactic for the Kremlin because Ukrainians have seen this before.
During and after World War II, as the Soviets established control in what had been eastern Poland and was by then newly western Ukraine, Soviet leadership under the auspices of Nikita Khrushchev—then the Party head in Ukraine—used show trials, public executions by hanging, and the display of bodies to terrorize and eventually subjugate a Ukrainian population which, particularly in the west, was vehemently anti-Soviet. (The Nazis, it goes without saying, had earlier used similar methods to crush local resistance.) "Suspected insurgents were often subject to show trials and public executions, after which their bodies were placed on public display and residents were forbidden from burying them," writes Yuri Zhukov in the journal Small Wars and Insurgencies. "Families of individual insurgents were often held hostage as leverage, while the populations of entire villages where active support for insurgents was widespread were deported to other parts of Ukraine and the Soviet Union." David R. Marples corroborates these tactics in his book Heroes and Villains: Creating National History in Contemporary Ukraine: "Khrushchev and his associates demanded ruthless treatment, including the hanging of captured prisoners rather than shooting, in order to intimidate the population."
It would be disingenuous and irresponsible not to note that Ukrainian anti-Soviet insurgency has an incredibly complicated history—much too complicated to analyze thoroughly in a thousand words or so. Ukrainian resistance during World War II is a thorny topic. Factions of the Ukrainian nationalist movement—which made up the UPA, the Ukrainian Insurgent Army—collaborated openly with the Nazis at times, and historians continue to debate the extent to which the UPA leadership's eventual pivot away from the Nazis was practical rather than ideological. While the UPA did fight Germans, especially following the German imprisonment of key Ukrainian nationalist leaders, it focused mainly on fighting Soviets. Thus the Kremlin has historically spun the UPA as purely fascist and collaborationist, while Ukrainians (especially in the west) tend to celebrate the UPA as freedom fighters who opposed Germans and Soviets equally. The truth is somewhere in between. Suffice it to say that Ukrainian resistance during World War II was not a monolith. Individual motives and actions matter, and individual Ukrainians who opposed Nazism for moral reasons—some of them within the ranks of the UPA—deserve to be recognized and remembered.
But my point is this: Ukrainian and Russian tensions have a long history, much longer than many in the U.S. might suppose, judging by the number of media outlets trying to explain the present conflict primarily as a consequence of the breakup of the Soviet Union (as seen in this USA Today video). Ironically, this interpretation lends credence to two classic and closely intertwined Kremlin narratives: (1) that Ukraine itself and the idea of a distinct Ukrainian identity are fairly recent conceits with no historical foundation or legitimacy, at least none apart from the Soviet Union, which supposedly "created" Ukraine; and (2) that Ukrainians and Russians are one people, one blood. (This latter narrative usually has condescending overtones, with Russia portrayed as a sort of elder brother and Ukraine a wayward younger brother.)
But Ukraine has both a distinct identity and a history that long predates the Soviet Union. I've talked about World War II because that's where my own research interest primarily lies. Historian Anne Applebaum's work on the Holodomor, the Soviet state-engineered famine that killed something like five million Ukrainians in the early 1930s (the exact number of deaths is impossible to calculate), provides another key to understanding Ukrainian hostility toward Russia and Ukraine's efforts to distance itself from its own Soviet past and look westward. But in reality—as Applebaum herself explains in her breathtaking op-ed "Calamity Again," and as Timothy Snyder explains in this interview with MSNBC's The Last Word—a Ukrainian identity has existed for centuries. Ukrainians have fought for recognition and independence for centuries. Ukrainians have suffered under occupation for centuries. And Russia—whether imperial Russia, Soviet Russia, or Putin's Russia—has spent centuries justifying and safeguarding its claim to Ukraine.
We Americans have short attention spans. One crisis dominates the headlines for a few days, or a week, or a month; then we move on to the next. It's happened before with this very conflict. We watched for a few months in late 2013 and early 2014 as Russia, in response to the Euromaidan revolution, invaded and occupied sovereign Ukrainian territory in Crimea and set up puppet regimes in Donbas. This was perhaps the first time that many Americans, at least of my generation, paid attention to Ukraine or bothered to place it on a map. And then . . . we moved on. We accepted the new status quo. We lost interest so thoroughly that news outlets, this time around, are having to remind readers that the annexation of Crimea happened at all.
It happened within the past decade. We had already forgotten. I fear we'll forget again.
"It will be over in a week or two," writes Eugene Finkel. "Not the war, the focus on the war. Something else will happen, the weather will get nicer, you will get exhausted."
We have that luxury in the U.S.—especially those of us sheltered by privileges of race, of class, of opportunity. We have the luxury of not really paying attention to how we got here. Ukrainians do not. The present conflict is tied up inextricably in centuries of history. It is impossible to understand it—and specifically to understand the logic of Putin's aims and the nature of Ukrainian resistance—without understanding its past.
Amanda McCrina is a Nashville-based writer of historical fiction. Her novels Traitor and The Silent Unseen explore tensions between the Ukrainian nationalist movement and the Polish government before and during World War II. Find her on Twitter at @amandamccrina.