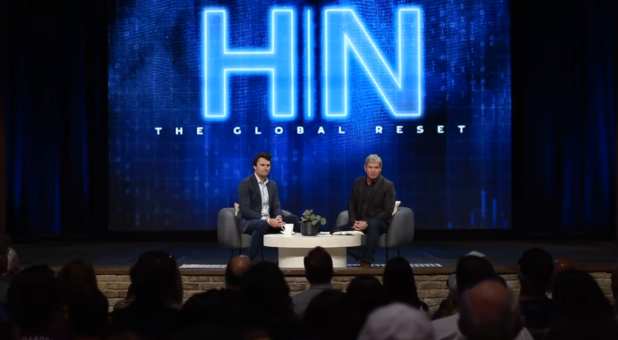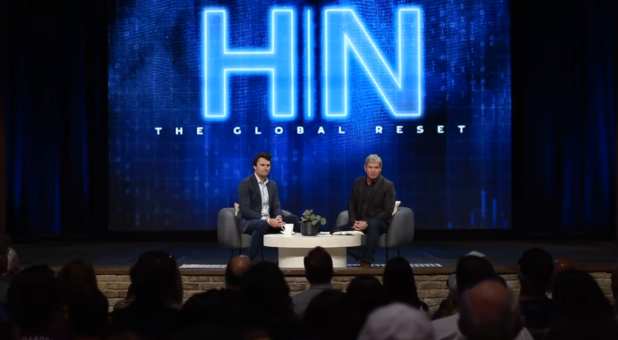 Right-wing evangelical pundit Charlie Kirk recent joined pro-Trump, anti-mask pastor Jack Hibbs at Calvary Chapel-Chino Hills to talk about something they call "The Global Reset." As I note below, this conversation is not only filled with half-truths and fearmongering, but it also sounds like the kind of conspiratorial thinking I recently wrote about in a Time piece on the way evangelical's feared the Illuminati in the late 18th and early 19th century. I also cover this kind of conspiratorial fear-mongering in Believe Me: The Evangelical Road to Donald Trump.
Here is the video. My comments are below.
1:22: Hibbs introduces Kirk as an expert on what he calls "the globalist" world and praises Glenn Beck for introducing the country to the threat of "globalism."
2:40ff: Hibbs once again endorses political candidate Josiah O'Neil. This is a clear violation of the Johnson Amendment to the United States tax code. Read more here.
4:40ff: OK, here comes the dispensationalist biblical prophecy part of the program. Hibbs puts Matthew 24 on the screen and talks about the end of the world. What he doesn't mention is that fundamentalists of this type have been saying we are in the "birth pains" of the apocalypse since John Nelson Darby created dispensationalism in the nineteenth-century.
13:00ff: Kirk explains what he means by the phrase "The Great Reset." First, he defines "globalists" as people who do not believe in the "sovereignty of nations" or "borders." It is worth noting at this point that there are few people in the world who do not believe in the sovereignty of nations or national borders. But that doesn't matter to people like Kirk who can use the threat of "globalists" as a kind of bogeyman to generate fear and donations to Turning Point USA. Then Kirk makes a somewhat illogical jump from defining globalists in geopolitical terms to defining globalists as threatening characters who want to "micro-engineer your behavior, the world, and your decisions." He says that these globalists "like to play god because they don't believe in God." As Kirk goes on, we learn that Jeff Bezos is one of these atheistic, god-like globalists. He describes them as "Satanic." These globalists, according to Kirk, meet in Davos, Switzerland every year to plot their takeover of the world. At this point, Kirk sounds like an early American evangelical talking about the threat of the Illuminati. The similarity between his rhetoric and the rhetoric of Jedidiah Morse and Timothy Dwight is fascinating. Morse, for example, said that the Illuminati was at work to "root out and abolish Christianity and overturn civil government." This global menace would "abjure Christianity, justify suicide…advocate sensual pleasures agreeable to Epicurean philosophy, decry marriage, and advocate a promiscuous intercourse among the sexes." Dwight said that the Illuminati was trying to "unite mankind against God."
16:50: Kirk shows a video of CNN's David Gergen interviewing Klaus Schwab, the German president of the World Economic Forum. He and Hibbs laugh because they think Schwab sounds like a James Bond villain. Kirk then connects Schwab to German views of progress and the German commitment to "trusting the science." Schwab, according to Kirk, is the author of the "great reset." He and his ilk are using masks, vaccine mandates, quarantines, etc. to destroy our civilization so they can build it back-up in their image. Hibbs and his evangelical congregation are eating this up.
20:00ff: Hibbs then gets into his Christian nationalist/providential view of history. He says, "as you research the development of nations…throughout human history there's only two nations in the world that can boast the hand of God directly upon their founding and one is the nation Israel and the other is the United States." As we have said multiple times over the years at this blog, this is not only bad history, but it is also bad theology. Hibbs believes the United States is "exceptional" because it has the hand of God upon it. I don't think you can get a clearer articulation of the "America as New Israel" than this. Hibbs really believes that America is superior to other countries because it was born out of an "act of God which began with our Pilgrim fathers."
21:00: Hibbs then gets into his dispensational view of the "last days." In his literal interpretation of biblical prophecy, Hibbs believes that there will be one world nation that will gain power over the entire globe and the Antichrist will emerge as its leader. This world leader–the Antichrist–will "dominate the economies of the world, will dominate what you can believe and not believe," and will institute a "reset" of the "economic systems of the world" by doing away with currency. Is Klaus Schwab the Antichrist? I thought it was Obama! 🙂 Essentially, Hibbs argues, the globalists are trying to "condition" us to make the Antichrist's rise easier. Amazon, Apple, and other American companies are helping with this reset. These companies are "building" the Antichrist's "kingdom." Over the last two years America has been going through the "great set-up" before the "great reset" takes place. Donald Trump's America First policies, Hibbs argues, threw a monkey-wrench in the globalist's plans.
24:45: Kirk comes back in. He says that the Biden administration is intentionally trying to "stand in the way of the Great Reset." He then says that the globalists who meet in Davos are "doing evil," but they "think they are doing good." He compares Schwab and those in the World Economic Forum to Stalin.
29:30: Hibbs says that evil spiritual powers are working through the globalists. The purpose of America, in God's divine order, is to counter the evil forces of Satan in the World Economic Order.
31:00: Hibbs mocks college educated people.
31:45: Kirk says the World Economic Forum wants:
People to "own nothing and be happy" about it.
The U.S. to cease being a world superpower
Something about synthetic organs that I don't quite understand
People to eat less meat.
People to be displaced by climate change.
The opening-up of Mars;
The destruction of Western values
The elimination of fossil fuels.
37:00: Kirk says that the achievement of these goals inform every decision Democrats and globalists make today. If you understand what the World Economic Forum is doing you will have the "Christian worldview" glasses to see why everything is happening the way it is in America and the world right now.
38:20: Hibbs believes that COVID-19 was an attempt to get Americans addicted to government handouts and masks. This, he says, is the work of Satan. The government is conditioning us to trust it, and in the process it is paving the way for the people of the world to accept the Antichrist.
41:30: Kirk believes Anthony Fauci is part of the Great Reset. He says Fauci is controlling the breathing habits of America. "No one voted for Fauci," Kirk adds, but he somehow has the power to control everything we do. The Founding Fathers wanted to prevent people like Anthony Fauci from gaining power. The "Great Reset" crowd couldn't control people through Black Lives Matter and Critical Race Theory, Kirk says, but they were successful in controlling us through masks and vaccines. Kirk thinks that Satan has to be behind all this because the so-called "globalists" are "not that smart." They are merely "pawns in a supernatural game."
45:15: The Trump-supporting pundit Kirk says that globalists treat people like a "transaction game." They "don't believe in loyalty, they don't believe in actual friendship, they believe in power."
46:00ff: Kirk believes that his view of the world–which is the correct view of the world and the Christian faith– is built on the dignity of human beings, while the globalist world view is built on "power and pleasure." Again, let's remember that Kirk is a Trump supporter. Hibbs's and Kirk's comments here about narcissistic insecurities, leaders who pursue pleasure, and power hungry tyrants is surreal coming from these two Trumpists. Everything Hibbs says can be applied to their orange-headed supreme commander. How could they be so blind to this? Watch:
54:31: Kirk says that the globalists want to destroy the Ten Commandments. They want to steal (somehow they are behind the "smash and grab" movement) from ordinary citizens, they want to stop parents from loving their children, they want to murder babies, and they want to promote sexual anarchy. At this point the fearmongering gets a bit hard to stomach.
57:00: Hibbs makes a wildly incoherent speech that somehow connects the Protestant Reformation, the Enlightenment, evangelism (not evangelicalism, but evangelism), the First Amendment and the Second Amendment. By the end of the rant he is talking about using guns to protect his wife from being raped. He ends the rant by saying, "are you hearing me?" The congregation yells, "yeah!!"
59:00: Kirk tries to make a connection between private property, freedom, and Abraham in the Old Testament. The globalists want to take away your private property and close your bank accounts.
As you watch this, notice how many times Kirk and Hibbs say "they," as in "they have said" and "they want to take away our liberties" and "they want to (fill in the blank)." These men see the world in binary terms. They believe we are in a war between good and evil. We can learn nothing from people with a global mindset. We have the truth, "they" do not. This kind of certainty leaves no room for the mystery and otherness of God. It dehumanizes opponents, fails to recognize their dignity, and rejects the idea that truth and wisdom can come from all human beings because they reflect the image of God. Hibbs and Kirk talk about how their world view is rooted in selflessness and humility, but I see no humility in the substance or the tone of their conversation. These guys have no interest in learning to live together with their fellow humans on this planet. What a shame! I often get angry at these kinds of events, but this time I just feel sorry for all the people who follow Kirk and Hibbs and believe that they are bearing a Christ-like witness in the world.
This conversation between Kirk and Hibbs was lived-streamed. Here are some of the comments they received during the course of event:
—I've been a born again believer at the age of 9, I'm 65 years old and I've studied prophecy since the 70's. It's so exciting to see all this finally coming to past! Look up
—I am so embarrassed for the USA this is coming from a veteran who served and gave his life for this country for it to be corrupt and Injustice and perverted as it is now embarrassing!
—what a blessing to be on earth while everything spoken to the prophets is happening. amazing to see.
—the WHO has always controlled our healthcare system and has issued the international medical billing codes for over 40 years
—Hegelian Dialectic – Cause chaos, catastrophes, and mayhem…then provide the solution to become the hero and further an agenda….also, the "Pendulum Effect".
–​American exceptionalism – By the grace of God our nation became on the foundational principles of the Bible.
—the Ukraine 'crisis' is ushering n their Great Reset. Putin isn't good guy, but he was Fighting reset. these globalist JUST STRONG ARMED SWISS banks to close down Russian oligarchs $ collctv sections!
—This is a thirty year plan – Obama was a huge part in legalizing sin and making it "law"
—Putin is bad, but Zelensky is worse! I just saw this dance video featuring Zelensky: Totally disgusting!
—the war is part of the plan since pandemic never worked , this is just another way of bankrupting the world,Ukraine is distraction for attack on Israel and America,only China and Russia has hypersoni
—4th branch of government is media (operation mockingbird). So Fauchi and medical are like the 5th branch. ANYONE ELES NOTICE THE SERPENTS ON THE MEDICAL SYMBOL?
—The Greek word "Pharmakeia" is translated as "Witchcraft" or "Sorcery" in the Bible. This is where our English words "Pharmaceutical", "Pharmacist", "Pharmacy", etc. comes from.
—When I applied to work at the Mayo Clinic in Phoenix, the Interviewer made me wear a mask and sit 6 ft away from me. I laughed, I lost the possibility of the the job due to saying the CDC is corrupt!
—Satan won't ever hold up to his promises. Fauchi believed the lie and now he's no longer needed, he's left with billions of lives of blood on his hands. If you follow Satan you will lose your soul
—Well I hate to tell you all but an N 95 mask can in fact stop droplets and also, people wear a mask not to protect themselves but to protect other people from themselves
—We went from "15 days to slow the spread" to… "you're fired if you don't get the jab" to… "your bank accounts are frozen if you protest against us."Somehow we are still the conspiracy theorists."
–It cannot be emphasized too strongly or too often that this great nation was founded, not by religionist, but by Christian; not on religions, but on gospel of Jesus Christ."
–REQUEST: I implore believers to Pray for The Peoples Convoy. Pray for The Lord's will to prevail and His safety upon them. May God's Glory be shown. They will be traveling to Ohio tomorrow..
—why worry over an unseen virus when it is the unseen spirit by faith we accept that matters
—I'm 65 with cancer & got covid 1st. I took vitD, Zinc & steroids & zpac. I'm fine!
—Unfortunately, the United States has now rejected and turned against God. The U.S. is the seat of the economical horn of Mystery Babylon in Rev. 18. The Vatican is the religious seat in Rev. 17.
—TRUDEAU IS DEFINATELY CASTRO'S SON!!I PRAY FOR HIM HE IS SUCH A DRONGO