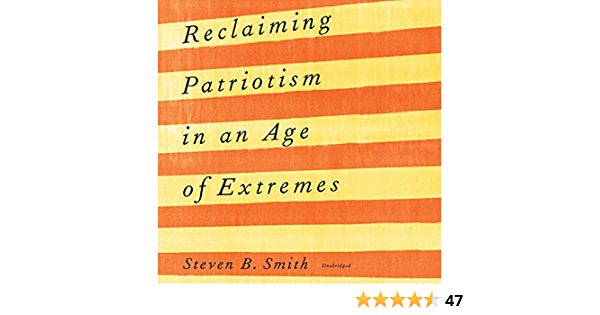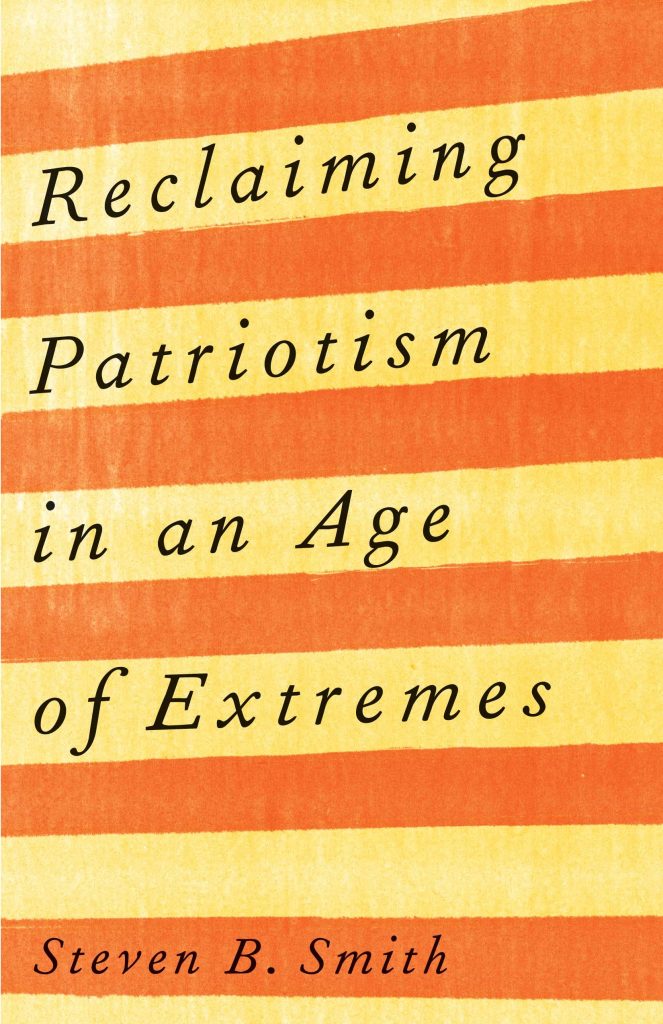 This is how political scientist Maxwell G. Burkey describes Stephen B. Smith's new book Reclaiming Patriotism in an Age of Extremes. His review shows little sympathy for Smith's project.
Before we get to Burkey's review, here is a synopsis of Smith's Reclaiming:
The concept of patriotism has fallen on hard times. What was once a value that united Americans has become so politicized by both the left and the right that it threatens to rip apart the social fabric. On the right, patriotism has become synonymous with nationalism and an "us versus them" worldview, while on the left it is seen as an impediment to acknowledging important ethnic, religious, or racial identities and a threat to cosmopolitan globalism.
 
Steven B. Smith reclaims patriotism from these extremist positions and advocates for a patriotism that is broad enough to balance loyalty to country against other loyalties. Describing how it is a matter of both the head and the heart, Smith shows how patriotism can bring the country together around the highest ideals of equality and is a central and ennobling disposition that democratic societies cannot afford to do without.
Here is the start of Burkey's review at The Baffler:
WE CAN SAY OF PATRIOTISM TODAY what the historian Edmund Morgan remarked of the Puritan ethos in the Revolutionary era: it is a primary rhetorical weapon employed in political struggle. But even more fundamentally, patriotism is a tether that binds political adversaries together, coalescing divergent politics around the tenets of American civil religion. Morgan, along with other scholars of American religion in the second half of the twentieth century, such as Perry Miller, Sacvan Bercovitch, and Robert Bellah, was interested in how Puritan origins gave to American politics a persistently religious dimension, despite the formal secularism guaranteed by the Constitution.
Morgan and his peers found a bedrock dogma of American civil religion in the idea of providence: a belief that Americans are a chosen people in the biblical sense, in possession of a special covenant with God, or, as the Puritan John Winthrop prophesized in 1630, "We shall be as a city upon a hill." Within this coterie, it was Bellah who went furthest in marshalling the idea of civil religion to restore national solidarity in the wake of the 1960s. In 1967, he wrote an essay clarifying the concept of civil religion, followed by a book in the 1970s entitled The Broken Covenant that made an explicit appeal to patriotism: "It is of the measure of a republic that its citizens must love it, not merely obey it. The external covenant must become an internal covenant," Bellah wrote. He added a cautionary note to radicals and intellectuals, writing that "critical Americans must not leave the tradition of American idealism entirely to the chauvinists. . . . No one has changed a great nation without appealing to its soul."
Today, the tradition continues with Yale political theorist Steven B. Smith's Reclaiming Patriotism in an Age of Extremes, which follows on the heels of other Trump-era exhortations to patriotic virtue, including Timothy Snyder's On Tyranny, Jill Lepore's This America, and Mark Lilla's The Once and Future Liberal. The ubiquity of the patriotism reclamation narrative is striking, popping up ad infinitum in books and op-ed pages, seemingly always in production on the shopfloor of centrist punditry. The most recent iterations add to the weight of a half century of productivity from a patriotic intelligentsia whose preferred mode is reaction, most prominently, in this century, to the attacks of September 11 and the subsequent War on Terror—in the cases of Michael Kazin, Andrew Sullivan, and Donald Kagan. Earlier, the unpatriotic culprit was the heterodox left of the 1960s, a collection of dissenting social movements that stirred the vehemence of public intellectuals, notably John Schaar, a professor of political theory at Berkeley and erstwhile fellow traveler of the movements—Schaar had been an influence on the student-led Free Speech Movement in 1964. In a later essay, "The Case for Patriotism," Schaar would issue a rejoinder to the student movements he helped spur. "The patriot," Schaar wrote, "is one who is grateful for the legacy and recognizes that the legacy makes him a debtor. There is a whole way of being in the world, captured best by the word reverence, which defines life by debts."
In Reclaiming Patriotism, Smith comes close to saying the same thing, defining patriotism as "a sentiment of gratitude and appreciation for who we are and what has made us." He emphasizes that American exceptionalism cannot be dissociated from Winthrop and the Puritans' foundation of a political community with a transcendent mission, from the notion that Americans are a chosen people with providential purpose. Perhaps this is why accusations of anti-Americanism and insufficient patriotism have proven so injurious to those they've attached to in American history, from abolitionists to labor unionists to antiwar activists: for the patriot, the question of patriotism's value is never a wholly worldly matter to be decided upon by the utterly profane mechanisms of democratic debate, intellectual inquiry, and free thought. Instead, the question is itself a devotional test; to dissent is already to be counted among the damned.
Read the rest here. Seems a bit harsh, but I will reserve judgment until I read Smith's book.