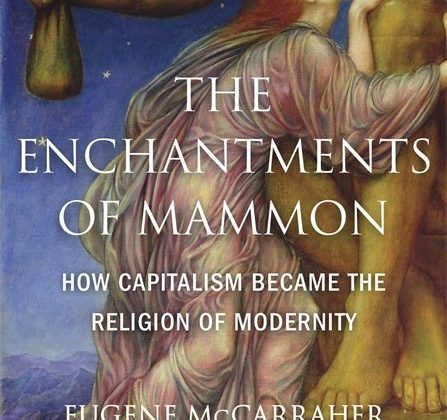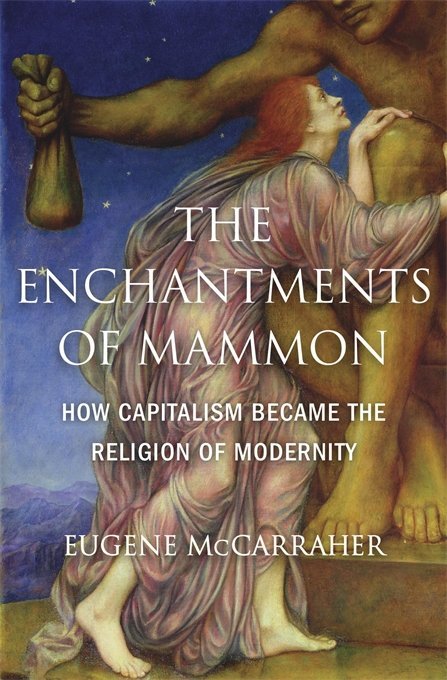 Several scheduled sessions at this year's annual meeting of the American Historical Association were moved to this week's AHA22 Online conference. Each year the Conference on Faith and History sponsors a session at the AHA and due to COVID-19 related concerns we moved the session to the online conference. Our session will be held on February 23 at 5:00pmET via ZOOM.
This year we are sponsoring a conversation on Villanova University historian Eugene McCarraher's book The Enchantments of Mammon: How Capitalism Became the Religion of Modernity. We will hear from historians David Chappell (University of Oklahoma), Janine Giordano Drake (Indiana University), Alison Collis Greene (Emory University), Nicole Kirk (Meadville-Lombard Seminary), and Eric Miller (Geneva College). McCarraher will respond to the respondents and I will chair the session.
The session is available to those who have registered for the AHA Conference. You can learn more about how to register here.
I found several other interesting online sessions that The Way of Improvement Leads Home readers might find interesting. If you see enough sessions here it may be worth the online registration fee. (All these sessions are free to historians who registered for the January 2022 AHA meeting in New Orleans).
TODAY (Monday):
Toward a Global History of Emancipation and Reconstruction
Teaching with Historiography in Secondary Classrooms: Challenges and Learning Opportunities
Hidden Catholic Collections: Revealing Underused Collections in Catholic Archives
Americans' Perceptions of History: New Research and Next Steps
Doing History Online: Podcasts, Twitter, and the Digital Archive
Religion, Collaboration, and Resistance during the Second World War
Enslaved People and the State in the Colonial Caribbean
Teaching Contemporary Controversies in the Secondary School History Curriculum
New Directions in African American Catholic Women's History
America and the World: The State of the Field and Its Future
Film Screening: The Neutral Ground
Tuesday, February 22, 2022:
Freedpeople and the Federal State in Civil War and Reconstruction
Gender, Collecting, and Public History at the Smithsonian
Urban History as Public History: Building Equity in Campus–Community Collaborations
Rally 'Round the Flag: American White Supremacy's Militant Global Vision
Advocating for History Education: Insights for Historians
Foundational Sins: Crafting a New Narrative for Teaching American History
 American Culture from Below: Urban Creativity in an Era of Crisis
Local Authority and the Construction of Legal Culture in Early America
Diversity, Equity, Inclusion in Less Commonly Taught History
Wednesday, February 23, 2022:
Scholarly Teaching: A Workshop on the Scholarship of Teaching and Learning in History
Epidemics in the Age of Atlantic Revolutions
Slavery, Sex, and Sexual Economies in the Atlantic World
American Empire on the Pacific: Whaling, Militarism, Addiction, and Tourism in the 19th and 20th Centuries
Harnessing Local History for Community Engagement and Identity: Examples from South Louisiana
Indian Wars to Liquor Stores: Alcohol, Territory, and Native American Sovereignty
Doing History Differently: Pandemic Lessons for the Post-COVID Future
Digital Pedagogy Drop-In Session
Troubling the Water: Environmental Activism in Louisiana
What Might "Restorative Justice" Look Like in an American History Museum?
Thursday, February 24, 2022:
Sexuality, Regulation, and Resistance: LGBTQ+ Activism amidst the Rise of the New Right
Teaching Plagues and Pandemics
Teaching with Historiography: Join the Project to Bring Historical Research and Teaching Together
Laywomen and Religious Culture in the Early Modern World
A Teaching with Historiography: A Workshop on Facilitating Discussions about Historical Arguments
Ellen Schrecker's The Lost Promise: American Universities in the 1960s
Friday, February 25, 2022:
Modes of Historical Story-Telling: Reaching beyond the Academy with Graphic Arts, Films, and Physical Culture
History at the Online Mega-University
Laughter and Power in Historical Perspective
Teaching Lessons from the Pandemic: From the Classroom to Online and Back
Land, Labor, and Violence: Black Life in the West
Transpacific History and the American South
 The Other Field of Dreams: A Roundtable Discussion on the Latino Baseball History Project
The Past, Present, and Future of New Orleans' Cities of the Dead
Saturday, February 26, 2022:
Origins, Implementations, and Aftermaths of the First Emancipation in the Northern United States
Not a Dead Men's Tale: The Future of Military and Diplomatic History in Academia
Sex and the Streets: Fetal/Perinatal Remains and the 18th-Century Histories of Women's Reproductive Health around the French Empire from Pondicherry to New Orleans, Part 1
Taking Notes and Teaching Note-Taking in the 21st Century
Opening the Gates: The Futures of History from the Liberal Arts College Perspective: Roundtable
War in the Classroom: Teaching Military History
Democracy under Siege: The Problem of American Ultraconservatism
Radical Politics, Religious Mission, and (Female) Community: American Catholic Women's Activism in the Postwar Era
A Roundtable Discussion of Cities, Towns, and Plantations and Resistance by the Enslaved in the Atlantic World
An Anti-Protestant "International": Strategies, Networks, and Actors of Transnational Catholic Anti-Protestantism, 1918–58
Sunday, February 27, 2022:
Rethinking Civil Rights and Black Politics in the Antebellum North
Graduate and Early Career Committee Open Forum: Looking for Work in a Pandemic—Reports from Recent History Job Seekers
Opening the Gates: The Futures of History from the Liberal Arts College Perspective Social Hour