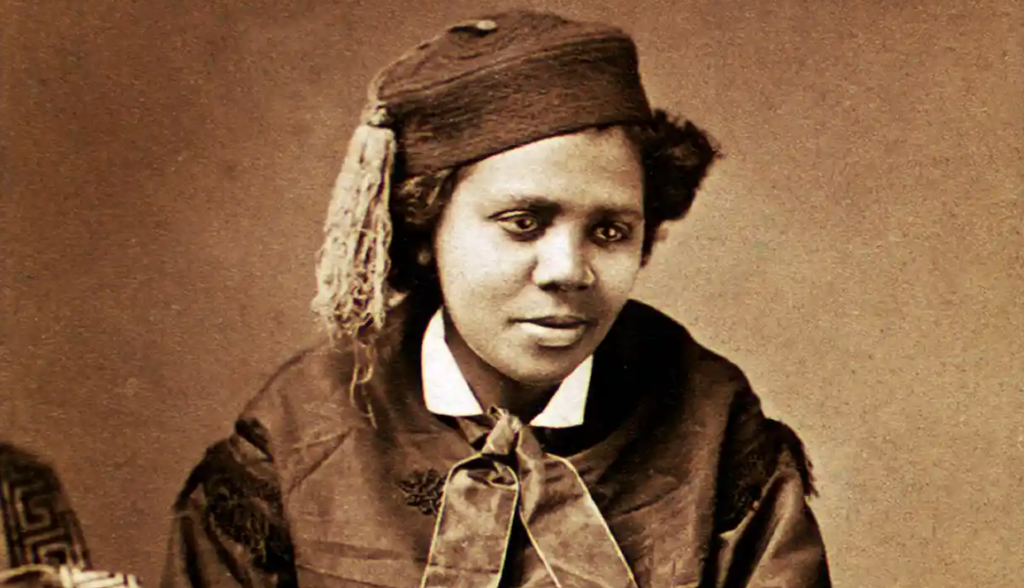 We do this American artist a disservice by failing to acknowledge her contradictions
A nineteenth-century artist of Mississauga Ojibwe and African descent, Edmonia Lewis has been receiving renewed acclaim over the last five years. As someone who teaches courses on representations of race and gender in American art, I was thrilled to see Lewis celebrated five years ago as the Google Doodle for February 1, 2017, and this January I cheered when the United States Postal Service issued a commemorative stamp featuring Alex Bostic's portrait of Lewis. But I also noticed an important difference between the two descriptions of Lewis's life and achievement.
The 2017 Google Doodle tribute praised Lewis's depictions of Black and Native American subjects, and then concluded, "Today, we celebrate her and what she stands for—self-expression through art, even in the face of adversity."
On the other hand, the USPS statement ended with this: "As the public continues to discover the beautiful subtleties of Lewis's work, scholars will further interpret her role in American art and the ways she explored, affirmed, or de-emphasized her complex cultural identity to meet or expand the artistic expectations of her day."
The USPS conclusion is hardly an enthusiastic declaration that Edmonia Lewis was a "trailblazer" or "pioneer" on behalf of Black and Native American women artists. But their more nuanced—and hence subdued—evaluation of Lewis's contributions is actually a better cause for celebration.
Reliable information on Mary Edmonia Lewis's early life is limited. Her mother was African American and Mississauga Ojibwe, while her father has often been described as an Afro-Haitian valet. Lewis was orphaned as a child and claimed to have lived with her mother's family near Niagara Falls, making Ojibwe handicrafts like baskets and moccasins to sell to tourists. Lewis's half-brother Samuel then helped pay for her to attend Oberlin College in Ohio, one of the few institutions in the U.S. at the time that enrolled students of all races. While there, Lewis began studying art in earnest, but she also became the target of racialized animosity and violence. Lewis was accused of poisoning two white female students, and though she was acquitted in court, she was harassed and then physically attacked by white vigilantes in the town.
Unable to continue at Oberlin, Lewis made her way to Boston in 1864 and then Rome in 1866. There, working alongside a group of white Neoclassical American sculptors also living and working in the ancient city, Lewis was able to build a career. Her life-sized sculpture The Death of Cleopatra was a popular draw at the 1876 Centennial Exposition in Philadelphia, and she was chosen by former President Ulysses S. Grant to sculpt his portrait in 1877. She enjoyed regular publicity through the 1880s but died in relative obscurity in London in 1907.
A list of Lewis's most famous sculptural subjects seems to dovetail neatly with this biography. Portrait busts of the abolitionist John Brown and Colonel Robert Gould Shaw—the white leader of an all-Black Civil War regiment—were among her first major sculptures. She carved characters from Henry Wadsworth Longfellow's poem The Song of Hiawatha, which was based on Ojibwe legends, as well as the sculpture The Old Arrowmaker and His Daughter. She celebrated Black emancipation with Forever Free and sculpted African subjects such as Hagar and Cleopatra.
One way to narrate Lewis's life would be to see her as a hidden talent who overcame racism and sexism and proudly represented individuals who sympathized with or shared her marginalized status. This is essentially the approach taken in the 2017 Google Doodle tribute. Lewis is heroized as a model woman of color, paving the way for future generations.
But when we actually look at the sculptures themselves, we might be surprised or confused to see that all of Lewis's sculptures of Black or Native American women have European features. Carved from pure white marble with soft, wavy hair, a narrow nose, and rosebud lips, the kneeling female figure in Forever Free, for example, can only be identified as a previously enslaved Black woman through the title and the broken chains. Physically, she is indistinguishable from the Venus-inspired figures made by Lewis's white contemporaries.
How do we explain this apparent discrepancy? Why would Lewis select subjects obviously related to her personal heritage and then render them in idealized European bodies?
The more closely we examine Lewis's life the more questions arise. Did she knowingly play into the trope of the "noble savage" in her early interviews, embellishing and emphasizing her "wild" childhood among the Ojibwe? Was her relationship with abolitionist patrons primarily self-serving, or was it born from self-identification with enslaved African Americans? Did she sculpt Native American and Black subjects because she wanted to, or because she thought they would appeal to patrons who saw her as an exotic curiosity? Did she give her figures European facial features because she wanted to prevent her works from being read autobiographically, or because she had uncritically absorbed the prevailing standards of Neoclassicism?
In her historically rigorous but accessible 2010 book Child of the Fire: Mary Edmonia Lewis and the Problem of Art History's Black and Indian Subject, Kristen Pai Buick allows questions like these to enrich our understanding of Lewis and her art. Buick argues that Lewis was actively engaging with the mid-nineteenth century project of defining a distinctly "American" art. Rather than seeing her choice of subjects as an expression of selfhood, we can recognize how Lewis sometimes utilized and sometimes complicated the same themes that her white American counterparts were addressing: the myth of the Vanishing Race, "True Womanhood," and sentimentality as a moral guide.
In Buick's telling, the heroic mythology around Lewis crumbles. But something far richer emerges in its stead. It is precisely by acknowledging the tensions, seeming contradictions, and even failures in Lewis's work and life that we also affirm her full humanity.
The U.S. Postal service's epitaph—that Lewis "explored, affirmed, or de-emphasized her complex cultural identity to meet or expand the artistic expectations of her day"—should actually be thrilling to us. We don't need a Black Indigenous woman artist-hero. What we need is a historiography that is thick with humility and allows for real human complexity. Instead of insisting that Edmonia Lewis be the torchbearer of contemporary identity politics, or a receptacle for our ideas of Black and Native American achievement and authenticity, we can rightly celebrate her humanity in all its contradictory, elusive wonder. 
Elissa Yukiko Weichbrodt is Associate Professor of Art and Art History at Covenant College in Lookout Mountain, GA.