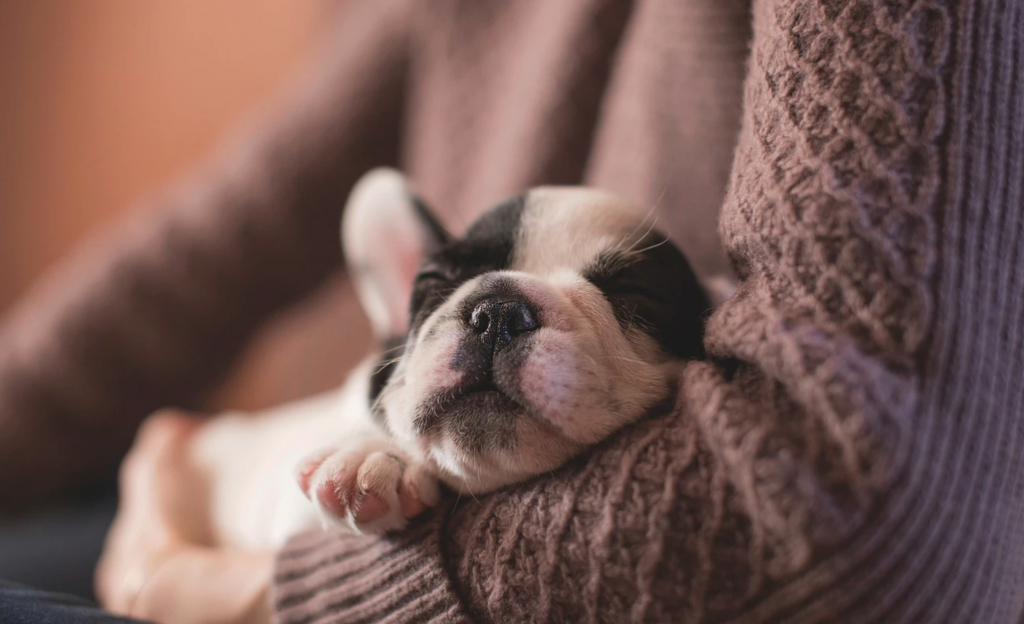 The contrast between parenting and pet ownership reveals our hopes about the future—and the limits of our control
When Pope Francis opened this new year by warning people not to treat pets like children, it seemed like an unusually sour aside from the winsome pontiff. The January 6 papal audience registered contempt for having "dogs and cats take the place of children" and mourned "a denial of fatherhood and motherhood that diminishes us." The statement was perhaps awkward but not shocking. The pope was not commanding reproduction but regretting that some animals fare better at masters' tables while humans go hungry.
Is parenting like pet ownership? Not really. Do pets take the place of children? Not really.
But the pope's reproof makes me wonder, amidst a prolonged pandemic and widespread discouragement about the future of the earth, about the particular dynamics of this problem. Two much-touted trends regarding pets and children run in opposite directions. The first: Covid at-home rules inspired many people to get new pets. The second: Reproduction seems more fraught than ever, with couples choosing childlessness because it seems cruel to bring a new person onto a dying planet.
Why is taking on pets so easy and children so hard?
The contrast between the two, what we expect to give and receive from one kind of creature rather than the other, helps to illuminate our strange attitude toward family life. The problem is not the animals or the children—or even, necessarily, us—but the larger cultural framing of both kinds of care.
First, give small credit to the comparison. Taking care of a pet is maybe a little bit like taking care of a young child. And some of what people enjoy about having pets is what some may have in mind when they say they want children: someone to love, who loves you back; youthful energy and the surprise of physical presence; new life and growth over time. All this and fun besides.
Pets plead for something now and respond to us now. This immediacy is a good corrective to some distortions that creep into parenting. We don't spend all the time we have with pets teaching them to sit or catch, or scolding them for pooping in the wrong way. Often what we're doing with pets is sharing a roof and existence in ways that cultivate companionship. We do that with children too. Sometimes parenting language obscures the fact that companionship is a good of family life. Even the word "parenting" clumsily describes what we do in the presence and care of young children.
Still, the comparison comes up short. Unlike pet care, much of love's labor in raising children is directed toward their future. Here it's worth noting that childrearing is not done in a vacuum (as much as we may sometimes wish!). The care parents give to children reflects the world beyond their doors. Worry about children's economic future fuels the rearing style impugned as "intensive parenting," giving kids many activities and applying pressure to perform. That pressure sits uncomfortably with another mighty current of parenting advice: letting kids autonomously develop into the self they create, while parents support and fund but do not snoop or judge. Seeping through both of those strategies is reasonable fear about the world children will enter, with geopolitical strife and environmental disaster. In sum, having a child now in the sort of middle-income or affluent places realtors bless as "a great place to raise kids" entails enormous efforts to outfit, amuse, and encourage future workers whose successful rearing may be signaled by the kids' rejection of the very exertions that got them to maturity.
Surely that rejection is not what adults contemplating the arc of life want when they "want" kids. We could say such prospective parents don't know what they want, or that they can't guarantee that what they want is what they will get. Having children because you want something you think they will provide—fun, for instance—is unlikely to turn out well. That is, however, a decent reason to acquire pets. (Of course, people who get pets from shelters to save the animals from destruction can make a case that the pet's needs, not their own, motivate the adoption.)
Pets take work. Still, much of what makes childrearing stressful and difficult you don't have to do with pets. The physical parts of care are mostly easier: food dumped in a dish, a door opened, an occasional bath or brushing. The emotional parts of care are altogether easier. You do not have to worry about equipping them for a future where they might have less security than you do now (the environment to which they might have learned to think themselves entitled). You run no risk of treating them too much as copies of yourself, chips off the old block. Nor do you mistake them for utterly original beings. You do not stand back and watch the unfolding of their unique selves; pets have personalities, but they mature with finitude as examples of species and breed. You do not have to worry about what will happen to them when they are out on their own. You will outlive them.
That last point may put the contrast most sharply. What we hope for with pets is mutual joy in cohabiting a world we control on their behalf. The hope—the fierce hope!—for our children is that they will outlive us, and thus we try to equip them for a world without us.
So stark a contrast should banish the temptation to conflate these creatures or their care. It is right to take kind care of animals. Full stop. People who love pets don't have to make any excuses for it, and they need not justify themselves as "cat mom" or dote on their "granddogs." Given the tendency of pet-parent titles to take feminine form, women should not feel so pushed toward motherhood that they have to rationalize their pet-keeping that way.
ASPCA reports suggest that the puppies, lizards, and kittens acquired during Covid have stayed welcome in their homes. Good. Being a good parent has nothing to do with what I hope are well-loved animals. But if we need to draw wisdom from one realm to the other, pet care could open parents' eyes to the present enjoyment of their own small creatures and the limits of control over the future of these beings who really are of our same species and breed.
Agnes R. Howard teaches in Christ College, the honors college at Valparaiso University, and is author of Showing: What Pregnancy Tells Us about Being Human.