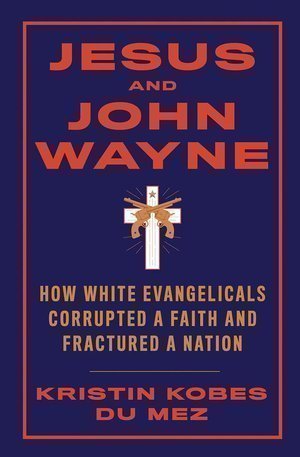 Southern Baptist Theological Seminary church historian John Wilsey recently took a shot at Kristin Kobes Du Mez's Jesus and John Wayne in a review published at a conservative website called Ad Fontes. Though Wilsey shows much more empathy than some of his Southern Baptist theobros who have allowed Du Mez to live inside their heads rent free for the last year, he is still quite critical. Many of the complementarian critics of Du Mez's work have already ignored Wilsey's attempts at civility and have seized on the points in the review that serve their agendas.
I am guessing that many of Wilsey's fellow conservative evangelicals will love this line from the review: "If we place Worthen, Turek, and Conroy-Krutz alongside Du Mez, we can see the difference between evidence-based history and history as social and political posturing, the firing of salvoes in the culture wars." Frankly, this is a cheap shot and it seems to undermine Wilsey's focus throughout the piece on historical empathy. Anyone who has read Du Mez's book knows that it is based on solid historical evidence and research.
But it seems Wilsey's beef extends beyond Jesus and John Wayne to the field of gender history as a whole. (I am guessing he didn't read much gender history during his Ph.D studies at Southeastern Baptist Theological Seminary). Historians of gender have made major contributions to our understanding of American history by reading documents closely, and pointing out how they reveal longstanding power relations between men and women. In this sense, the work of gender historians will always be disruptive in nature. This may sound crazy, but I think it is possible for a person with complementarian views about the role of women in church and society to write a gender history similar to what Du Mez has done in Jesus and John Wayne.
Here is more Wilsey:
Lastly, are the failures of white conservative evangelicals normative? In other words, is evangelicalism inherently racist, sexist, nationalistically chauvinistic, and bloodthirsty? We could ask the same of any doctrinal position. What about those of us who hold to inerrancy? Are our theological convictions rendered false by the failures of other inerrantists? If evangelicalism is inherently anti-Christian; if theological convictions are impossible to hold in the face of failed actors; if the history of evangelicals is a declension narrative—then what is Du Mez's solution? Better yet, what is the Gospel solution? What would repentance look like? Is repentance under such conditions even possible? Can we regard anything as true, if the truth of any proposition is determined by the integrity of those who profess to hold that proposition? It would seem that Christ, as revealed in the Scripture, is the standard for the truth of our convictions and not fallen professors of this or that doctrine. Du Mez closes her narrative with no proposed solutions, no path forward, and no appeal to the gospel. Why? If the answer would be that the book is a work of history and no more, then why does the book seem to reject historical complexity and contingency? If the answer is that the book seeks to remain religiously neutral, then why would the claim that evangelicals have not been true to the Christian faith be compelling at all? Du Mez's work reads less as history and more as ideology, and an ideology with little in the way of faith, hope, or charity. All we have before us as we reach the end of the book is a cliff edge, with no path forward to forgiveness and reconciliation. There is no apparent hope. But hope is central to a Christian historical method.
It is at this point that Wilsey's argument about the work of the historian–even the Christian historian–collapses. He suggests that historians Molly Worthen, Emily Conroy-Krutz and Lauren Turek are doing history the right way and Du Mez is not. (I would love to know what Worthen, Conroy-Krutz, Turek think about Wilsey using them in this way–Beth Schweiger as well). And then he chides Du Mez for not offering solutions, paths forward, or appeals to the Gospel. After I read this I pulled my copies of Worthen, Conroy-Krutz, and Turek off the shelf and, surprise, found few references in these books to solutions, paths forward, or appeals to the Gospel. Why is Du Mez held to a different standard here? Moreover, since when is it a requirement of Christian historical method to offer hope? Since when is it a requirement of Christian historical method to offer models of "repentance?"
Finally, I don't think Du Mez is offering Jesus and John Wayne as some kind of definitive history of American evangelicalism. If she were, I would be just as critical as Wilsey about her lack of complexity. All historians should be concerned about the danger of reductionism, and this is especially the case when a historian's work is informed by a certain identity-based approach such as race, class, or gender (this is one of my biggest criticisms of the 1619 Project.) But I don't see why Du Mez's decision to write a book on gender and evangelicalism–one that has resonated with tens of thousands of evangelicals–should receive criticism because the critics are not comfortable with the the fallout in their churches, denominations, and seminaries. As I tell my students, it is often the historian's job to make people feel uncomfortable. We make the smooth places rough. And as for contingency, I can think of few books on American evangelicalism that show how the choices of movement leaders in the past have shaped the conservative evangelical understanding of gender in the present.
One of the things I have found most interesting about the conversation on Jesus and John Wayne is the way that many social media pundits and other critics seem to respond less to the book itself and more to the way Du Mez has fleshed out the implications of her research on social media, podcasts, and popular writings. (I am not necessarily saying Wilsey is doing this.) When Du Mez publicizes the book and engages with those concerned about the implications of the book's argument, she looks less like the detached historian and more like the activist. I am sure that Du Mez has thought long and hard about how she balances her work as a historian with her activism (as I also did in the wake of Believe Me), but the distinction between the scholarship of the book and the way she uses her platform may not be entirely clear to purists such as Wilsey. This, it seems to me, would make for a fascinating conversation. (Earlier today I had such a conversation with historian Ellen Schrecker who just published a brilliant history of the university in the 1960s.). Beth Allison Barr's book The Making of Biblical Womanhood is often paired with Du Mez's Jesus and John Wayne. But having interviewed both Barr and Du Mez (Schrecker will be joining them in our catalog next week), it is clear to me that these are somewhat different books. Barr's activism is overt in her book and overt on her platforms. Du Mez's activism is subtle in her book and overt on her platforms.
Du Mez has responded to Wilsey via Twitter. Here is that thread:
Historian Jonathan Couser's similar, but also slightly different, reflections on Wilsey's review (on Facebook) are also worth considering:
...Ugh. This TGC entry is basically an excerpt of a review of Kristin Kobes Dumez' "Jesus and John Wayne." I followed the link through to the review itself. It may be one of the oddest book reviews I ever read, and the TGC take from it odder.
The cardinal rule of reviewing a book is that you review the book the author actually wrote, not the book you wished they had written. But for much of Wilsey's review, he's literally talking about the books he wished DuMez had written – he gives four examples of books he likes better, devoting a full paragraph to each. What he likes about each of them is basically their objectivity and the absence of moral judgment in them. What he ignores is that each of them is an academic publication, and DuMez's is not. Her book was written for a different audience, with different concerns, and under different parameters from them. He knows this, describing both her book and his review as a "cri de coeur," yet then still goes on to criticize her for not taking the studied neutrality of academic writing.
What's left of the critique is straw men. He points to his own research on John Foster Dulles to show that evangelicals have not cornered on the market in toxic masculinity and Christian nationalism. I never got the impression that J&JW ever argued or even implied they did. As I understood it, the whole point was that American evangelicals had internalized these problematic values, exemplified in the fan-worship of the non-Christian John Wayne, that they drew from America's larger culture, not the authority of scripture that they purported to be their foundation. If they conformed to non-evangelical culture in doing this, obviously they're not the only ones in the culture with these values.
Nor did the book reduce American evangelicalism to nothing but toxic masculinity, as Wilsey seems to take it. Of course it's a large, complex community and a rich tradition with many dimensions. The argument is not that toxic masculinity is ALL evangelicalism is, nor that all evangelicals are toxically masculine, but that this kind of gender discourse is structurally embedded into it, a red thread that can be traced continuously and consistently through decades of neo-evangelical history. That explains how the abuses of a Mark Driscoll, or the support of 81% of the community for the blatantly and unrepentantly sinful, but swaggeringly masculine, Donald Trump, can be understood as features rather than bugs of its culture.
Wilsey complains that DuMez doesn't offer a plan to solve evangelicalism's problems. Again, that would be to write another book. It's an unfair criticism, and rests on the assumption that the Christian's duty is to salvage "evangelicalism." But Christ didn't commission his followers to build "evangelicalism," but to teach people of all nations to follow Him. It's absurd to ask of DuMez's critique that it take on THAT entire task between two covers. The book identifies a serious problem and thus launches a larger discussion about it which people will be contributing to for a long time (I put my own thoughts in my blog, FWIW).
TGC's excerpting of the review is even more problematic, because what Justin Taylor does is to quote several paragraphs that aren't even about J&JW, but reflections on an essay by Beth Barton Schweiger, to the effect that the Christian historian's calling is to love the subjects they are studying and not pass judgment on them. I wholeheartedly concur with Schweiger, and I'm confident DuMez would as well. But the TGC people know full well that Christ often showed his love by calling people to repent of their sins – especially sternly when the call was to religious leaders and institutions who were supposed to exemplify God's love and grace. It has become something of a party line among evangelicals to take an ad hominem reply to to Jesus and John Wayne and accuse DuMez of being judgmental, unsympathetic, even of having some pathological hatred of evangelicalism. But one could as easily accuse Nathan the Prophet of a pathological hatred of King David when he cried out, "You are the man!" Which seems an a propos Biblical allusion to make in these circumstances.