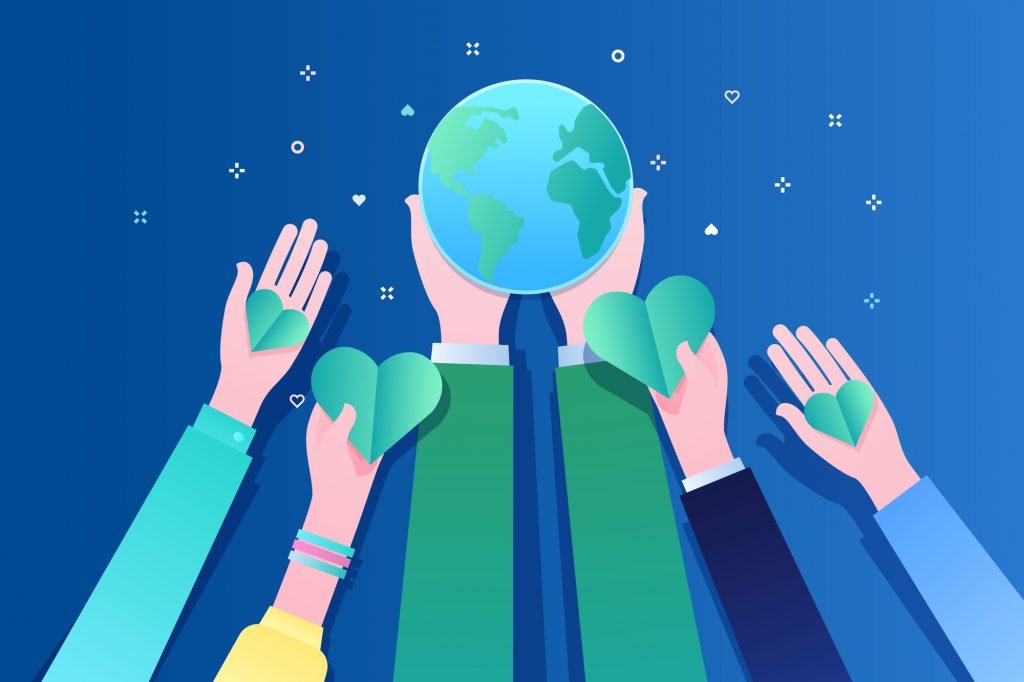 If anxiety is destiny, this old earth may just have chance
I searched online today for a carbon-neutral credit card, the kind that plants a tree every time you make a purchase. I've heard them advertised on National Public Radio but I'm not sure how they work. Does each card come with its own seeds? How about a tiny shovel and watering can? Do you have to feed your card and provide housing? What about workers' comp and paid sick leave?
There are several such planet-friendly cards, including the NPR choice, Aspirations. Aspirations offers 1% cash back, and it allows me to pay the fee amount that I think is fair—even if it's zero. The website says that Aspirations can do this because it trusts me. But the thing is, it shouldn't trust me. Like a lot of other NPR listeners, I'm completely comfortable receiving something for nothing. The real problem with the Aspirations option, though, is that the actual card is made from plastic. Plastic! As a dedicated environmentalist, I cannot be fooled by a graphic of a tree printed on my card in petroleum-based ink. So I'm considering biodegradable alternatives.
The first biodegradable alternative is called "cash." It has several perks. It's foldable, green, and goes through the washing machine fairly well. It's handy when you want to help a homeless person or learn coin tricks on YouTube rather than write an article. However, it tends to fall out of your wallet and into snack machines.
Another biodegradable alternative is the "TreeCard," a wooden debit card that "reforests the planet as you spend." Mastercard claims to be able to produce more than 300,000 of these cards from the wood of a single, sustainably sourced cherry tree. Which I'm sure must be a challenge even for the swarthy Amish teenager they hire to slice up that tree with a handsaw. (Just kidding! The company is U.K.-based and the cards are hand-crafted by leprechauns.) Thoughts of leprechauns (with their pots of gold) bring me back to cash. It's worth noting that cash is produced by the American federal reserve in cooperation with the dark minions of hell. I'm told that 300,000 one-dollar bills can be created from a sustainably sourced willow tree that contains the cursed soul of a dead Confederate general.
The TreeCard sounds so nice—picturesque, really. I have dreams of ordering 300,000 of them and re-assembling them into a cherry tree behind my house. But I can't get away from the basic problem of how much effort and planning might be involved in caring for such a hard-working, environmental go-getter of a card. Would it be like owning a small Leonardo DiCaprio? Would I have to listen to it lecture me on sustainability? Would it make me go to a march? What if turns NPR on me and decides to have quarterly pledge drives?
And even assuming that whatever card I choose will sustainably source itself from Fun Size Milky Way wrappers in my purse, am I ready for the sacrifices I'm about to face? Sacrifices like saving the planet instead of getting up to 6.5% cash back and 50,000 airline miles on a petroleum-friendly, climate-wrecking, distrustful layabout of a credit card? Which would probably come with its own beer. (But no Nina Totenberg t-shirt.)
Worst of all, it turns out that most of the trees supported by the TreeCard wouldn't be planted where I could personally enjoy them. The website for TreeCard lists planting sites in places like Ethiopia, which is a long way off. If I'm going to Africa I'll need the airline miles.
Alas, anxiety is destiny. I can't tear my eyes or heart away from the destruction of this beautiful world, except when I'm thinking about whether to recycle K-cups (too much of a sacrifice). So I've just ordered the Aspirations card. Soon my little tree-planting buddy and I will be good friends, whistling in the backyard as we plant something that will probably turn out to be kudzu, or poison ivy. (I won't do much of the work—maybe none of it.)
Now I'm thinking it's a good thing I didn't order the TreeCard. What if a little seed we planted together grew into a cherry tree? Awkward questions might arise. I could find myself having to tell my new friend the story of his own cherry tree family: how all of his relatives—all 299,999 of them—had been turned into sustainably sourced Mastercards that don't even offer hotel points or sky miles? And if my card had trauma after that revelation, would a therapist even take him? Or would she prefer cash?
M. Elizabeth Carter is a counselor and writer living in Alabama.