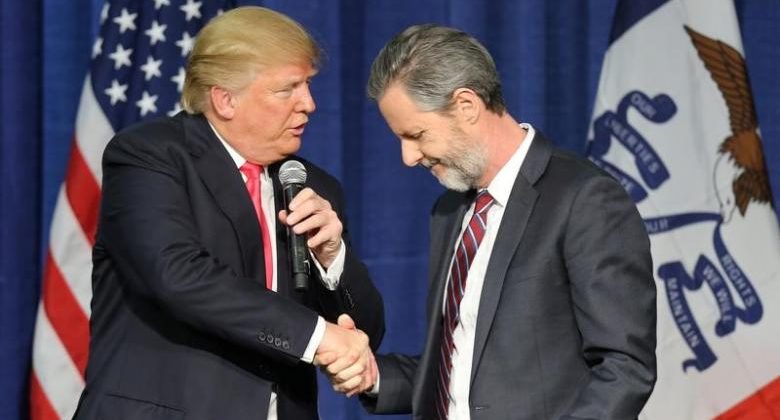 Last month Vanity Fair ran a piece on Jerry Falwell in which the disgraced president of Liberty University said that he was not "a religious person." See our coverage of that article here.
Falwell Jr. has now told the Washington Times that he actually is a very religious person. Here is a taste of Mark Kellner's piece:
"While I didn't wear my religion on my sleeve to be seen by others, I have nonetheless had a strong faith in Christ and his teachings since college," Mr. Falwell wrote in a message posted on Instagram. "While I am far from perfect, let me be clear: I believe Jesus was born of a virgin. I believe in the Deity of Christ as the only Son of God."
And this:
The article, which contained numerous salacious details and received wide media coverage, apparently gave many readers the impression that Mr. Falwell wasn't as dedicated a Christian as was his late father, or as his brother, the Rev. Jonathan Falwell, pastor of Thomas Road Baptist Church, also founded by the senior Falwell.
Jerry Falwell Jr. took to Instagram and Twitter to dispel that impression.
"I love [Thomas Road Baptist] and its people with all my heart along with its theme under my Dad's and brother's leadership 'to love God and love people'!" Mr. Falwell wrote.
Read the entire piece here.