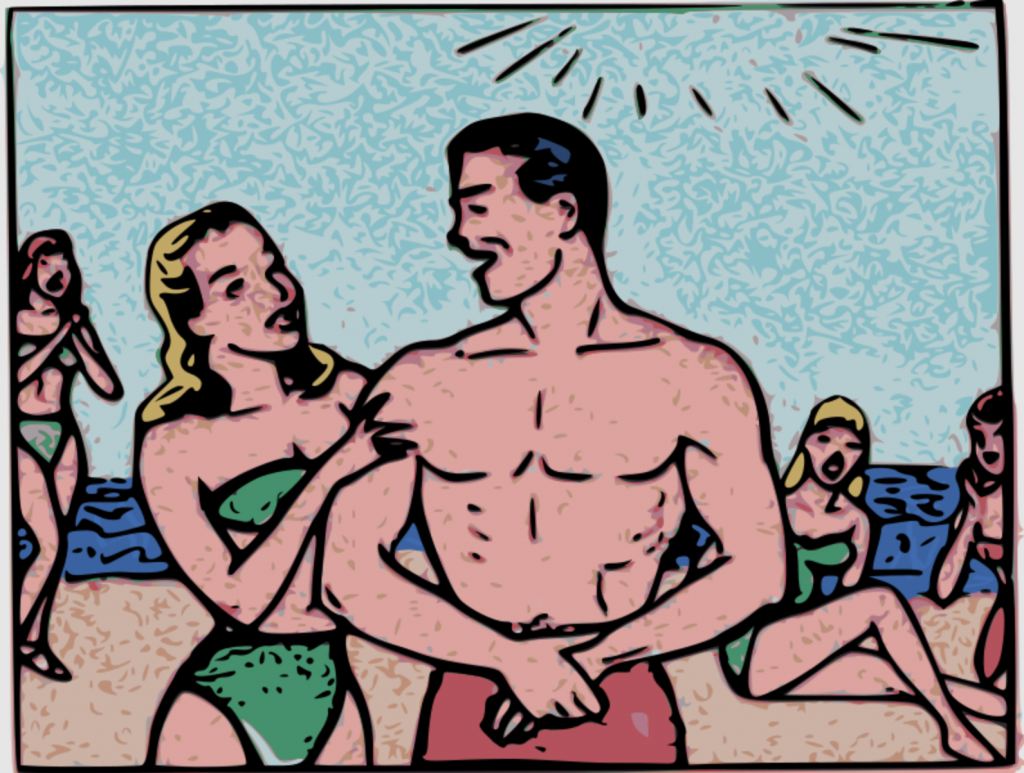 Lazy evil underpins society just as much as active evil. Why do we forget?
I wonder how I'd look in a bright red bikini. Join me in imagining, if you dare. I'm a middle-aged white guy, six feet tall, six-two if I don't slouch. Sure I work out, but not like CrossFit work out. A few trips to the Y every week keeps me limber, though I typically undo most of those benefits immediately ("Hello, tub of lime sherbet. Goodbye, tub of lime sherbet.") There is hair, obvious hair, but not so obvious that one would mistake me for Bigfoot. My skin is somewhat pale, though I do tan, but only after a good comprehensive burning.
So. Do I go boy cut? High leg openings?? G-string???
I wonder all this because Dr. Jeanne Scanland, a plastic surgeon in Chattanooga, Tennessee (where I live), keeps checking in with me via email to make sure I'm happy with my beach body. If I'm not, Dr. Scanland assures me that she'd be happy to tuck or lift certain parts of my person or to inject subcutaneous serums guaranteed to change my corporal presence from "Joe Average" to "Joe Sex Explosion."
How I made it onto Dr. Scanland's regular "People Who Might Pay for New Faces," email blast . . . well, that's the story. I'm a writer, but by day I'm a case manager. I work with men, women, and families who've experienced homelessness and/or housing instability and/or deep poverty. And while naked occurrences of attendant social ills—substance abuse, violent crime, social isolation, untreated mental and physical illnesses, and more—are in no way endemic to people who experience these conditions, they radically compound existing challenges. Desperate circumstances tend to provoke severe, often grave responses.
A little while ago a woman came into the office. Her face was bruised and bulging on the right side, jaw hanging askew, a wide stain of dried blood down the front of her t-shirt. When my co-worker and I inspected her apartment we saw more blood soaked into the front stoop and smeared on the floor tiles inside. Other sights too: It looked like a giant hand had been using the furniture as dice, and pieces of the stereo were planted in the courtyard outside her front door. What happened? In the moment, the woman couldn't even open her mouth to answer. She could only describe the incident by scratching it out with a pencil on paper.
The woman was a tight wind of vulnerability and toughness. Her face, besides the swelling, showcased a shocked thousand-yard-stare and, alternately, a kind of grim resolution. She'd been crying, that was clear, but she was also clearly in possession of a "This is not how things end" kind of soul grit. We learned that the previous night her boyfriend had smashed her with a pistol and that the blow had broken her jaw. As for him, he ran. Whereabouts unknown. Meanwhile, at the emergency room, from where she'd just come, the doctors explained she would need reconstructive plastic surgery to heal her jaw.
She, a single working mother and now domestic violence victim, is barely insured. Her place of employment didn't provide any additional health insurance and nowhere close to enough take-home pay to cover the out-of-pocket expense of plastic surgery. Chattanooga, like most American cities, has not nearly enough resources for people who live in poverty and who also experience hells similar to what this woman endured. The organizations that do exist as respites for domestic violence survivors are tremendously overburdened. This woman's case, extraordinary as it is, happens to be excruciatingly ordinary.
Feeling the desperate nature of the situation, my coworker and I got to work. Part of which—in a moment of pure "what-the-hell-let's-give-it-a-shot"-ness—included me googling plastic surgeons in Chattanooga and emailing the first one at the top of the search results page: Dr. Scanland. I wrote:
I am working with a young woman who was the victim of a severe domestic violence attack . . . in which the abuser broke her jaw. She was referred for jaw surgery to a plastic surgeon who does not take her insurance. . . . She is in severe pain, cannot speak, and definitely needs the surgery right away. At this time, we are trying to locate anybody who might be able to perform the surgery. . ."
The translation of my email into the vernacular is, "You've got the skills. Do you have the heart?" I got a four-sentence reply that when translated into the vernacular is, "Nope."
That I still receive Dr. Scanland's advertisements, months now after the incident, or even at all, could be dismissed as a kind of gruesome oversight. I'm sure it happens often when one is trying to drum up business, whether that business is plastic surgery or running a jewelry boutique or slinging cups of designer coffee. I could click "unsubscribe" and forget it. But I won't. The presence of a societal malignancy is surely evident when a plastic surgeon adds the name of a case manager to her mailing list even when that case manager's only contact with her office occurred because a woman had been so brutalized she couldn't even talk. I don't think I want to forget that lazy evil underpins society just as much as the active evil of the initial attack. To forget that, in fact, would be dangerous.
And sure, it's likely that the standard procedure at Dr. Scanland's office is to automatically attach to her mailing list the address of anybody who emails her anything at all for any reason. Perhaps Dr. Scanland expects the emails to read "Headed to Destin in June. Tell me more about lipo," as opposed to, simply, "Please help"—a small but crushing piece of evidence that facade and potential gain, when unattended, beat out compassion every time.
This story would be incomplete if I didn't reluctantly include the following: The woman eventually got much of the immediate help she needed, including jaw surgery. I say "reluctantly" not because I'm averse to a happy ending but because when observers of an experience like this sense a happy ending is nigh they tend to assume the story has, in fact, come to an end. Words like, "healed," "cured," "fixed," or "resolved" pop up. But that's hardly ever the reality. The kind of trauma this woman experienced lingers for life and changes everything. While she got the medical attention she needed, moved into an apartment across town, away from the abuser (and without his knowledge), and received a new set of furniture to boot—all of which falls into the "undeniably good" category—she still sleeps with a steak knife under her pillow.
Paul Luikart is the author of the short story collections Animal Heart (Hyperborea Publishing, 2016), Brief Instructions (Ghostbird Press, 2017), Metropolia (Ghostbird Press, 2021) and The Museum of Heartache (Pski's Porch Publishing, 2021.) He serves as an adjunct professor of fiction writing at Covenant College in Lookout Mountain, Georgia and lives in Chattanooga, Tennessee.