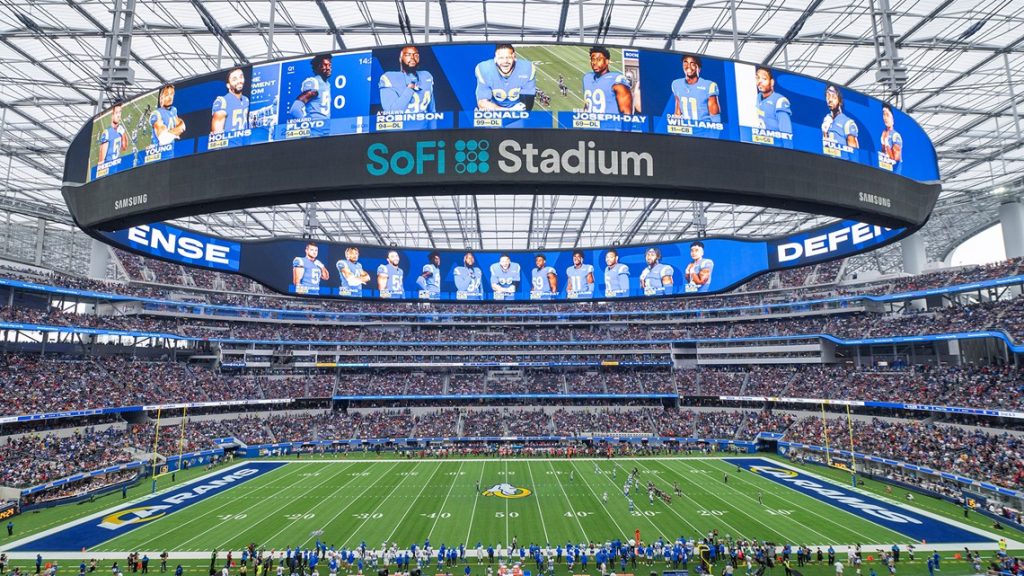 The Super Bowl has been (or will be) held in:
SoFi Stadium (2022)
Levi's Stadium (2016)
Stanford Stadium (1985)
The Rose Bowl (1977, 1980, 1983, 1987, 1993)
Jack Murphy Stadium (1988, 1998, 2003)
Los Angeles Memorial Coliseum (1967, 1973)
Here is Joe Mathews at Zocalo Public Square:
In our era and the years to come, California Super Bowls belong to two new architecture-award-winning, high-tech, screen-filled stadiums. Neither is in our biggest cities, because L.A., San Francisco, San Diego, and Oakland don't need to waste billions on pro sports franchises to draw economic activity.
Both stadiums are in smaller cities—Santa Clara and Inglewood—that are desperate to attract attention and development in their large metro regions. Both cities have approved huge and expensive sports venues that lack intimacy and often disappoint, not unlike California itself.
Both are troubled facilities. In Santa Clara, Levi's Stadium was built in 2014 and hosted the Super Bowl in 2016, but it has been dogged by complaints about traffic, parking, and a design that leaves fans baking in the Silicon Valley sun. The 49ers have engaged in bitter legal and political fights with the city over terms of their deal, and some local leaders have expressed regret for seeking to host the facility in the first place.
In Inglewood, SoFi Stadium, like so many California mega-projects, was dogged by construction delays, questions about local subsidies, and cost overruns that doubled the price from $2.5 billion to $5 billion. The facility opened in fall 2020 and was supposed to have hosted the 2021 Super Bowl, but was deemed not ready. When I attended a game last year, I confronted hours-long traffic and $80 parking.
SoFi is so over-the-top that it can feel like parody. It has an expensive, technologically advanced roof that's also unnecessary in a Southern California with so little rain. Its giant entrance and gathering spaces feel overly large, as if the authoritarian regime that built them were trying to awe you into submission.
And, despite openings on its sides, the stadium doesn't really connect you to its local surroundings. SoFi is the opposite of those century-old open bowls. The stadium is its own world, walled off from the rest of us—from your seat, you can only see pieces of the entertainment district being built around it. Reinforcing this impression of separation is the fact that SoFi does not have a stop on L.A.'s rapidly expanding Metro rail system.
Read the entire piece here.