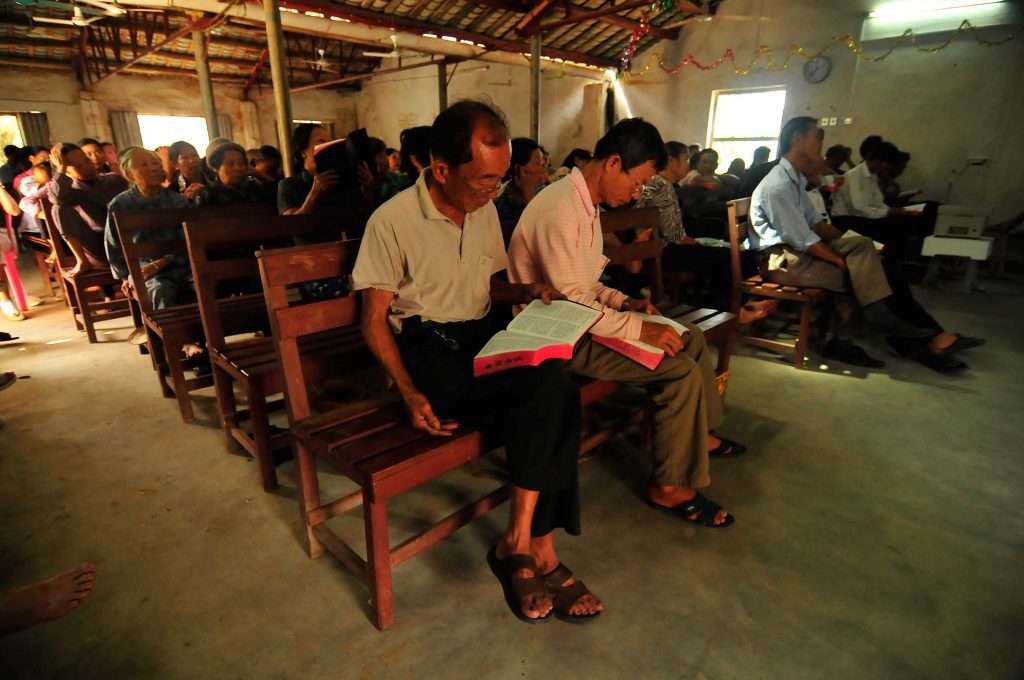 Christians looking for wisdom on church-state relations might find it in China's house church movement
If existing trends continue, it seems possible that one day the face of Protestant Christianity will be Chinese.
Of course, numerically speaking, it will not only be Chinese, but also African. Yet geopolitically, Chinese Christianity will likely be its face. Though the Christian church has more often than not existed on the cultural margins, its cultural identification has generally followed the flow of political power over its 2000-year history. As such, it is plausible that Christianity's future leaders will come from China.
If this proves true, then anyone with an interest in religion's impact on our world ought to be curious about what the future of one of history's most politically-engaged religions looks like. I recently caught a glimpse of such curiosity when I attended a conference involving Chinese house church leaders. Two pastors from Rwanda came to the conference for the sole purpose of better understanding the people they view as most influential in the everyday reality of Rwandan religious life: the Chinese.
The Chinese Communist Party (CCP) wants you to think that the future of Protestant Christianity within its borders is Sinicized, folded into the cultural wishes and ideologies of the Chinese state and under the authority of China's Three Self Patriotic Movement (TSPM), its state church. If these claims were true, the ramifications would be significant. We would be looking at a return to older versions of the faith which lacked separation of church and state. Imagining a return to the pre-Reformation battles over ecclesial power that defined much of European history wouldn't be hard. For countries like Rwanda, currently under China's soft power, the Sinicization of Christianity would likely mean a return to colonial forms of religious regulation as the CCP flexes its power beyond its borders.
Yet, when taking the long view, a colonial Chinese church is unlikely. Looking at the numbers, the future of Chinese Christianity remains with unregistered house churches.
The political theology of the house church movement is much harder to define than that of China's state church. There is no official "representative of the Chinese house church," and many academics studying house church Christianity must resort to shooting arrows in the dark for their analysis. One reason for this is the vastness and diversity of the house church. There is not just one opinion within it.
But there are certain traditions to which they hold, as well as new theological trends.
First, the Chinese house church was founded on the principle of separation of church and state. Contrary to common assumptions, Chinese house churches were not born when Mao moved to completely eradicate religion from China's national consciousness during the Cultural Revolution. House churches were actually born a decade earlier when the CCP attempted to bring all religious expression under the oversight and authority of a state church. When Wang Mingdao and half of China's Christian population refused to publicly sign Y.T. Wu's "The Christian Manifesto" in submission to the CCP, Chinese Christianity became bifurcated along the lines of an ongoing debate over church and state. Whereas much of Western political ideology initially proposed this separation for the purity of the government, the Chinese house church began with a position of strict separation for the purity of the church.
Generally speaking, the Chinese house church maintains this basic principle to this day. There are those within house churches who do so loudly and publicly, such as Wang Yi, the controversial former human rights lawyer turned pastor who is serving a nine-year jail sentence for subversion of the state. Wang is a prolific writer and brilliant mind who has written in depth on Wang Mingdao's legacy. He maintains that because Christians believe Jesus is the creator king, the universality of the church is more important to the essence and purity of the church than local context. As a result, he is outspoken against any CCP regulation that seeks to reduce Chinese Christianity to a purely Chinese religion. Many others are far more quiet, but no less thoughtful, on the topic. Gao Hang, a lay leader in a house church who formally studied and taught political philosophy, has recently written an essay on the basic separation of church and state that has gained traction in certain house church circles. Another writer recently stated that "This Christ, who is now reigning on his throne, will come to judge and rule this world. When we take that seriously, we see that his rule and lordship is as real as any earthly kingdom. We already have a king; we don't need an earthly king. We no longer need a Christendom on earth."
Second, many house churches, particularly in urban centers, are embracing theologies that encourage love for the city rather than fear or antagonism. House churches have already demonstrated a deep desire to be good citizens; they genuinely love their country and have been neighborly communities. One pastor, Paul Peng, writes, "The house church affirms that Christians have a responsibility to be good citizens, but that the doctrine and governance of the church are subject only to the truth of the Bible and the Christian conscience, without interference by any external force." But with the rise of various reformed theological perspectives in China's house churches, the separation of church and state has not necessarily meant the separation of church and culture. In their resistance to the CCP, Chinese house churches have not turned against China as a people or cultural identity. In fact, they maintain that it is precisely their love for their cities which requires adherence to the traditions of Wang Mingdao's house church movement.
Ultimately, the struggle within Chinese Christianity has little to do with enculturation (i.e., "Sinicization") and everything to do with who controls the religious life of China. As one pastor I know frequently says, "The greatest question the CCP asks its people is, 'Who do you love?' " The CCP wants the ultimate loyalty and allegiance of its people. In fact, as Gao Hang describes, the modern state attempts to fulfill the religious imagination of its people:
It has a "founding myth" (often times an Exodus-like narrative of liberation); it has a classic document regarded as a sacred text (this may be a revolutionary manifesto or a constitution); it has founding fathers who play the role of prophet or king (taking the form of monuments, statues…); it has a mechanism that "produces" truth (scholars playing the role of priest); it requires the allegiance of its members (through a pledge of allegiance); it recognizes "enemies" and engages in an intense struggle against them; it conducts special festivals and ceremonies in which the masses participate, and so on.
Like every good nationalistic movement, the CCP wants the hearts of its people.
This is why we ought to pay attention to the future of Chinese Christianity. Is there any people group who is not likewise struggling with the pull of nationalism? As we watch the ongoing backlash against the recent decades of globalism unfold, the Chinese house church's continued stance on the separation of church and state signifies one of the largest protests against the growing tide of nationalism in our world today.
Hannah Nation is the Managing Director of the Center for House Church Theology and Content Director for China Partnership. She is an editor of the forthcoming Faith in the Wilderness: Words of Exhortation from the Chinese Church (Kirkdale, 2022) and Wang Yi's Faithful Disobedience: Writings on Church and State from a Chinese House Church Movement (IVP Academic, 2022).