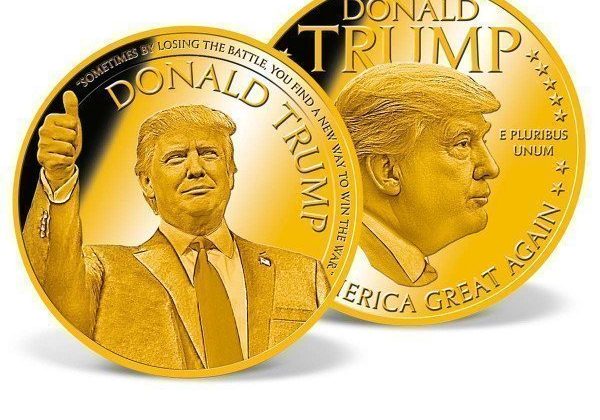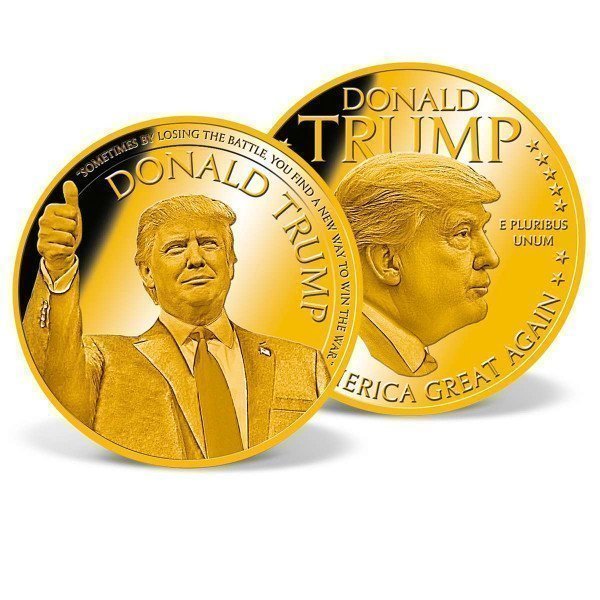 One of these Make America Great Again coins could be yours for free (plus $9.99 shipping and handling). Just to be clear, these coins are different from the Trump King Cyrus coins that court evangelical prophet Lance Wallnau was hawking back in 2019. 🙂
Here is a taste of Stuart A. Thompson's piece at The New York Times:
There's a style for every taste, each featuring a portrait of Mr. Trump. Sometimes he's rendered in gold, staring thoughtfully into the distance. In others he's smirking in silver, raising a thumb's up, or even riding a missile while a bald eagle soars behind him.
Among all the options, one version stands out. Known online as simply the "Trump coin," it has become a favorite of right-wing social media and fringe news sites. It's advertised between claims of stolen elections or conspiracy theories about global cabals. Some ads even describe the coin as a kind of cryptocurrency, suggesting it would soon be worth thousands.
The coin itself features Mr. Trump's face embossed in gold on a base of shining silver. His slogan, "Keep America Great," is written in an arc atop his head.
It could be yours, too, for just $0. (Plus $9.99 shipping and handling.)
This particular version has become something of an internet mystery. It's not obvious who's promoting it or profiting from it. It's sold by a mysterious news website about which little is disclosed. Mr. Trump has nothing to do with the coin. No identifiable company is taking credit.
Some internet sleuths have followed digital bread crumbs to suss out the organizations behind the coin's popularity. The New York Times took a similar path, tracking a network of advertisers and following their activity from public storefronts to private marketing portals. Using guidance from insiders and marketing veterans, the search crisscrossed the globe, implicating a handful of companies and a legion of anonymous marketers operating in parts unknown.
What became clear was not just the coin's unusual origins, but an entire disinformation supply chain that relied on falsehoods and misinformation at nearly every step. Fueling the coin's success were fake social media accounts that pushed false ads and a fleet of misleading news websites that preyed on partisan discontent.
Seen in full, the coin illustrates what watchdogs have long understood: Many untruths that Americans encounter online aren't created by foreign actors trying to sow division. They simply exist to help someone, somewhere, make a quick buck.
Read the entire piece here.