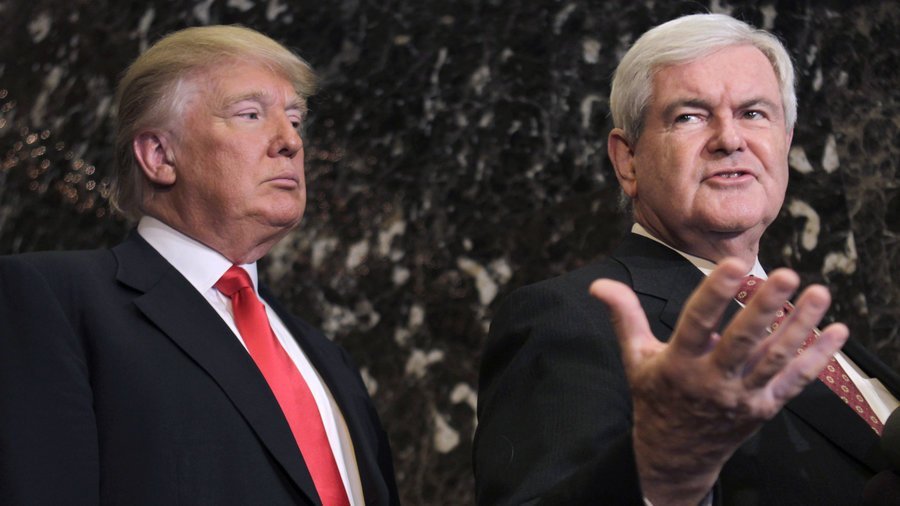 Here is a taste of Jonathan Chait's New York Magazine piece, "New Gingrich Invented Donald Trump's Lock-Them-Up Politics":
A popular belief, especially among political centrists, holds that Trump is the antithesis of the old Republican ethos. On one side of this divide sits idea-oriented, Reaganite, small-government conservatism, and on the other, an angry, reflexively oppositional, authoritarian personality cult.
Gingrich belies that simple and comforting dichotomy. His career shows how the two strands are so closely intertwined as to be indistinguishable.
Gingrich reshaped his party in two important ways. First, he instilled the belief that the party's main problem was that it was too nice and accommodating to the opposition. "I think that one of the great problems we have in the Republican Party is that we don't encourage you to be nasty," he explained in 1978. "We encourage you to be neat, obedient, and loyal, and faithful, and all those Boy Scout words, which would be great around the campfire but are lousy in politics."
Gingrich trained House Republicans to depict their rivals in the most hysterical terms. A 1990 memo he wrote instructed candidates to label their Democratic adversaries with the terms betray, bizarre, decay, anti-flag, anti-family, pathetic, lie, cheat, radical, sick, traitors, among others.
And while Ronald Reagan gained credit for converting the party to supply-side economics and away from traditional fiscal conservatism, it was Gingrich who turned this program into a kind of theological tenet. Reagan, after all, had agreed to several tax increases in order to reduce the deficit his original tax cut had caused. But when George H.W. Bush made another deal in 1990 — to hike the top tax rate from 28 percent to 31 percent in return for hundreds of billions of dollars in spending cuts — Gingrich led a Republican revolt, ultimately deposing the House leadership. Since the 1990 Gingrich revolt, not a single Republican in Congress has ever supported even the tiniest tax increase.
And this:
While many Republicans initially met Trump's 2016 campaign with disgust and attacked him as an apostate from the Reaganite creed, Gingrich quickly recognized Trump's politics as an iteration of his own. In a March 2016 interview with Slate, he explained that he welcomed Trump not despite but because of his belief in movement conservatism: "Remember, I came in as a Reaganite, Kempite when I helped lead the effort in 1994. And I have consistently been in favor of a more aggressive, more active Republican Party that reaches out and expands its base and that is very, very idea-oriented."
Gingrich's fervent advocacy for Trump echoed the upside-down logic he had always used on his own behalf. On the one hand, he piously insisted he was motivated by high-minded ideas. "You are fascinated with sex, and you don't care about public policy," he scolded Megyn Kelly, shortly after Trump was caught boasting about sexual assault. On the other, he obsessively criminalized his opponents, both real and imagined, calling at various times for the arrests of such disparate figures as Barney Frank and Chris Dodd, Madonna, and various poll workers in states Trump claimed falsely to have won.
Read the entire piece here.