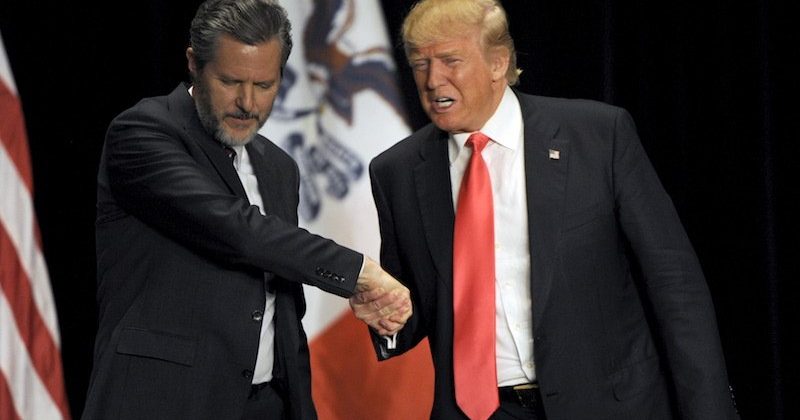 Check out Gabriel Sherman's piece on Jerry Falwell Jr. at Vanity Fair. Here are a few of the new things I learned from it:
Falwell Jr. claims that he is not religious:
"Subconsciously, yeah, I believe that's true," he said, nodding. "It's almost like I didn't have a choice." He went on: "Because of my last name, people think I'm a religious person. But I'm not. My goal was to make them realize I was not my dad."…
On Jerry Falwell Sr. chugging Nyquil' as "Baptist wine":
Looking back, Jerry said that his father's peripatetic lifestyle provided a reprieve from an oppressive marriage. "My dad wanted to travel the world as an escape," Jerry said. He recalled that his mother's provincial worldview grated on his father. "She wanted to live a small-town preacher's life. She didn't let him mess around," Jerry said. Divorce was out of the question. According to Jerry, his dad found ways to take the edge off at home, even though Macel never allowed alcohol in the house. "Sometimes he would drink a whole bottle of Nyquil. He called it Baptist wine," he remembered. Jerry grew up to learn that he too could have a private life that didn't align with his public persona….
On Falwell Jr. eating alone in the Wendy's parking lot listening to Rush Limbaugh:
Falwell often invited his son to join him and his chief of staff, Mark DeMoss, for lunch at the Holiday Inn near campus. Jerry rarely went. Instead, he often ate alone in a Wendy's parking lot, listening to Rush Limbaugh in his car. Talk radio became Jerry's political religion. "Rush is the reason I became a conservative," Jerry told me. He keeps a framed photo of his first meeting with the late broadcaster, at the 2018 White House Christmas party, in his living room. "That was the most starstruck Jerry had ever been," Becki said….
On Falwell Jr. putting on a Christian "act" in order to serve as president of Liberty:
His anxieties only grew that summer. "It was the worst three months of my life. There was so much pressure on me to become somebody I wasn't," Jerry remembered. "I'd wake up each day saying, 'How am I going to do this?' " As Liberty's first family, Jerry and Becki became Christian celebrities overnight. "We had to put on an act," Becki said. Of course, Jerry could have stepped aside if he didn't intend to uphold the spirit of Liberty's extreme social conservatism. But that would mean Jerry would have to give up the power and privilege the job offered. As president, Jerry flew on Liberty's private jet and vacationed with billionaire donors. Jerry felt he had successfully compartmentalized his public and private identities for most of his life. Why stop then?…
Jerry Jr. and Becki give there side of the pool boy story:
The story of an affair is a competition of narratives. Sometimes facts overlap, but just as often they diverge. It all depends on who's doing the retelling. In media interviews, Giancarlo Granda said he first had sex with Becki—while Jerry watched—the day they met at the Fontainebleau hotel pool in Miami Beach in March 2012. It was the beginning, Granda has said, of a seven-year psychodrama that culminated in Jerry's resignation. In early January, when I sought out Granda with a list of fact-checking queries for this story and the opportunity to present his version of events, he made clear that his differed significantly from the Falwells'. "Ha ha, oh man it's an alternate reality in that email list," he responded but declined to comment further, saying he had a book deal with Harper Collins and a forthcoming streaming documentary to promote. "I can assure you that everything will be answered in the book and Hulu documentary," he texted me….
"Falwell Jr. says that testosterone supplements made him "more combative":
Becki told Granda that Jerry knew about them. "Giancarlo was very worried Jerry or my boys would beat him up," Becki said. (Granda declined to comment.) Becki said Granda shouldn't be scared. Everyone would try to make the awkward arrangement work. Granda apologized to Jerry the next time they were all together. "He said, 'I hope you're okay.' And I said, 'I'm dealing with it,' " Jerry recalled. "The only way I could do it was to detach. I let it go on. I'm partly to blame." But later, the affair inspired Jerry to get in shape to win Becki back. "I was thinking maybe I was the reason she was lonely because I wasn't taking care of myself," he said. Jerry hired a trainer. He lifted weights and took testosterone supplements. Jerry attributed a lot of the incendiary things he later did to side effects of the hormones. "The testosterone made me more combative," he said….
Donald and Ivanka Trump wanted to make Falwell Secretary of Education:
Jerry says Trump rewarded his fealty with an offer to serve in his cabinet as education secretary. Jerry recalled the meeting at Trump Tower with Trump, Bannon, and Ivanka Trump: "Ivanka was like, 'Come on, dude. You gotta do it.' " Jerry declined, though, because he said it would have involved a pay cut from his $800,000-a-year Liberty job. Still, Jerry continued to act as if he were a member of the administration. He and Becki visited the White House and got a private tour of the Lincoln Bedroom from Trump and Melania. Jerry showed up often on Fox News to flack for Trump. "He does not have a racist bone in his body," Jerry said after Charlottesville. ("The Fake News should listen to what he had to say. Thanks Jerry!" Trump tweeted afterward.) Not even Trump's disastrous handling of the COVID-19 pandemic could shake Jerry's loyalty. Jerry told Fox & Friends that Democrats and the media were hyping the virus to bring Trump down….
Jerry Falwell Jr. vs. Franklin Graham
Jerry also suspected that Franklin Graham, son of the late Billy Graham, used the scandal to expand the Graham family's influence over Liberty. Franklin Graham's son Will was named vice chairman of Liberty's board. Prevo is also a Graham ally. Jerry said Franklin Graham had also once told him that he wanted to start a Billy Graham University, but it didn't get off the ground. In September 2020, Jerry and Franklin got into an argument over who should get credit for Liberty's success. "I said, 'My dad built the foundation, but I built the house. And Franklin got furious. He said, 'You didn't build it!' You should have heard the jealousy in Franklin's voice," Jerry recalled. According to Jerry, Franklin Graham told him his future in the Christian world is over. "He said, 'You'll never be anything in evangelical circles again.' " Graham, through a spokesperson, declined to comment.…
Read the entire piece here.