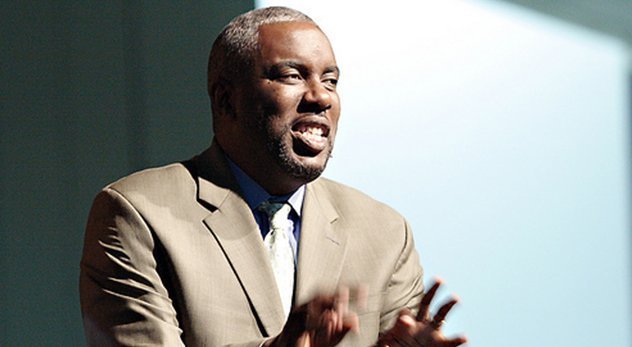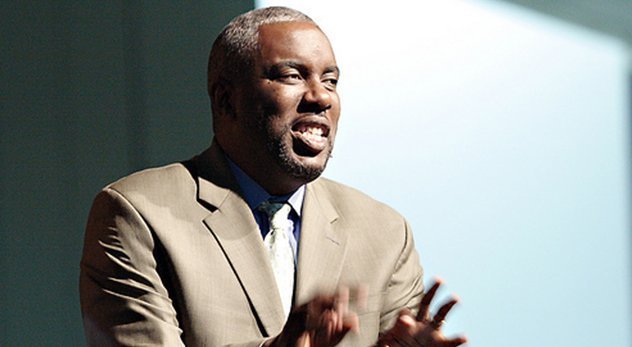 Fundamentalists are fighters. They stage a militant defense of the faith from their bunker-like fiefdoms dominated by powerful masculine leaders. They see the world in black and white and will turn on anyone who dares depart from what they believe to be doctrinal orthodoxy. They will hunt down people who they believe to be in theological error, even if the "error" relates to a doctrinal or ecclesiastical issue about which faithful Christians over the years have come to different conclusions.
Recently one of these fundamentalists, Southern Baptist pastor Tom Buck, posted a video featuring Thabiti Anyabwile, the pastor of the Anacostia River Church in Washington D.C. Watch:
Anyabwile is speaking here about white supremacy and churches, but all Buck hears is the word "she." Yes, Buck also commented on Anyabwile's condemnation of white supremacy, but let's not pretend that this was the reason he tweeted the video.
Anyabwile's use of the feminine pronoun sparked outrage from fundamentalists who do not believe women can be pastors. Seriously, one pronoun led to this:
Denny Burk, who operates within the Al Mohler fiefdom out of Louisville, was all over it:
Apparently Burk can tell the "full-blown" nature of Anyabwile's views by his use of a pronoun.
Here is Anyabwile's response to all of this:
Kristin, the historian who has now become part of the story, had a comment:
Later, Anyabwile offered context:
Owen Strachan then got into the mix.
This is another mark of a fundamentalist mindset. They will ask you to "repent" for something like pronoun use. Strachan, who is hurling bombs from his "strip mall" seminary in Texas, implies that Anyabwile is living in sin, needs to turn away from it, and ask God to forgive him.
Anyabwile was having none of it:
Let's remember that Owen Strachan once wrote a "historical" book on the neo-evangelical movement, a movement often defined by its attempts to rid itself of the spirit of fundamentalism.
Buck was not done either:
After reading Anyabwile's response, Burk seems to have breathed a sigh of relief, but also made sure to remind everyone where Anyabwile is still wrong:
The fundamentalists have a lot of defenders out there:
I don't have a dog in this fight. I am intrigued by the fact that Anyabwile feels the need to defend his complementarian position to these guys. But as a student and curator of the evangelical experience–both past and present–it seems pretty clear that a new fundamentalism is here. I wouldn't be surprised if conservative Protestantism in America looks very different in the next ten or fifteen years.