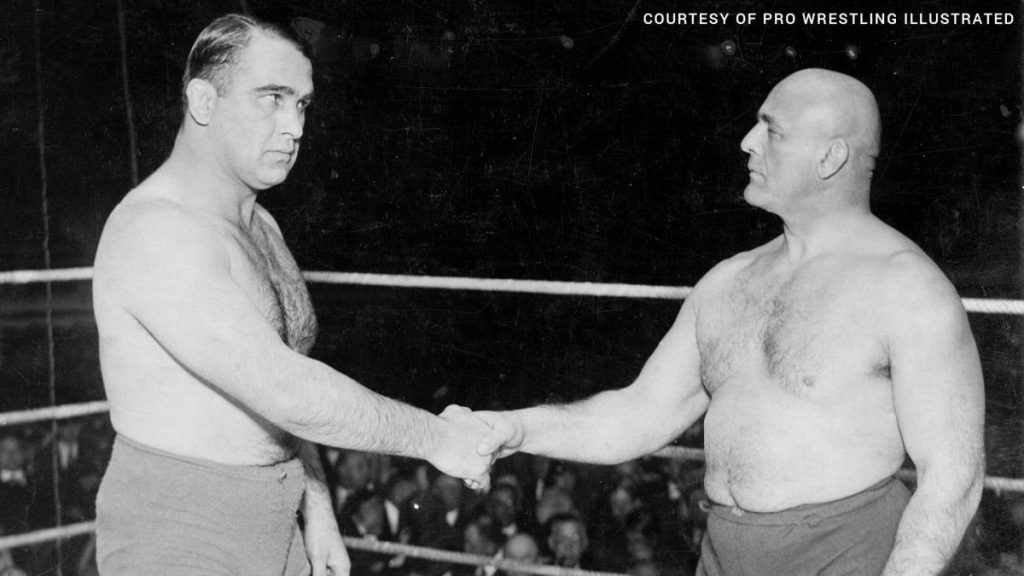 Of course it is. But that doesn't really help us understand its historic appeal.
In a fascinating piece at the blog of the Journal of Intellectual History, historian Aaron D. Horton offers a brief history of this form of "entertainment."
Here is a taste:
The wrestling personalities' adamant insistence upon wrestling's "legitimacy" is especially remarkable, because by 1989, the only people who seemed overly concerned with maintaining the pretense were those within the business, many of whom seemingly believed, as their forebears surely had decades earlier, that any acknowledgment of wrestling's predetermined nature would destroy their profession. Of course, that same year, Vince McMahon openly admitted that pro wrestling was not a legitimate sport, with little effect on the WWF's popularity or revenues. While pro wrestling in the United States experienced a decline in viewership and attendance in the early-to-mid 1990s, due to a variety of factors unrelated to its perceived legitimacy or lack thereof, the industry reached unprecedented heights of popularity and revenues in the late 1990s, during an intense period of competition between the WWF and Ted Turner's WCW, despite the fact that few, if any, fans could possibly believe wrestling was anything other than entertainment. Throughout its history, pro wrestling has elicited derision from mainstream media for its obvious "fakery," to the point that one finds it implausible that the majority of fans, whether in 1910 or 2010, or many points before, after, or in-between, have ever truly believed pro wrestling was a legitimate sport.
Historically, those most insistent on pro wrestling's legitimacy were not fans, but rather wrestlers, promoters, and other insiders, who feared that acknowledgment of wrestling's worked nature would destroy their lucrative profession. Since its early days, the majority of pro wrestling fans have been willing participants in the performance, allowing themselves to suspend disbelief for the sake of entertainment. While outcomes are predetermined, which seems to be the primary fixation of those decrying wrestling as "fake," matches often feature a great deal of physicality and risk, evidenced in long-term (and occasionally immediate) damaging effects on most performers' bodies. In most sports, predetermined or not, colorful characters tend to sell more tickets and draw better ratings (or pay-per-view purchases), building fans' interest in the outcome of a game, match, or fight. Boxing legend Muhammad Ali and various MMA fighters, including Chael Sonnen and Conor McGregor, deliberately adopted pro-wrestling style heel personas in order to build interest in their fights, resulting usually in great financial success. At its core, pro wrestling shares much in common with other sports, specifically the concept of generating anticipation among fans for an upcoming contest in order to maximize profit. The fact that pro wrestling's matches and outcomes are performative rather than competitive, has rarely been relevant to the majority of its fans, who are no more bothered by its predetermined nature than a moviegoer would be upset upon realizing that Robert Downey Jr. is not actually Tony Stark.
Read the entire piece here.